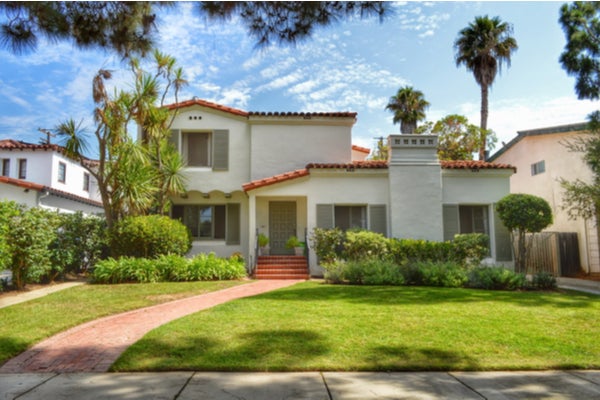 Due to factors like droughts, climate change, and strong winds, the West can be more prone to wildfires than other parts of the country. Wildfires can be devastating, eating through homes, neighborhoods and businesses. They can move at speeds of up to 14 mph in grasslands and 6 mph in forests, so when wildfires do happen, you may have very little time to evacuate. The best wildfire protection for homes needs to occur before disaster hits. Here's how to prepare for a wildfire so you can protect your family and your home.
How to Prepare the Land Around Your House
Clean up and prepare zones around your house to protect your home from a wildfire.
According to ReadyForWildfire.org, sponsored by California's CAL FIRE, one of the methods for how to protect your house from wildfires is to prepare wildfire defense systems, or zones. Though this site is dedicated to California wildfire safety tips, these steps should be taken in most fire hazard regions.
In the area five feet or closer to your house or any outside structures (such as a shed or guest house), you'll want to clear away any dead vegetation, leaves, or debris that may be piled up. Debris and dead vegetation can act as kindling for a wildfire. Just because you can't see it doesn't mean it's not there, so make sure to check under porches and decks. Make sure your gutters are nice and clean, and confirm that your roof is clear of dead vegetation. If you know you live in an area prone to wildfires, try not to have any plants or trees in this zone. If you do, make sure they're short and do not consist of wood. It also helps to make sure any landscaping is watered very well.
Try to use metal or another noncombustible material for items like patio furniture, fencing, and landscaping. It might be best to relocate any vehicles or items that need combustible fuel out of this area.
In the 5–30-foot zone, you'll want to keep up on dead vegetation removal here as well. It may be inconvenient, but for proper wildfire protection for homes, you'll want to keep firewood and kindling at least 30 feet away from your house and any other structures. Make sure the firewood pile is 10 feet away from anything that could catch fire. You also want to trim your trees regularly in this area, so the branches are at least 10 feet apart from any patio furniture, play areas, or other trees.
In the area 30–100 feet from your home and outdoor structures, make sure to mow your grass and clear away dead vegetation on a regular basis. Take note of the layout of your shrubs and trees. The use of vertical and horizontal spacing can help reduce how much and how fast a fire spreads. Check with any local government agencies to see what the ordinances are in your area and if they have any other wildfire safety tips specific to your region.
How to Fortify Your House

To fortify your house in preparation for wildfire season, cover vents, upgrade walls, protect the roof, and strengthen your windows.
In addition to fireproofing the area surrounding your house, it's imperative to know how to fireproof your home from wildfires. Follow these tips to make sure you have the maximum wildfire home protection.
Cover Your Vents. If your vents are exposed, embers can get in. Install flame-resistant vents and use noncombustible metal mesh to cover vent openings and the opening to your chimney. Your eaves should also be boxed in and protected.
Upgrade Your Walls. Replace walls or siding with ignition-resistant materials like stucco or fiber cement, or add fire-resistant wallboard to the siding to act as another layer between the flames and your home. Consider renovating your deck or patio to use fire-resistant materials.
Protect Your Roof. One of the most critical steps to fireproof your house is upgrading your roof. Since it's the highest point of your home, it could be the most exposed to smoldering embers. Using roofing materials like metal, tile, or clay can make a big difference in house wildfire protection.
Strengthen Your Windows. Since extreme heat can easily break thin glass, dual-paned windows can be a good way to protect your home from wildfires. If a window breaks, fire can spread much faster to the inside of the home. Windows with tempered glass and numerous panes will be more resilient. Further safeguard your house by making sure all of your windows are fitted with metal screens—doing so may prevent embers from flying in if the windows do eventually succumb to the intense pressure and heat.
Some sound wildfire defense systems for your garage include installing weather stripping around and under the garage door and giving the vents and windows the same upgrades as the house. It's also an excellent place to store a fire preparedness kit, especially if the garage is detached. Buckets, extra hoses, and fire extinguishers should be ready and waiting. While it's a good practice to have these items on hand, you should never try to stay and fight the fire on your own. Evacuate as soon as you're alerted. Your life and the lives of your family members are more important than anything else. Your stuff is replaceable. You are not.
What to do After the Wildfires Have Passed
After getting the all-clear from officials and returning home after a wildfire, check for damage and report it to your insurance adjuster. Recording videos or taking pictures may also be helpful to show the extent of any damage.
If there is evident damage to your house, make sure you check for dangers like exposed electrical wires and gas leaks before entering.
Once you're able to reenter your home, consider purchasing an air purifier, which can go a long way toward getting the smell of smoke out of your house after a fire. You can also dilute some vinegar with water and use it to clean walls, furniture, or flooring. Setting out bowls of vinegar may help, too, as it absorbs odor. It's also important to leave the windows shut until all of the smoke in the air outside dissipates.
House wildfire protection is one of the most important things you can learn about when you live in a high fire hazard region. Create and review a fire safety plan with your family so that everyone knows what to do in case of an emergency.
While learning how to prepare your house for a wildfire, you should also learn how to prevent accidental fires that are started from home. Review this list of home fire risks to see if any of these red flags are in your home.
Protect your California home, or your home in another state, with AHS home warranty coverage. Though American Home Shield cannot protect your home from a natural disaster like a wildfire, we can help protect your budget from expensive repair costs of your home systems and appliances due to normal wear and tear. Choose which plan works best for your household, and make sure you follow these wildfire home protection tips to keep you and your family safe and sound.