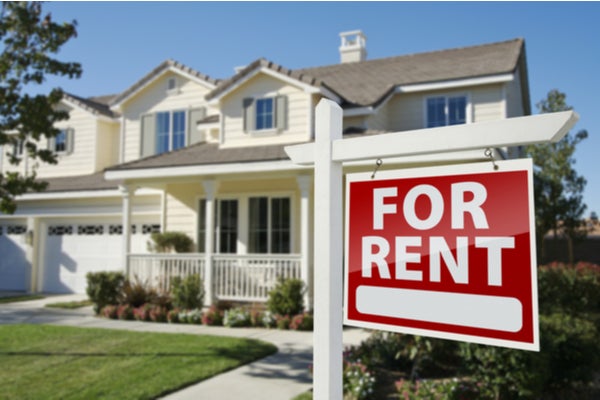 Have you been thinking about buying an investment property? Right now, it's a seller's market—many people who decide to sell are making a huge gain on their previous investments, and their homes are being snatched off the market within hours. It may seem crazy to enter the fray—so, why invest when housing prices are so high? Here are a few reasons:
Populations are shifting: The ability to work remotely is on the rise, allowing many employees and business owners to relocate to more affordable areas.
Cost of rent is rising: As the housing demand increases, so does the national median rent. According to Apartment List, the national index rose 2.1 percent from August to September 2021. An investment property may pay off more quickly if you rent it out.
Right now, the potential to make a serious profit is high if you manage to snag the right property. So, where should you invest? Here are the best cities to buy a rental property.
1. Phoenix, Arizona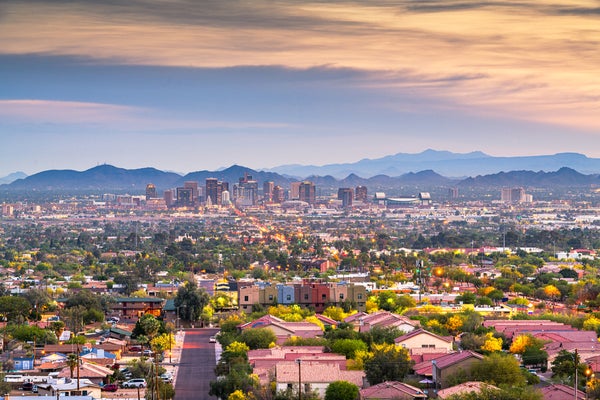 Phoenix has the heat, sunshine and laid-back attitude of the Golden State, but with a lower cost of living, about 5 percent higher than the national average. While that's still slightly above average, it sure beats San Francisco (86 percent above national average) and Los Angeles (41 percent above national average). Perhaps because of this, many Californians are relocating to Arizona. The number of residents in Phoenix has grown at a rate of 11.2 percent since 2010.
Business is also booming in Phoenix. According to the Arizona Office of Economic Opportunity, total employment in Phoenix is projected to grow 5.5 percent by 2022. And those employees will need somewhere to live. Steady employment also means your tenants will be able to afford rent every month, which is an important aspect to research when it comes to buying an investment property.
The city boasts 17 colleges—the University of Arizona being the largest—which can be a considerable asset when figuring out where to buy a rental property. There is huge potential for renting out rooms or finding a large house to buy and dividing it into apartments. Hiring a real estate agent who is local to and familiar with the area is a smart way to go when searching for the perfect type of real estate to serve as needed student housing.
However, downsides to renting to students are the high turnover rates and potential wear and tear. Investing in a home warranty for your rental properties is a great way to save money and protect your home systems and appliances.
2. Orlando, Florida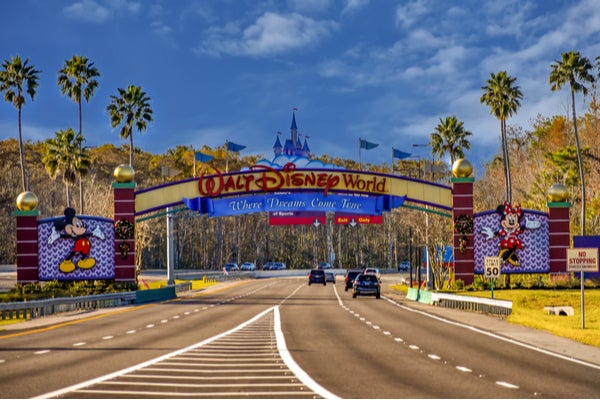 If you're looking for one of the best places to buy vacation rental property, Orlando is on the top of the list. Say hello to a steady flow of tourists who need a place to stay. Orlando was America's most visited destination in 2018, with a jaw-dropping 75 million people making their way to this bustling tourist town.
Orlando is a dream come true if you're crazy about theme parks. Both families with children, and adults who are kids at heart, flock to this city, which boasts attractions like Universal Orlando, Walt Disney World, Legoland, SeaWorld, and Discovery Cove. Did your eyes widen and your jaw drop with each listing? That's why Orlando is the perfect place to own a vacation rental.
Orlando also has fantastic museums like the Orlando Science Center and is a short distance away from the Kennedy Space Center. There are also amazing airboat tours and trips to the beach to interact with dolphins.
There seems to be something for everyone, and if you can snag prime investment property in this magical city, you could make a great return on your investment. But be prepared—you may have some stiff competition. It's no wonder people are drawn to Orlando, which boasts near-perfect weather and a cost of living that's actually below the national average.
When you're looking for property here, make sure to jump on any real estate opportunities quickly, as the housing shortage appears to be hitting Orlando particularly hard. But with an eagle eye on the market and a little luck, you may be able to obtain an investment that can finance you comfortably for years to come.
In the current real estate market, striking while the iron is hot can make the difference between owning rental property or having the perfect opportunity slip through your fingers. American Home Shield can help you navigate the process of mortgage approval and calculating prepaid costs and the down payment needed to buy a home.
3. Las Vegas, Nevada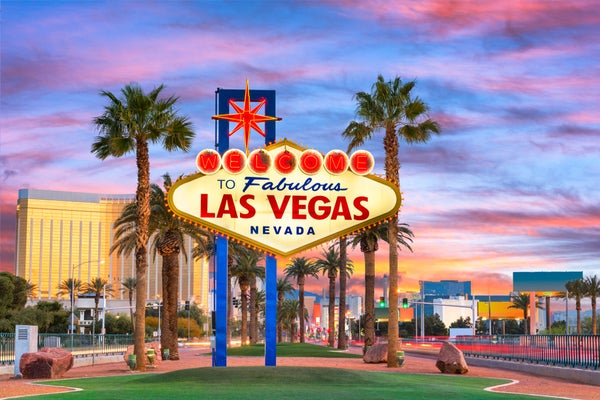 When you think of Vegas, you might think of losing money. But playing the rental biz game may be far less of a gamble than the slots.
Property taxes in Nevada are some of the lowest in the United States. Since there are no taxes on income, pensions, social security, estates, or inheritance, the state is attractive to many wanting to relocate. And many people are heading to the Neon Capital of the World. Because of this, Las Vegas has experienced an increase in rent of about 22 percent over the past year, which is good news if you're in the market for buying a rental property.
Las Vegas is also much more than just nightlife. Its desert location provides miles and miles of hiking trails in the surrounding foothills, and there are great suburban areas for families. If you choose to buy investment property here, you could make you a tidy sum.
Las Vegas is a bucket-list destination for many people, and owning a cozy bed and breakfast or long-term rental or buying a vacation rental property in this location can pay off your investment and provide a financial cushion for the future. It's a good idea to understand the pros and cons of home equity loans, if you ever need to refinance or take out a loan to fit the property to your or your tenants' needs.
4. Tampa, Florida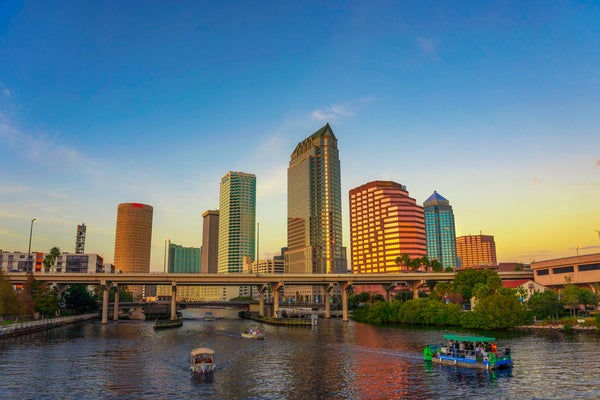 If you're looking for a good place to dip your toe in the real estate market by buying your first rental property, Florida seems to be the it state right now. The Tampa housing market is very competitive, ranking a 77 out of 100 on the Redfin Compete Score™. Many factors are contributing to Tampa's smoking hot market right now. Here are a few:
Cost of living. The cost of living in Tampa is 5.6 percent below the national average. This is pretty astounding given its location. Tampa has shimmering white sand beaches in Tampa Bay and is close to more than a dozen beaches off the Gulf of Mexico.
Cost of housing. Tampa housing costs are about one percent lower than the national average. The hardest part about owning rental property in Tampa may be not kicking the tenants out in the winter and taking it over for yourself.
Low taxes. Tampa ranks second in SmartAsset's list of major cities with the lowest taxes. The ranking takes into account Florida's lack of income tax and low sales tax and Tampa's low real estate taxes.
The low cost of living in Tampa also draws retirees who are on a fixed income but want to get away from the bitter winters of other parts of the country. Many retirees don't want to deal with the hassle of owning their own home, so investing in condos or apartments for seniors may be a smart choice.
Tampa is also one of the best places to buy vacation rental property due to its affordability and location. Tampa boasts popular attractions like Busch Gardens, the Florida Aquarium, and the Tampa Theatre, where you can get dressed up to take in a show amid breathtaking architecture. Tampa may also be the perfect spot for compromise—the beach is perfect for family members who just want to relax, but if other family members want adventure, Orlando and its famous theme parks are only a short road trip away.
One thing you do need to be prepared for when buying an investment property in Tampa is the possibility of hurricanes. AccuWeather lists it as one of the top five U.S. cities most vulnerable to these terrifying tropical storms due to its location on Tampa Bay and the Gulf of Mexico.
If you're buying rental property in locations with potential natural disasters, it's important to protect yourself, your tenants, and your investment with homeowners insurance. Learn about the difference between home insurance and a home warranty.
5. Dallas, Texas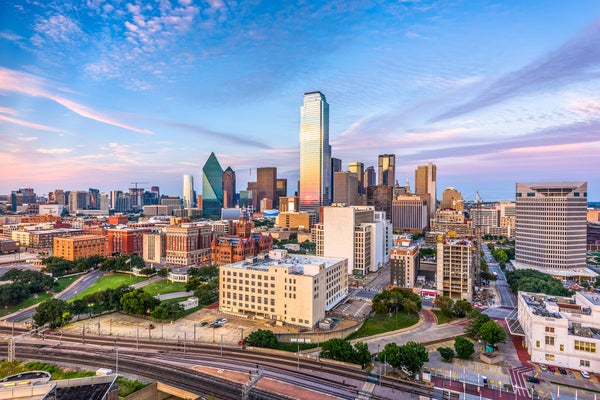 They say everything is bigger in Texas, and in terms of population, that might be true.
According to Upnest, Dallas/Fort Worth is one of the fastest-growing areas in the country, gaining around 132,000 residents in the last 10 years. This may be because many fortune 500 companies have settled their headquarters in the Big D—big hitters like Energy Group, CBRE, AT&T, and Texas Instruments all proudly call Dallas home. Dallas also appears to be attracting quite a few startups. The relocation of company headquarters could be due to the state's low business taxes or the many business incentives and programs to help fuel the economy and keep business strong.
A booming economy can be a good indicator of fantastic real estate opportunities. Dallas is a great place for families due to its excellent school system and a unique blend of urban life and suburbia. According to Niche, almost 60 percent of Dallas residents rent their homes, which means that investing in real estate here can be very lucrative. That's why Dallas is on our list as one of the best places to buy a rental property.
Final Thoughts
Are you interested in owning rental property? No matter where you choose to invest—from the Pacific Northwest to the Gulf States—getting a good deal is essential to boost your finances and gain substantial profit. Check out our advice on how to buy a foreclosed home. You can apply for numerous grants to buy a property at a lower rate, sometimes even without any money down.
As an investment property owner, your tenant's comfort and your investment are your top priorities. Protect your home and your budget with an American Home Shield home warranty. Our home service plans are offered in 49 states and cover up to 23 essential components of your home systems and appliances from normal wear and tear. When something breaks down, you want the problem solved quickly and efficiently. When you submit a service request, we'll send a qualified local professional out to the property. If they can't repair the covered issue, they'll replace the system or appliance subject to the limitations and exclusions of your contract. You'll barely have to lift a finger.
Read more about who pays for a home warranty and tips on what to look for during a home inspection.