Nothing rings in the holiday season quite as much as Christmas lights. The juxtaposition of the warmth of dazzling, sparkling lights against a cool, dark night sky signifies that holiday get-togethers, family events, and festive outings are on the horizon.
The holiday has a special place in the heart of many Americans. Even before Christmas was established as a federal holiday in 1870, winter solstice celebrations took place throughout the fledgling new country for the nearly 100 years since it gained independence from Great Britain.
By 1894, the White House had a Christmas tree with electric lights, and by 1900, shopping centers used string lights to entice customers to their displays. The first Christmas light shows took off throughout the Gilded Era, leading to the festive home décor and brilliant outdoor displays we have today.
If the holiday season is your favorite time of the year—not only because of gifts and merriment but also due to the ability to see an array of dazzling light displays—you've probably wondered: "What are the best Christmas light shows?" From the whimsical charm of small-town celebrations to the holiday season's most exquisite hits, American Home Shield® highlights the 23 best Christmas light shows to visit in the United States.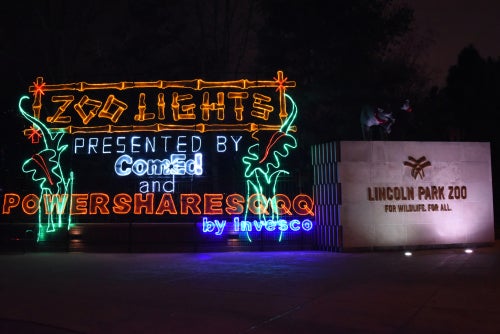 The ZooLights light show at the Lincoln Park Zoo provides a wild, magical experience. Walk through Christmas lights shining on the zoo's myriad walkways. Witness live ice carvings, listen to Christmas carolers, and experience the best and merriest the season has to offer at the zoo. A nearly 20-foot decorated holiday tree, lighted maze and forest, and other enchantments will awe the whole family. The kids will love snacking on holiday treats, while the parents can sip spiced wine and other festive drinks at the pop-up holiday bar.
Dates: November 19 through January 1, 2023. Closed on major holidays.
Time: 4:30–10 p.m.
Price: $5 Tuesday through Sunday, with optional $4 add-on experiences. Free on Monday.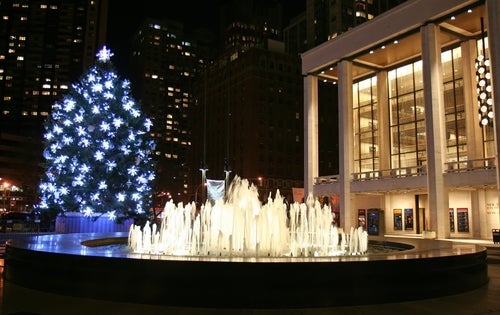 It's iconic for a reason. The light display at Lincoln Center show has it all: dazzling outdoor spaces, festive playlists that can be played from your iPhone while you explore, floating lanterns, and more. What's not to love? Once you've made your (packing) list and checked it twice, book a flight to see this incredible holiday light show—you may even end up staying. Read about the top things to know before moving to New York State, and be sure to get a home warranty in New York once you're settled.
For more information on dates, times and availability, visit the Lights From Lincoln Center website.
This 20-acre Christmas light show lives up to the state slogan, "Everything's bigger in Texas." You and your family will get lost in the magic of this delightful display. There are themed lantern light sections with more than 100 individual lantern sets, shows and music, an enchanted castle, carnival rides, food, and even an exploratory dinosaur zone—lit up, of course.
Dates: Mid-November through early January 2023 (dates coming soon)
Time: 5–10 p.m.
Price: Visit the Magical Winter Lights website for pricing information
The World of Illumination's Rockin' Christmas is a mile of colorful lights, festive displays, and dancing Santas—all synchronized to music. It's the "world's largest animated drive-thru light show," so if you prefer to be bundled up in the car with hot cocoa in hand, this is the one for you.
Dates: Mid-November through early January 2023 (dates coming soon)
Time: 6–10 p.m.
Price: Visit the World of Illumination website for pricing information
Another drive-through event, the 30-minute Lights of Christmas hearkens to the days of the drive-in movie theater. Simply tune into The Lights of Christmas radio station for a spectacular sonic experience while driving past more than a million lights, holiday scenes, a light tunnel, a giant nativity display, and Santa and his elves.
Dates: November 25–27 and December 1–4, 8–11, 14–23, 26–31
Time: Time slot information coming soon
Price: $27–$60 per car, depending on the size of the vehicle and day of the week
Fantasy Lights has the honor of being the "largest holiday drive-through display in the Northwest." It has 300 Christmas light displays and thousands of lights along Spanaway Lake's two-mile perimeter. If you'd rather leave the wheels at home, experience the magic of the show during Fantasy Lights Walk, available for two nights during the show's season.
Dates: November 25 through January 1, 2023
Time: 5:30–9 p.m.
Price: Drive-through: Between $10 and $45 per car, depending on the date, vehicle size, and if it's a discount day. Walk: $4 per person.
The Trail of Lights drive-through lights show has hundreds of displays and more than a million lights—all of which you'll see as you wind through the Shepherd of the Hills Homestead. Branson is known as America's Christmas Tree City, so after you've traversed the Trail of Lights, you can visit the thousands of decorated trees on display throughout the area.
Dates: November 1 through January 3, 2023
Time: Dusk–10 p.m. Sundays through Thursdays. Open until 11 p.m. Fridays and Saturdays.
Price: Price per car to be announced. $50 per van with more than eight passengers.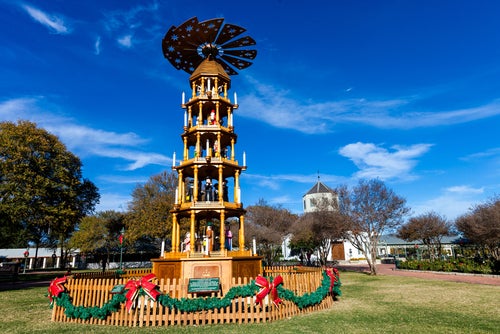 If you like a little tradition with your tinsel, Fredericksburg is where to see Christmas lights. You can listen to a brief audio history of the town's German roots while you watch the nightly lighting of the Marktplatz. German Christmas music accompanies the unique lights show, complete with a 26-foot-tall German Christmas pyramid that features wood figurines around a spinning windmill.
Dates: November 22 through January 6, 2023
Time: 6 p.m.
Price: Free
Fredericksburg is not only a wonderful place to visit but also a great place to live. Read about the five things to know before moving to Texas, and be sure to sign up for a home warranty once you're here.
Rosemont, a suburb of Chicago, is one of the best places to see an unforgettable holiday light show. Head to Impact Field to view the Rosemont Christmas lights and many more activities to get you in a festive spirit. You'll be transported to magical winter wonderlands (seven of them, to be exact). Walk along the dazzling pathways, hop on the free train car, go tubing on Thrill Hill, and be awed by the light display of the Illuminated Worlds exhibit.
Visit the AMAZE Light Festival website for dates, operating hours, and ticket admission information.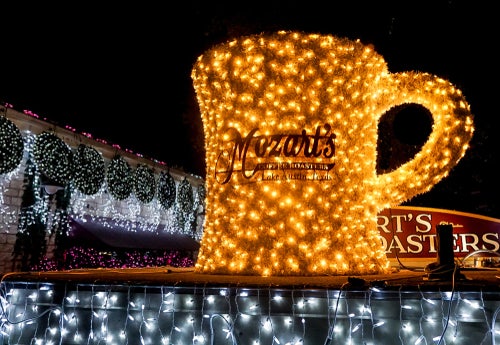 If floating through the holiday season is more your style, check out boat tour lights on your holiday in Austin. Mozart's Coffee, a popular café situated on Lake Austin, hosts an annual holiday light show with more than one million lights. Reserve your place on a fully captained boat that starts and ends at Mozart's, taking you on a one-hour ride through Lake Austin. Sip on complimentary hot chocolate (or bring your own adult beverage) as you view the beautiful lights.
Dates: Starts November 11
Time: Reserve time slots between 5:40 and 11:40 p.m.
Cost: Ticket packages start at $60 for two people
Historic Downtown Grapevine becomes gloriously illuminated with its yearly Carol of Lights and street-lighting event—which helped it gain its moniker, "Christmas Capital of Texas." A tree lighting, bounce houses, light displays, and a fireworks show make this one of the best holiday events in the nation. You only have one chance to view the illumination event, so be sure to keep the date open each year.
However, if you do miss the Carol of Lights show, it's not an automatic move to the naughty list: Grapevine celebrates the holiday spirit over 40 days of festivities, including an ice exhibit at the Gaylord Texan and a North Pole Express train ride at Grapevine Christmas Village.
Dates: November 21
Time: 4–8:30 p.m.
Price: Free
The Callaway Christmas Village and Winter Wonderland Fantasy in Lights showcase larger-than-life nutcrackers, snowflakes, and light displays that take you through an enchanted forest. You can add on a seven-mile drive-through journey that includes a magical Tunnel of Lights and character meet-and-greets. The open-air Jolly Trolley is an even more festive way to see the Tunnel of Lights.
Dates: November 18 through January 1, 2023
Time: 6–10 p.m.
Price: $24.95–$39.95 for adults and $19.95–$34.95 for children, depending on the night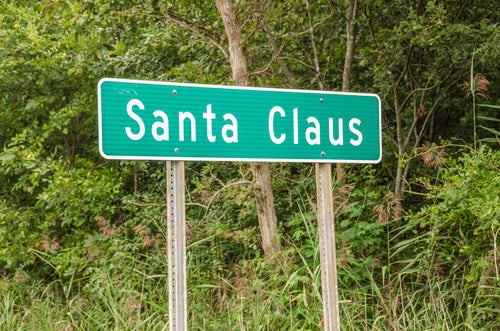 With a name like Santa Claus—and housing the only post office in the world with Santa Claus's name—the town and all its holiday festivities are sure to fill you with Christmas cheer. The Santa Claus Land of Lights traverses a glittering 1.2 miles through the Sun Outdoors Lake Rudolph RV resort. View the narrative of Rudolph through lights and storyboards—all from the comforts of your car.
Dates: November 24 through December 26
Time: 5–9 p.m.
Price: $15 per car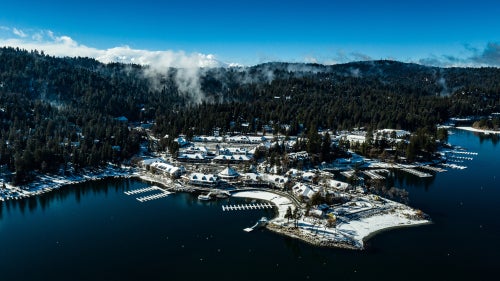 For shine and shimmer, visit the Village of Lights at SkyPark at Santa's Village, situated just south of Lake Arrowhead. Work up an appetite for illumination by exploring Santa's House and the North Pole or skating under the stars and the lights at the Silver Bells Arena. The whole family will love the Northwoods Express Train Ride that meanders through the Village.
Dates: November 17 through January 8
Time: Information coming soon
Price: For day tickets: $69 per adult and $59 per child or senior
The Lake Arrowhead community is tight-knit and beautiful. If you determine that you want to move or buy a vacation home here, consider signing up for a home warranty in California.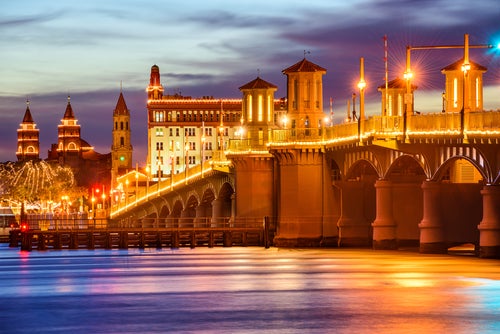 With around three million lights through one of the nation's most historic towns, the Nights of Lights festivities in St. Augustine are part of an unforgettable Christmas light show. The light displays cover the city's iconic Spanish Colonial buildings and extend throughout its historic district. You can even take a horse-drawn carriage ride for an extra-special view of the town. St. Augustine is on our list of cities with the best downtown districts for a reason—don't miss it during the holidays.
Dates: November 19 through January 31, 2023
Time: Nightly. The first night of Nights of Lights, Light-Up! Night, runs from 4–7:30 p.m.
Price: Free
Enjoy New England charm in this town famous for its Wassail Weekend. During this weekend in December, the Woodstock Rotary Club hosts the Lighting of the Luminaries, a peaceful but no less spectacular light show. More than 400 luminaries are placed around the Village Green, offering a soft, warm glow throughout the park.
Date: December 11
Time: 4 p.m.
Price: Free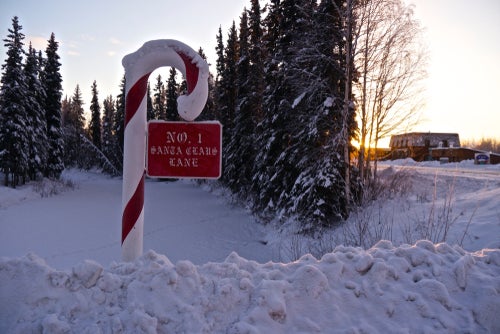 While it may not be the real North Pole, you'll feel like you've stepped into the North Pole of stories when you visit this town made famous for its candy-cane-striped streetlights shining the way for Mistletoe Lane, Kris Kringle Drive, and St. Nicholas Drive. The Christmas in Ice spectacular lights show, set off by ice sculptures, is sure to take your mind off the cold. Temperatures in North Pole can get well below zero in December—one of the things to know before visiting or moving to Alaska. Although the event had to be canceled in 2020 and 2021, rumor has it that it's back on for 2022.
Visit the Christmas in Ice website for dates, operating hours, and ticket admission information.
Your spirits are sure to be lifted watching The Great Christmas Light show—the best Christmas celebration South Carolina has to offer. This drive-through light show includes more than two million dazzling lights over the two miles through the North Myrtle Beach Park & Sports Complex. Be prepared to experience more than 500 light displays of Christmas scenes made just for the North Myrtle Beach Christmas lights show. After the light show, take a trip to Santa's Village to warm up with a cup of something warm and ride the Santa Express Train Ride.
Date: November 21 through December 30 (closed on major holidays)
Time: 5:30–9:30 p.m.
Price: $15–$60 per car, depending on the number of guests and date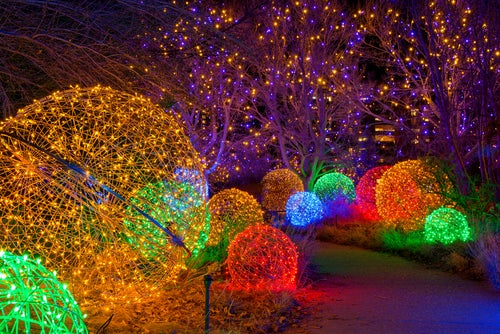 If you want some lush foliage with your festivities, the Blossoms of Light at the York Street Denver Botanic Gardens offers a glittering garden filled with colorful lights. The Blossoms of Light is considered by many locals to showcase some of the best Christmas lights in Denver. The Botanic Gardens become infused with the joy of the holiday season at the intersection of nature and technology. Plus, if you're hungry after exploring the gardens, holiday snacks and drinks are available at the on-site café and bistro.
Dates: November 18 through January 7, 2023 (closed Thanksgiving and Christmas Days)
Time: 4:30–9 p.m.
Price: Non-members: $24 for adults, $22 for seniors, and $20 for children
If you're a Denver homeowner, consider getting a home warranty in Colorado. Perhaps after seeing Blossoms of Light, you will decide that Denver is for you: Here are the top tips to know before moving to Colorado.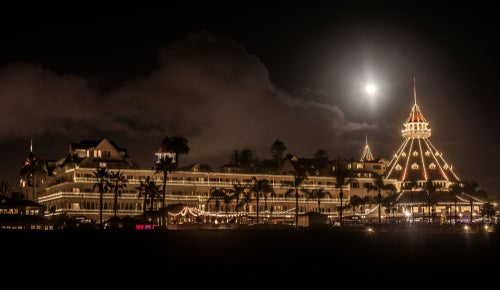 For an experience that feels more like Christmas in July, visit sunny San Diego to witness a stellar light show at the Hotel Del Coronado. The "At First Light" Lightshow Spectacular depicts a fantastic light show synchronized with music and fake snow against the backdrop of one of the nation's grandest hotels. Be sure to catch the Norfolk Pine, which in 1904 became the world's first electrically lit outdoor Christmas tree. After you catch the 30-minute show, visit the Frosted by the Sea winter wonderland on the hotel grounds. Thousands of lights, garlands, and other forms of tinsel and cheer cover the entirety of the iconic hotel.
Dates: November 17 through January 1, 2023
Time: 5–9 p.m.
Price: Free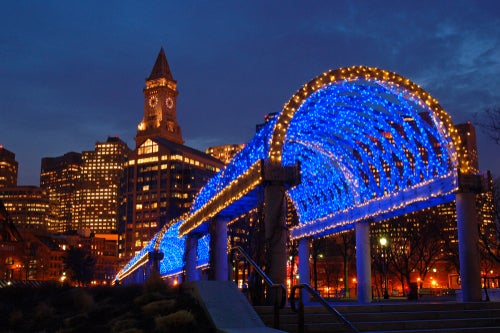 If you find yourself in Boston during the holidays, don't miss walking under the famous Christopher Columbus Park trellis, which is swathed in 50,000 beautiful holiday lights and wreaths. Nearby trees are also decorated for a festive feel. The trellis lights are typically turned on the day before Thanksgiving and are on display through the end of the Christmas season.
Visit the Holiday Trellis Lighting website for dates, operating hours, and ticket admission information.
Nationals Park isn't only for baseball fans. Starting the day after Thanksgiving, the park transforms into a wintry dreamland. Enchant, hosted by the Hallmark Channel, takes place in several cities across the country—but the event in D.C. is not to be missed. The Christmas Light Maze is an immersive walk-through Christmas light show display with more than four million gorgeous holiday lights that you can get lost in (well, hopefully not too lost). You'll be treated with a 100-foot-tall lighted Christmas tree at the end.
Other activities at Enchant include ice skating, shopping in the warmly lit Christmas Village, and live entertainment. The entire family will love this holiday wonderland.
Dates: November 25 through January 1, 2023
Time: Information coming soon
Price: Starts at $34 per adult and $18 per child, depending on the date and extra activities selected
Head just east of Phoenix for one of the best holiday light shows in the state. Even though you're in the middle of a desert, you'll feel transported to a winter wonderland as you drive through more than a million lights synchronized to festive music. Be awed by the light displays, tunnels, and Christmas cheer.
Dates: November 23 through January 8, 2023
Time: 6–9 p.m.
Price: $39.95–$100 per car, depending on the size of the vehicle
In 2021, the American Family Field Christmas lights in Milwaukee, Wisconsin, stunned and amazed all who visited. The American Family Field was just one of several venues to start hosting the astounding Magic of Lights drive-through holiday light show—and the magic continues this year in cities across the United States: Noblesville, Indiana; Clarkston, Michigan; Northeast, Ohio; Raleigh, North Carolina; Holmdel, New Jersey; Jones Beach, New York; East Hartford, Connecticut; Daytona Beach, Florida; Foxborough, Massachusetts; and Homestead, Florida.
More than two million high-tech LED lights, digital animations, and even a holiday village with Santa Claus are all on display. For even more fun, check out the Prehistoric Christmas, Big Foot Monster Trucks, Winter Blizzard Tunnel, 12 Days of Christmas, Toyland, Enchanting Tunnel of Lights, and Mega Trees.
Dates: Dates vary based on the hosting city but are generally between mid-November and early January 2023
Time: For time information visit the The Magic of Lights website
Price: $25–$25 per car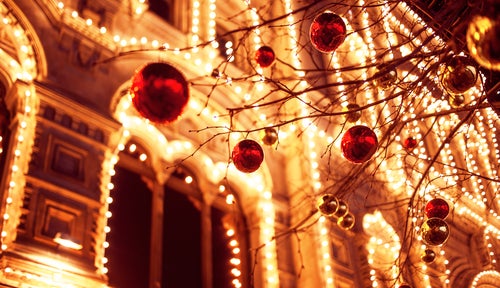 From coast to coast, these 23 cities should give you a reason for the season. If you're so inspired, pack up your gifts, gather your loved ones, and take a trip to one of the best cities to view holiday light shows. It will create a lifelong memory that you and your family will never forget.
Explore more cities in the U.S. by visiting the Local Guides section on our blog. We also offer seasonal-specific insights on how to prepare a vacant home for winter and the best places to live in the winter.
No matter where you visit to celebrate this Christmas, American Home Shield hopes that the holiday season brings you warm tidings and cheer.