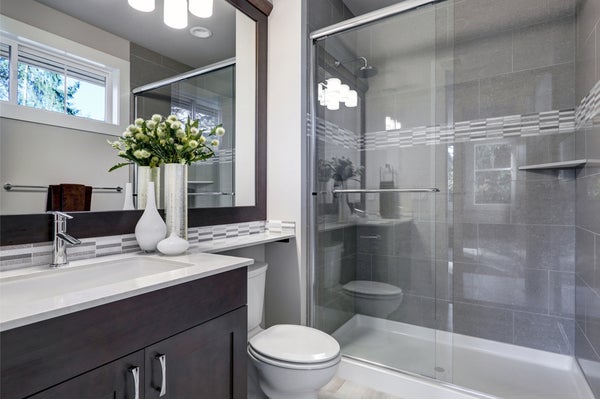 If you're an experienced do-it-yourself weekend warrior and you enjoy a good DIY challenge, it's entirely possible for you to tile, grout, and caulk a shower yourself. This could save you a lot of money and hassle, but know that this is a project that requires some experience with tiles and tools in order to get the best results. When in doubt, it's wise to call in the experts. But, if you're ready to forge ahead, here's what you need to know to tile, grout, and seal a shower yourself.
First, here are the tools and materials you'll need:
tile

electric screwdriver

c

orded drill

mixing paddle

spacers

pencil

sanding block

rubber grout float

mask

notched trowel

5-gallon

bucket

level

broom

tile nippers

sponge

s

safety glasses

tape measure

wet saw

thin-set

mortar

screws

m

etal spatula

p

ainter's tape

sanded grout

unsanded

grout

grout sealant

grout sponge

b

ag

b

uffing rag

b

athroom

s

ilicone caulk/sealant

caulking gun

c

ommercial caulk remover

u

tility knife

commercial mold cleaner
Step 1: How to Tile a Shower
Choose Your Tiles and Plan Your Layout
The secret to any successful tile installation is planning, planning, and more planning! The first step of any tiling project is to choose your tiles before you plan the rest of the installation. Once you've chosen your tile, decide on the layout of your tiles. It's a good idea to measure all the areas (at least twice!) and make a diagram of the tiles on each wall. You'll also want to plan out any border tiles or other decorative tile placement.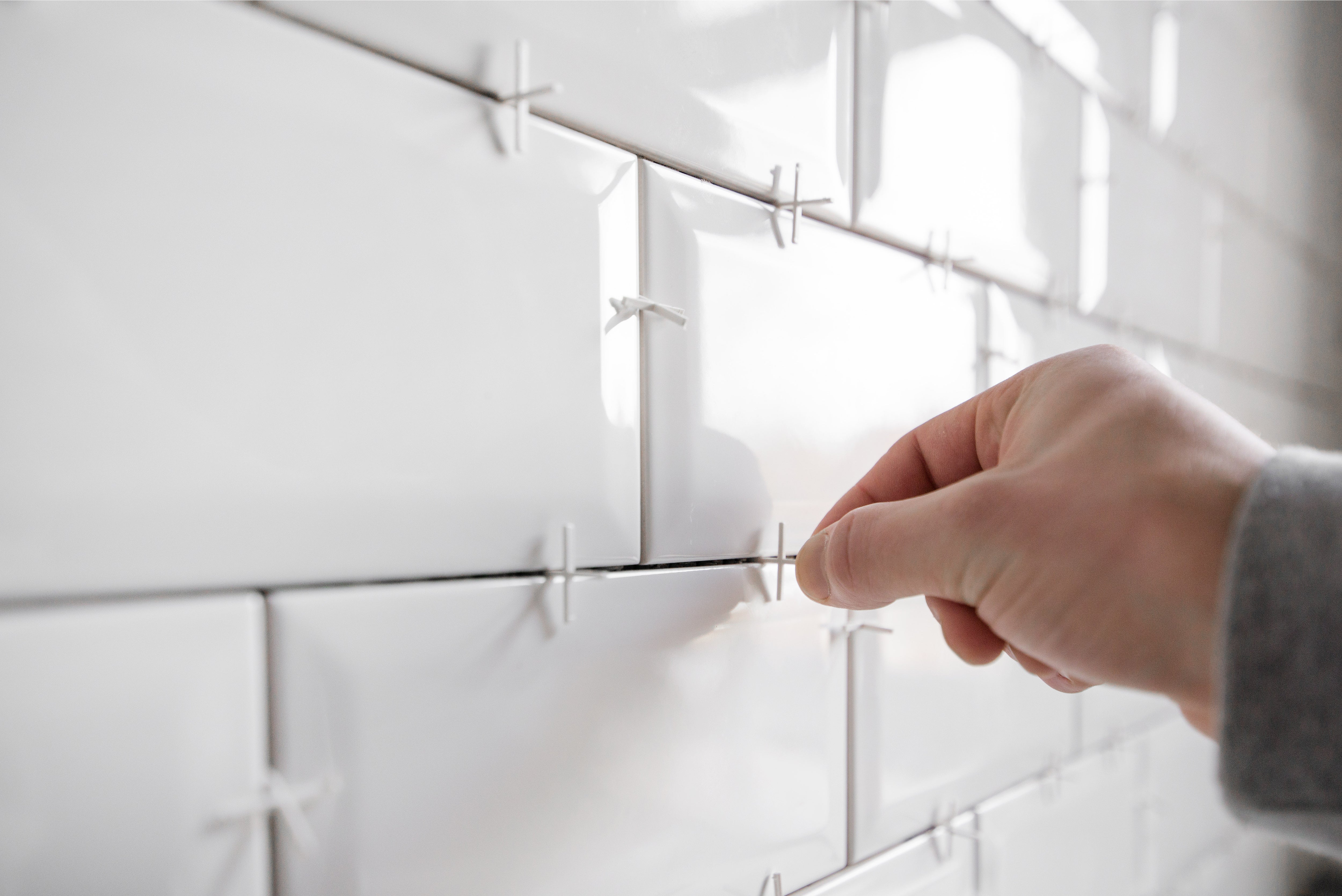 Prep the Shower Area for Tile Layout
To start tiling, prepare by running a bead of silicone caulk around the perimeter of the area you are tiling to seal it

.

Use the back of a plastic spoon to smooth the caulk.

Use a wet saw with a diamond blade to cut all the tiles.

For example, you could

cut two chair-rail tiles at a 45-degree angle to form a picture frame corner to border the shower. Tilting the saw base to 45 degrees gives the perfect cut.

Use a 360-degree laser level to mark a line for laying the tiles.

With a 3/16" V-notched trowel, spread mastic just under the laser line and down the side of the tub wall to a small area.
U

se

a

laser level to continue to mark around the

shower

. Mark the laser line so that once you start to set the field tiles you

'll

know when

to start installing any

accent tiles.

Slide the tile in from the corner and if you have an irregular piece, split the difference and cap the corners with small pieces you cut to size. This will give you a nice, clean line throughout the whole wall. For the second row, cut another tile so you can continue

a

staggered joint and then fill in the rest.

To set the tile, apply an even coat of mastic on only a small portion of the wall at a time. You have about five to 10 minutes to set the tile, so don't apply too much adhesive over a large area. Apply the tile with a slight twisting motion.

Allow at least 24 hours for the adhesive to dry before grouting. To prepare for applying the grout, tape to protect any neighboring walls or wallpaper.
Step 2:
How to Grout Shower Tiles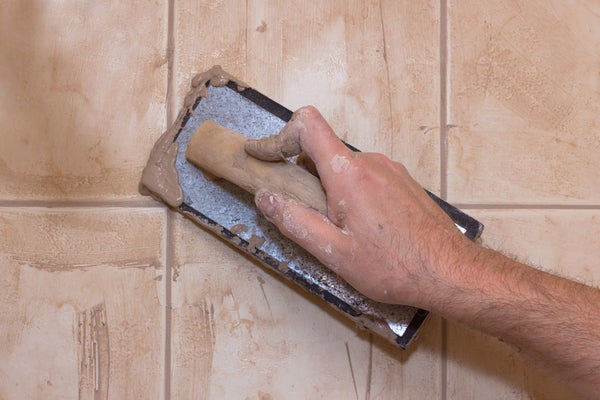 Grouting is relatively more straightforward than installing tile, so you've completed the hardest part of the project. In the following video, Mark Donovan of HomeAdditionPlus shows us the best grout application techniques to use when applying caulk to shower tiles.
Additionally, here are a few grout application tips and tricks:
Work in small sections at a time

- Do not apply all of your

grout

, all at once

.

Instead, you should

apply

grout in

small sections

of around 3'x3' and then remove the excess grout from that section before

moving on to another one.

Don't wait too long

to remove the excess grout

or

i

t will become dry and difficult to remove from the surface of the tile.
Check for

bubbles or holes

in the

grout

lines

- It's important to check for air holes or bubbles in the grout. Any spaces between the tile

could

allow water to penetrate and get behind the tiles.

Use a

flashlight and hold it flat against the wall

to l

ook for any dark spots in the grout

, which are holes

. If you see a hole, use your finger to patch it with grout and follow the usual drying times to remove the excess grout.
Wipe the extra grout off with a sponge that's flat against the

tile

- Although you

should

wipe off excess grout

at a 45-degree angle using

a grout float

, you

'll

want to lay your sponge flat on the surface of the

shower

walls or floor. Keeping your sponge flat helps to clean off

more

extra grout. This is especially true of irregular surfaces like pebble tiles, or smaller tiles where there is more grout per area.

Use a damp sponge to wipe and rinse it

often and c

hange the water in your bucket often

, too

.
Step 3:
How to Caulk to a Shower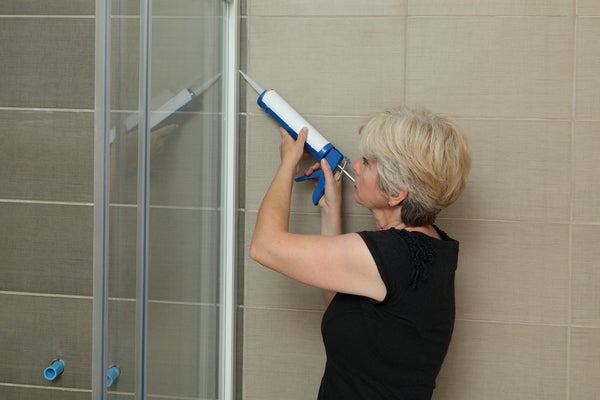 This step is even easier than grouting, so you're in the home stretch! Replacing the caulk around your tub, tiles, shower door, and drain is a relatively simple do-it-yourself fix that takes only a few hours from start to finish. Here's how:
Remove

any old or existing

caulk

- If necessary, u

sing a utility knife or oscillating tool, cut through

any

strips of old caulk.

Scrape off as much as possible, and then apply a specialized

caulk

remover to any stubborn

spots. If you

find any mold in the process

,

be sure to remove it

with a commercial cleaner or

a homemade mold remover made

of one part bleach to two parts water. Once the old caulk has been removed, wipe down the area and allow it to dry thoroughly before moving on

, as

caulk won't

properly

adhere to a wet surface.
Use painter's tape to create a guide for the new caulk

line

- P

ainter's

tape

will help

ensure a

clean bead. Use long strips of tape to mask off the surface on either side of the line where

yo

u want to apply the bead of caulk,

whether that's along the wall, shower door, or tub. To start the bead, apply pressure to the caulk gun or tube and either pull the gun away from your starting point

or, holding the gun at a 90-degree angle, push the caulk in a forward motion.
Caulk the corners and edges with caulk the same color as your

grout

- Colored caulk can be found at the home improvement store in the tile products aisle. It seals the edges of your shower where the wall meets the floor and blends right into the grout color. Read on for how to apply caulk to a shower.
Appl

y

the caulk in

stages

- Apply the caulk straight from the tube or use a caulking gun.

Take care

not to cut off too much of the tip from the caulk tube

when loading a caulking gun

. A wide opening will yield a thick

er

bead, which

could

lead to sloppy results. Cut the tip just above the indentation point that is usually marked on the tube.
Remove excess

caulk

- Once the gap is full, wet your finger and wipe

along the line to remove excess caulk and create a smooth, rounded bead. Peel off the painter's tape while the caulk is still wet, and then continue to the next section to be caulked.
Allow the caulk to

dry

- When you're done, allow the caulk to

dry

for at least 24 hours before

using

the shower.

And you're now done with this project and you'll be able to enjoy your new tile shower for years to come. Nice work!
AHS assumes no responsibility, and specifically disclaims all liability, for your use of any and all information contained herein.