Time to turn the inside of your home from a cozy winter holiday spot to a springtime showroom. Use these tips to transition the inside of your house from winter to spring.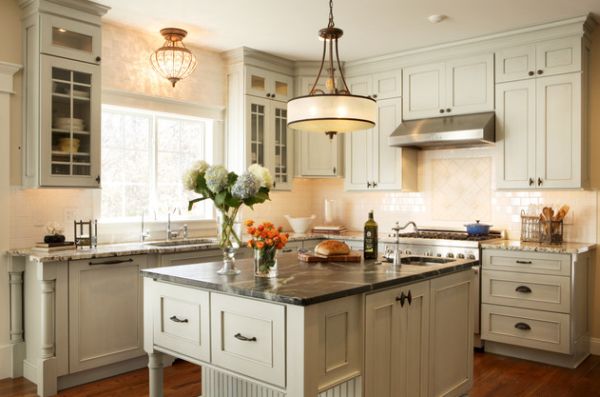 The end of icy winter is usually welcome, even if you like the cold. By the time the beginning of spring rolls around, we're all sick of thick winter coats and bulky sweaters. When the days get longer, and the air gets warmer, you're ready to ditch the cozy—in both your wardrobe and your winter decoration themes.
Ready to decorate your home for the spring? Here are some spring decorating ideas.
Ditch Old Man Winter
When springtime hits, that means all of your winter décor has to make its exit. Goodbye, pinecones. See you later, winter wreaths. Gather up anything that has a winter theme—and fall theme, if you're a procrastinator (it happens!)—and put away the decorations for next year. Getting them out of the way makes moving in the spring home décor that much easier.
Start Fresh With a Good Spring Cleaning
Before decorating your house, you want to make sure you don't pile your sunny spring décor over dust and debris. The first thing you should do to maintain your home and prep it for spring is to remove clutter from each room. Look for papers, books, and other items that you aren't using and file or store them away. Throw away any trash, then go through all of your items and make a "keep" pile and a "donate" pile. Going through all of your possessions at least twice a year is an excellent way to keep up on clutter and make sure everything has a home.
When cleaning, it's best to start from the ceiling down—that way, you don't have to clean twice. There's nothing more frustrating than vacuuming, then having dust fall from the furniture or ceiling fans when you wipe them down.
Start by cleaning the corners of your walls and ceiling fans—you get bonus points if you take the time to wash your walls, too. Then, use the vacuum cleaner to clean upholstered furniture, like couches or that prized vintage chair you've had for years. Use cloth rags and sponges to dust off shelves, furniture, and tables. Wipe down all appliances (like your refrigerator, stove, and washer and dryer) thoroughly with soapy water or a household cleaner to clean them off. And don't forget to polish your wood furniture until it sparkles.
Then, put some window cleaner and elbow grease to good use. Wipe down all the windows, perform any necessary window maintenance, and clean all of the mirrors in the bathrooms and other areas around the house. Sparkling, crystal-clear windows let all of that spring sunshine pour in. Now is also a good time to inspect the windows and see if it's time to repair or replace them (doing so may help you save energy).
Your last bit of spring cleaning should focus on the floors. Vacuum carpeting thoroughly and mop any hard surfaces.
Now your house is ready for the spring décor.
Bring in Some Plants
Bringing in some potted plants can be a great way to enhance a home's appearance. Small potted plants can make great centerpieces for tables in the dining or living room. Larger potted plants can also serve as good standalone decorations around the edges of the room.
Serious plant lovers can even place potted plants on shelves, making them perfect for spring living room décor. Mixing plant sizes can provide a more casual atmosphere, so feel free to place smaller plants in groups around larger plants. Hanging plants can make for excellent spring home décor, too. Aim to hang plants around windows where they will receive natural sunlight.
Plants also have additional benefits, like improving air quality in your home. Plants give off oxygen and reduce carbon dioxide levels. They can also reduce the amount of dust and airborne toxins like benzene and nitrogen dioxide.
Another benefit of placing plants around your home is that they increase humidity. Much of the water they absorb is excreted back into the air, which can prevent your skin from drying out and mitigate some respiratory issues.
Finally, research has shown that having plants inside a building can make people happier, reduce anxiety, and help people be more productive. So, when it comes to spring decorating ideas, the more plants, the better.
Add Some Spring Decorations to the Bathroom
The bathroom is usually one of the smaller rooms in the house, so starting here can be a great way to transition your home into the spring season quickly. Using bright colors in the bathroom will open up the room and make it bright and cheery.
If you want to add a DIY spring décor element, add a small bowl of homemade potpourri on top of the sink or on the back of the toilet bowl to freshen the air in the bathroom while adding a decorative touch. Another popular option to give your bathroom a spring feel is to use decorative or scented candles.
Replace your bathtub curtain with a curtain that has a lighter color or even a floral design. Use light-colored towels to complement the curtains and surrounding spring décor.
Spruce Up the Kitchen
Spring kitchen décor is another way to give your home a fresh feel. Gather or purchase some fresh—or faux—flowers and place them in a vase. Use brightly colored hand towels to hang on the oven door. You can also add brightly colored soap dispensers and other items around the kitchen.
Incorporate Fun Colors into the Living Room
Along with the addition of plants and flowers, you can brighten up your space with some spring living room décor. Switching out the curtains, throws, and decorative pillows to something light and cheerful does wonders.
If you have a fireplace, you can also add color with spring mantel décor. Place colorful vases or candles on the mantel and intermix them with greenery (fresh or faux). Or change out the artwork above the fireplace with framed photos or paintings that incorporate pastels or spring themes.
Brighten up your porch
Nothing is more welcoming than a porch full of flowers. When the weather is warm enough, place big pots of colorful spring flowers to make the perfect spring porch décor. A bright wreath or a placard welcoming the season also makes great spring door decorations.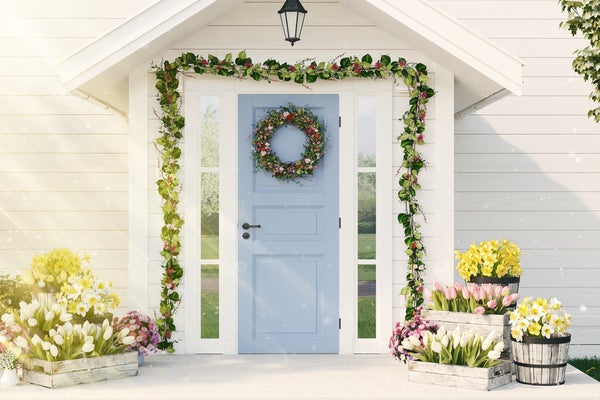 Decorating your home for the spring can be a fun task and a great way to welcome the warmer weather. Both indoor and outdoor spring decorations can go a long way toward shaking off those winter blues.
Along with spring cleaning and incorporating spring home décor, it's important to start working through your spring maintenance checklist. An American Home Shield® home warranty can help protect your budget and help with the repair or replacement costs of important appliances and system components that break down over time. Get coverage for up to 23 systems and appliances and choose add-on coverage based on your home's needs and budget.