Do you currently live in a historic home, or are you thinking of investing in one? Older homes can be like works of art. Depending on the era, your house could have designs and features that just aren't around anymore, which makes your home unique.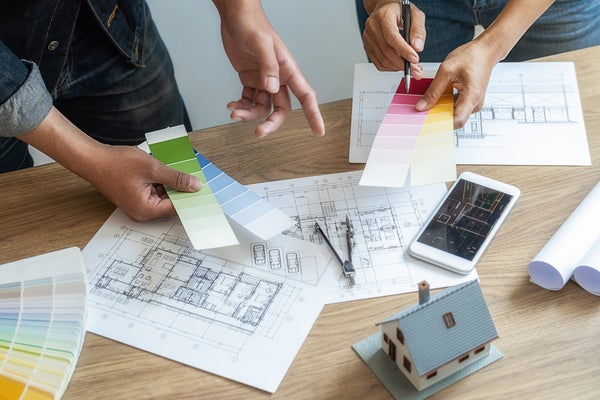 Undertaking an old home remodel to restore it to its former glory can be a lot of fun, but part of making a house into a home is adding your own style. When it comes to old houses, putting that into practice may be tricky. Do you need special contractors? Will you need to order specific materials? If your house is designated historic, are you even allowed to perform a historic home remodel?
American Home Shield® is here with some tips on protecting your historic home during a remodel and how to achieve the look you want without losing the charm that made you fall in love with the property.
1. Find out what you can and cannot do.
If you own a historic home, it's important to know exactly what you can and cannot change. Check your state and local laws to find out if there are any remodeling restrictions. While you're in research mode, find out if there are any grants for remodeling historic homes in your area. Make sure you study the terms of the grant carefully—it might have stipulations that may not mesh with your plans or that aren't worth it in the long run.
Not sure if your house is considered historic? We have more details on renovating a historic home.
2. Hire an inspector.
Hiring an inspector is crucial when purchasing a home, but it's also a great idea when embarking on an old house remodel. Building codes vary by state and even by county, so hiring an inspector can help you navigate what is and isn't allowed in your area. This professional can also help you determine if you should update the plumbing system, old electrical wiring, the roof, and any other potential hazard-in-waiting.
3. Make sure your contractor and designer are familiar with old houses.
When brainstorming remodeling ideas for older homes, it's essential to ensure that the new additions flow smoothly with the rest of the house. Hiring a professional remodeler and contractor who have experience with updating an older home can make a huge difference between a modern remodel that sticks out like a sore thumb and one that is incorporated seamlessly into your dream aesthetic.
It's a good idea to find a contractor or architect familiar with techniques to add modern enhancements to your home while preserving its historic features.
4. Don't be afraid to make changes to increase your comfort.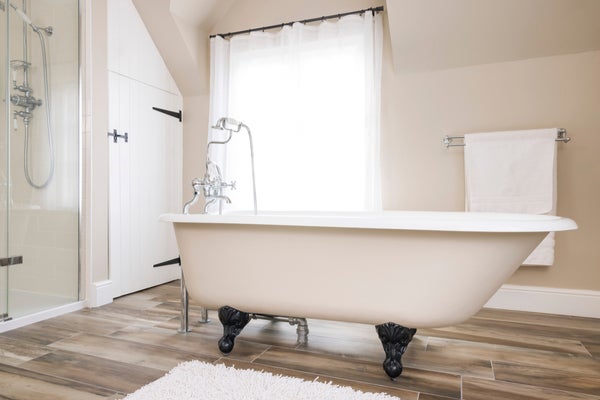 Old houses are beautiful, but let's face it—no one wants to live in a museum. Your home should be an oasis against the stresses of the world. Don't be afraid to modernize for comfort. If you have tiny closets, don't hesitate to expand them into walk-ins. If the home is drafty, take steps to insulate it. Just be careful with the windows—many of them are protected in historic homes. Luckily, there are ways to modernize them without taking away from the charm.
Old home remodels are a great way to have the best of both worlds. Yes, you can unleash those beautiful hardwood floors while making room for cozy rugs! Of course you can pair a claw-foot tub with a sparkling walk-in shower and radiant floor heating! Need more inspiration? We have lots of old and historic home bathroom remodel ideas.
5. Modern designs make kitchen remodels a snap.
You may love the look of your antique appliances and fixtures but trying to live with them is another story. Luckily, you have an array of options for historic kitchen remodel ideas.
Small kitchens are the norm in old homes. If yours is too small for the size of your family or your cooking needs, ask your contractor if you can remove a wall or extend an external wall outward into your yard.
On a smaller scale, you can modernize your appliances for convenience and ease. Find stoves, cabinets, and refrigerators in pretty much any style you want—either updated or retro. So, if you love the current style of your kitchen, you can still upgrade and find replicas with all of the modern features you need. It's a great way to achieve your old house kitchen remodel without losing the room's character.
6. Keep an eye out for treasures during the remodel.
One of the best parts of owning an old home is uncovering relics from different eras. As you start revamping your space, you may find neat features that previous owners covered up.
Depending on the age of your home, you may find hidden doors that were used to bring in milk, ice, and coal. There may also be bricked-up fireplaces, intricate molding, or beautiful flooring hidden under carpet or linoleum. Restoring these items and working them into your remodel is a great way to honor your home's past when adding a modern touch.
7. Save potentially valuable items.
If you discover old items that you don't want to keep, don't throw them away just yet—they could be valuable. Always do your research and find out precisely what they are. That old hunk of cast iron you found embedded in the floor? It could be a vintage boot scraper that can help pay for your new plumbing. Replacing the porcelain sink, faucets, and cupboards during your historic kitchen remodel? Those may be worth a good chunk of change.
Even the old building materials may be valuable to someone. Scour resale sites or antique stores in your community to see if what you have might be valuable (your contractor or designer may also be able to help with this). You can also donate any salvageable materials to save them from going into the landfill.
8. Be as energy efficient as you can.
The upkeep of an old home can be even more expensive than that of a modern house. Older systems and appliances can increase your energy usage and utility bill, and many old homes aren't properly insulated.
If you're taking on an old house remodel, invest in energy-efficient options, like underfloor heating, programmable thermostats, adequate insulation in the attic and basement, and weatherproof doors and windows. We have some great ideas on how to make your home more energy-efficient.
9. Get reliable home warranty coverage.
If you own an older home, you need a home warranty that covers items no matter their age, covers both home systems and appliances, and offers maintenance care like seasonal HVAC tune-ups. You need American Home Shield. We've been in the business for 50 years, and we know how to take care of and empower our members with reliable home warranty coverage. We have affordable plans to fit your budget and household.
Take the headache and uncertainty out of an old home remodel with these helpful tips. Your old dream home awaits.