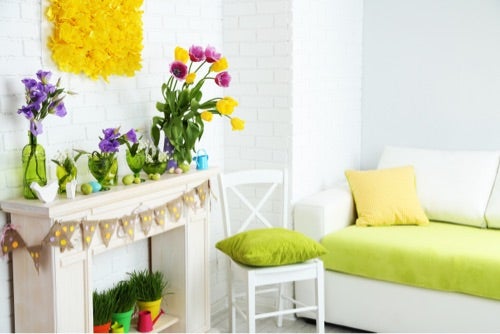 Spring has sprung. The grass is growing. It's that annual time of fresh starts and renewal. This time, go beyond the usual spring cleaning. Really spruce up—no, shake up—your home's décor. Do Easter like you never have before. We have a basket full of DIY spring décor and DIY Easter decoration ideas to inspire you to use a variety of colors, fabrics, and materials to add some spring charm—and your own personality and character to everything from furnishings to flowers to your front door.
Flip the furniture.
You've been sitting on the same sofa on the same side of the room, looking in the same direction since the weather turned cold—if not for years. It's time to switch things around, open things up for a light and airy feel, and give your family a fresh point of view.
Pull the rug.
It's amazing how something as simple as an area rug can help you re-imagine a space. A vibrant dash of color can energize a living room or add a soothing touch to a bedroom. Then take it to the next level by adding accent pieces like pillows, throws, and flowers.
Do a mantel makeover.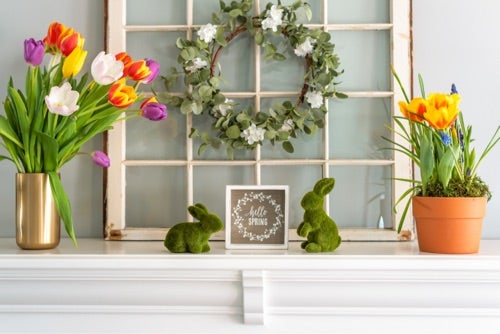 There's no excuse for having a drab slab above your fireplace. It's just begging to be the focal point of not just your living room, but the current season. Mirrors, candlesticks, books, and framed photos slide over—or take temporary refuge elsewhere—to make room for spring flowers and easter decorations.
Spring Porch Decor
Spring porch décor is all about your own individual style and expressing your creativity while taking your cues from nature. Think in shades of green and blue to be in harmony with the nearby foliage. Consider color-coordinating your decking, seating, cushions and throws, rugs, floor and hanging lamps, containers, and hanging and potted plants. A great way to get into spring is to install a porch swing. And as a finishing touch, this is the perfect season to paint that front door in a hue that's warm and welcoming. Keep in mind you're not just spiffing up your porch, you're taking your home's curb appeal to a whole new level.
Lay it on the table…
You don't have to wait till you're hosting a big spring event to create a bright, cheery tablescape in your dining room. Start with a patterned table runner and a simple, elegant floral centerpiece (think tulips), then add colorful placemats, plates, glasses, pretty candles for ambiance, and whatever else makes you think of spring.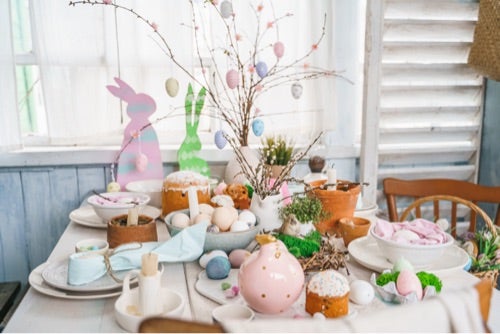 Don't forget to add in Easter table decor.
Now that you've set the table for a festive spring, you're ready to swap out a few items to get in the spirit with some Easter table décor. Go with a bunny or Easter egg-themed centerpiece and table runner. Then have some fun with striped straws in unique glasses, get creative, and fold your napkins into bunny shapes, add some more bunnies, baby chicks and Easter eggs, and fresh flowers, all sitting on a pastel tablecloth.
Don't settle for regular eggs.
Speaking of Easter, there are nearly as many possibilities for decorating easter eggs as there are materials around your house. You and your kids can have fun wrapping eggs—real or plastic—in fabric. Just cut thin strips, then glue and start wrapping. Or take the dipping and dyeing a sparkly step further by covering the eggs with craft glue, one side at a time, and sprinkling on some shiny glitter. If glitter's not your thing, how about bits of dried or pressed flowers? Or add polka-dots using puffy paint…or small paper cut-outs of bunnies…or take a painted egg, break it, and glue the pieces onto another painted egg.
Now you need a basket to put them in.
Take an ordinary wicker basket and wrap it in festive fabric cut from an old scarf or dish towel.
O Easter tree, O Easter tree.
Why not have a little fun with tradition and put up a tree to celebrate the spring holiday in a naturally festive way? We're not suggesting a ceiling-scraping pine. Just pick out a decent-sized vase or pot and fill it with some sturdy branches. Then take some craft eggs and attach them to the branches with colorful ribbons. You can also add any other easter-themed ornaments you like, such as paper bunny cut-outs.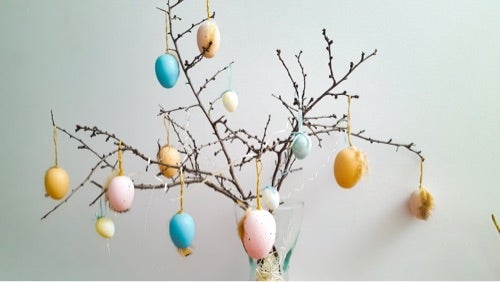 And don't stop there. Make an Easter egg wreath for your front door out of eggs, moss, and flowers. Wrap a garland of paper eggs around your staircase. And have an even merrier Easter.
Refreshing the look of your home is a rite of spring. As long as you follow your own sense of style, you really can't go wrong.
Looking for a little more inspiration? Here are a few decorating ideas to start Spring off right!
Getting tired of the same old traditions? Consider taking a little inspiration from abroad with these exciting Easter traditions from around the world.
No matter the season, you can relax and enjoy peace of mind.
The less you have to worry about protecting your home's systems and appliances, the more you can concentrate on decorating them. American Home Shield® offers coverage for parts of up to 23 home systems and appliances. Enhance the look and feel of your home and rest easy knowing you're protected with an AHS home warranty plan®.
See the plan contract for coverage details, including service fees, limitations, and exclusions. Charges for non-covered items may apply.