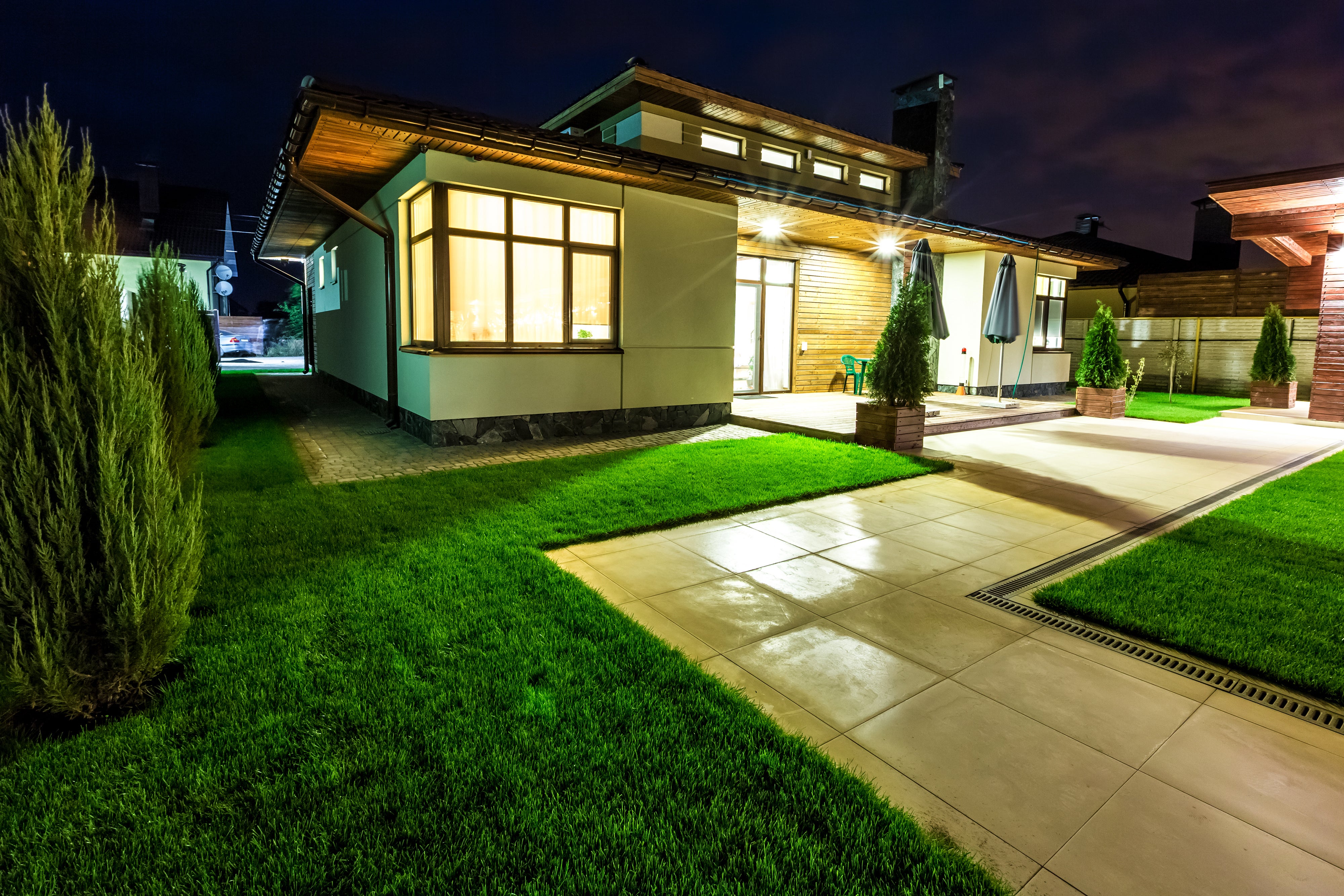 Outdoor lighting can truly transform your home. Lighting enhances the beauty of your landscaping and can significantly increase your home's curb appeal—along with adding to the security of you and your family members.
There are various options available for landscape lighting ideas—ranging from high-voltage lights to low-voltage lights. Solar lighting is also an option. There are string lights, spotlights, floodlights, step lights—you name it, and it seems like companies have a way to light it.
Give your home the illumination it deserves. Here are some of the best places for installing outdoor lighting.
1. Pathways
Illuminating pathways is always a good idea when it comes to outdoor lighting ideas for the front of the house. They add appeal to your landscape and serve as safety and security measures. Adequate lighting may scare off potential burglars who don't want to risk being seen and will help your family and guests navigate to the front door.
You can install lights directly next to the path or use ambient lighting in the bushes or around flowers. Outdoor solar lights are an excellent choice for illuminating pathways.
2. Patios
Patios are perfect for entertaining or just lounging with a book when you want some fresh air. If you spend a lot of time on your patio or balcony at night, adding some downlights could help create a cozy ambiance and a moonlight effect.
But what are some outdoor lighting ideas for a patio? Look no further than outdoor string lights. You can purchase string lights typically in lengths of 10 to 100 feet and either in globe or fairy light form, depending on what kind of twinkle you prefer. If you're a techie type, consider looking into "smart" string lights that come with Wi-Fi and Bluetooth connectivity.
The only thing left to do is add comfy outdoor furniture and pillows to create an intimate setting.
3. Trees
Adding bright outdoor lights to your trees can make them focal points and add extra lighting to an area. Depending on the types of trees you have, you might consider battery-powered outdoor LED lighting that you can nail into a branch. You can also angle lights in your trees to spotlight down on patios, decks, or outdoor gazebos to create a dreamy nightscape. Angled lights would work well as a garden lighting idea.
4. Entryways
Adding outdoor light fixtures to any entry door of your house is a must when it comes to safety. It ensures a speedy entrance for you when unlocking your door, and it allows you to see anyone clearly who may be knocking. Motion lights are also an excellent choice when it comes to entryways.
5. Decks
Just like patios, having a deck is a great way to enjoy the outdoors. Brighten up your deck with outdoor string lights or battery-operated LED lanterns to place on the tables and deck railing. It's a good idea to install a floodlight as an option in case it gets dark before you're done grilling or if you need to let a pet out in the middle of the night. You can also use uplighting to better light the entire deck, especially if there's a ceiling. There's no shortage of outdoor lighting ideas for creating comfortable, well-lit deck spaces.
6. Gazebos/Pergolas/Trellises
If you have any of these structures, the possibilities are endless. Install light fixtures like outdoor chandeliers, canopy lights, pendant lights, or string lights. Any of these would add a magical element to any outdoor structure.
7. Swimming Pool
If you have a pool, using illumination to turn it into a shimmery oasis could add significant appeal when it comes to backyard lighting ideas. Depending on how it's designed—with shrubs, trees, or rocks adorning it—a few extra accent or landscape lamps could set the mood during a nighttime swim.
8. Miscellaneous Areas to Add Outdoor Landscape Lighting Ideas
There are many other areas around your home where you can add lighting to improve your landscape's appeal and increase the security around your house. Consider adding floodlights or hanging lamps near your garage and pathway lights along your driveway.
Depending on the exterior look you're going for, you might also consider putting lights around fences, windows, or other architectural elements.
Worried all of this extra outdoor lighting will cause your electrical system to go haywire? Protect your home's electrical system and your budget with a home warranty from American Home Shield.
For more home tips, check out our summer lighting ideas, ideas for landscaping for beginners, and tips for patio designs for your backyard pool party.
AHS assumes no responsibility, and specifically disclaims all liability, for your use of any and all information contained herein.