If you're looking to save space and get rid of old, clunky tools that take up room, consider these multi-purpose tools.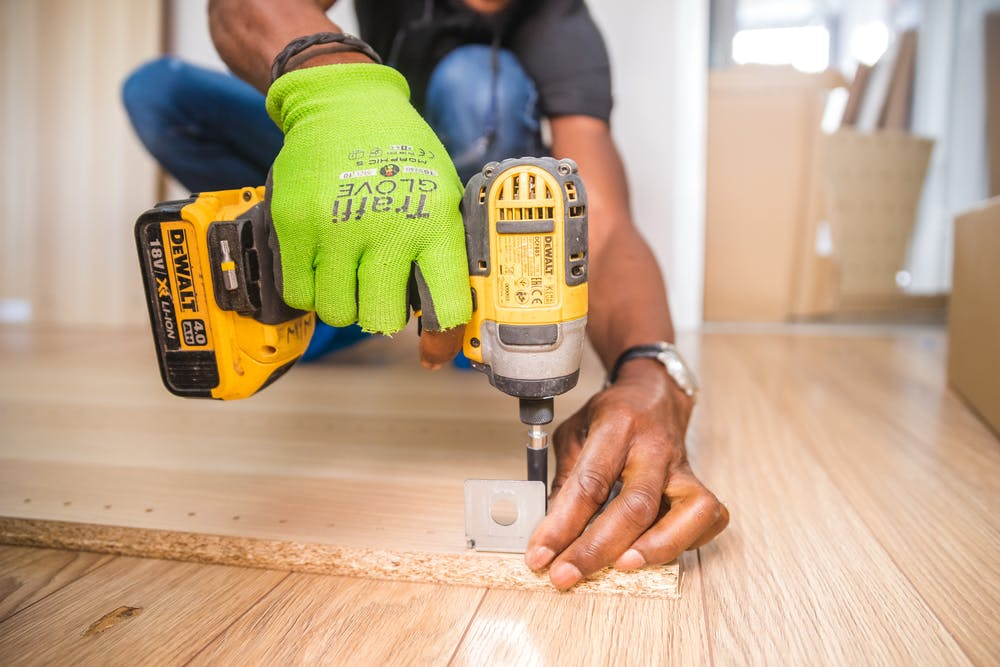 As a homeowner, you need a complete set of tools. There are few DIY projects that don't require a full set of power tools. But finding room to store those tools isn't always easy. In this day and age, not everyone has the space or money for a fully equipped home workshop, and you might have to make do with storing your tools in a corner of the garage, in the attic or in the utility room.
With limited space and plenty of home improvement ideas to tackle, you need to optimize your tool storage by stocking up on compact, multi-use tools. Each of the following small power tools can be used for multiple jobs, so you can minimize your clutter by buying only the tools you need.
Random Orbital Sander
Whether you're building your own handmade furniture, prepping kitchen cupboards for repainting, removing rust or refinishing wood surfaces in your home, you need a sander. An random orbital sander isn't necessarily the right tool for every refinishing job — you wouldn't want to refinish your hardwood floors with one, for example — but it's a good middle-of-the-road sanding tool that will provide you with the power you need to finish grinding and polishing tasks quickly and easily, without taking up too much space in your tool box. Grab a model with built-in dust control and don't be afraid to try out the different polishing and sanding pads you can get for it.
Cordless Drill or Impact Driver
A cordless drill or impact driver is one of the first power tools many new homeowners get, and that's for a good reason. You can use a cordless drill or impact driver to place guide holes for wood screws when hanging shelves and cabinetry. You'll need one to finish a basement, screen in a porch or turn a screened porch into a four-seasons room.
While a cordless drill might be fine for most of your DIY projects, an impact driver will be slightly more versatile — and it'll also be smaller and lighter in weight. Impact drivers have more torque and direct more force downward into the bit. They're good for drilling holes when you need more force behind the bit, such as when you want to drill into metal, brick or concrete. And if you have a large home improvement project planned, an impact driver will be more comfortable to use for long periods.
But maybe the best thing about impact drivers and cordless drills is the wide range of bits and attachments you can buy for them, making them among the most versatile and useful power tools in a homeowner's tool kit. You can buy small bits for drilling guide holes and hole saws for drilling larger holes, such as those to run plumbing through walls or direct a dryer vent to the outdoors. You can buy auger bits for planting bulbs and even brush bits for scrubbing your shower grout. At the very least, you should buy standard bits for wood, masonry, drywall and metal.
Oscillating Multi-Tool
Oscillating multi-tools are compact, powerful little tools that can also tackle a wide range of jobs, thanks to the variety of blades and attachments you can buy to cut, sand, polish, grind or scape just about anything. You can use one to cut through wood; copper, galvanized, or PVC plumbing pipes; or drywall. Use sanding attachments for small refinishing jobs and scraping attachments to remove adhesives, caulk and weatherstripping, or vinyl floor tiles. Use them to grind away grout or mortar, remove old paint, salvage moulding, or trim door casings when laying new floors.
Reciprocating Saw
A reciprocating saw is versatile enough to stand in for a jigsaw or a circular saw but powerful enough to cut through drywall, wood, plastic, metal, concrete or stone, as long as you have the right blade installed. It's an essential tool for a number of DIY projects, and it's also a tough customer that can handle just about anything you throw at it, as long as you make sure you're using the right techniques for each given application.
Portable Tabletop Saw
A full-size table saw might be too big for your space, but a portable table saw might be just what you need to turn all your home improvement ideas into realities. Portable table saws are ideal for most DIY uses. As long as you don't need to rip up sheets of plywood, you should be fine with any model of portable table saw. They're easy to carry, easy to store and come with safety features like anti-kickback pawls, a riving knife and a blade guard.
If you're like most homeowners, you have limited tool storage and workshop space, but that doesn't mean you can't get everything you need out of your tool set. With these multi-use tools, you can tackle any home improvement project you desire. When you need more DIY ideas, turn to our Home Matters blog, where we offer regular repair tips, home improvement tricks, and even home and garden decor suggestions to help you make your house into the home of your dreams.
AHS assumes no responsibility, and specifically disclaims all liability, for your use of any and all information contained herein.