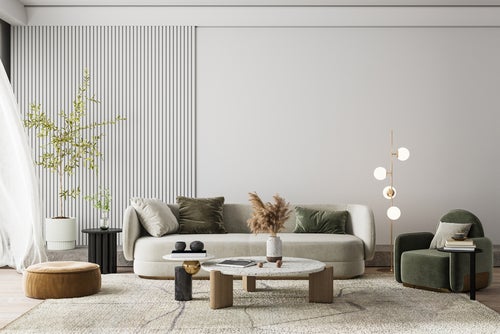 Your living room is one of the busiest parts of the house. It's where you entertain, have family movie nights, and relax after a long day. It only makes sense that your living room should be an expression of your personality and show off your style.
Here are the key components of a successful living room makeover and our top recommendations that can inspire you to start styling.
Size
When mulling over new furniture, paint samples, and décor, it's important to consider the size of the room.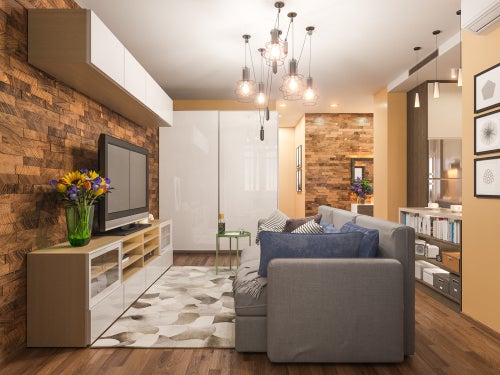 Large Living Rooms
Here are some ideas for a living room makeover if you have a large space to work with:
Play around with colors and heavy accents. Consider painting an accent wall—or the entire room—in a bold color.

Organize the room with area rugs, which help create separate sections in the space. If your room is large enough, try incorporating two sitting areas: one surrounding a television or entertainment system and one that serves other purposes, like reading or chatting with guests.

Seating options are almost endless when you have a large space to work with. You could purchase a u-shaped couch, a long sectional, or even have two sofas facing each other.
Small Living Rooms
Here are some small living makeover ideas:
Dark, bold colors can make a small living room appear even smaller. It's best to choose light colors—or even white—to make the space feel bigger.

Avoid purchasing too much furniture for the space. Having too many pieces can make the room feel cluttered.

Pick a couch that fits the living room but doesn't make it feel crowded.

Introduce mirrors and glass décor into your living room makeover to help the space feel airy and light.
Comfort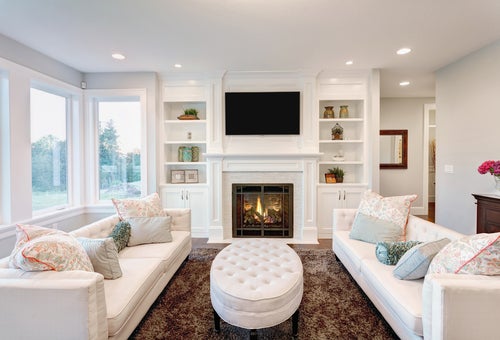 Never sacrifice comfort for your preferred aesthetic when you makeover your living room. Consider the main purpose of your living room: a gathering place for your family and loved ones to relax. Purchase a couch that pairs comfort and style. Incorporate soft textures with pillows and throws, and make sure there is enough seating for your family or entertaining guests.
Entertainment
Look for ways to set up, organize, and disguise your entertainment systems and cables. Here are some tips:
Television. You can find televisions in all shapes and sizes, so choose one that works best for your space and meets your viewing needs. Mount a TV on the wall to maximize surface space, and use cord covers for a clutter-free look. The Frame TV by Samsung is a great option for any living room makeover and blends into any space: When you're not watching television, the screen can display digital art.

Sound. Place your sound system's control panel with the rest of your electronics and scatter the speakers around the room for optimal acoustics. You can maximize your space by getting the speakers up and out of the way or installing them in the corners of your room near the ceiling. You can also connect virtual assistants to wireless speakers.
If you're doing a total remodel of your family room, consider installing wall panels in which you can hide your devices and cords. For a small-scale refresh, a sleek cabinet that fits all your media-related items will help you achieve the same goal. Built-in or moveable cabinetry is also perfect for housing books and board games.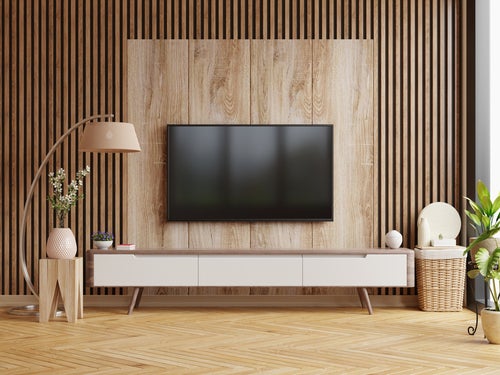 Check out electronics protection coverage from American Home Shield®, which helps protect your pricey home electronics if their components fail due to normal wear and tear.
Lighting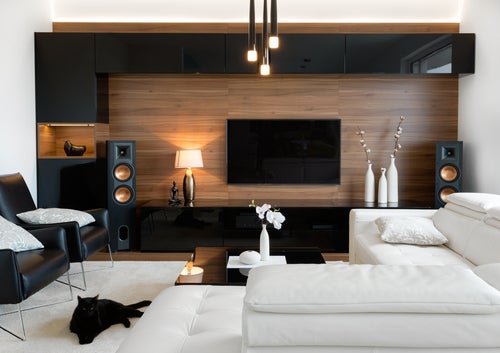 Lighting plays a big role in the feel of a room. Multiple light sources are key if you want your living room to be intimate and cozy. Incorporate overhead lighting and table and floor lamps to allow you to choose the look depending on your mood and the time of day. Pendant lights and dimmer switches also help to create a soft look.
Window Treatments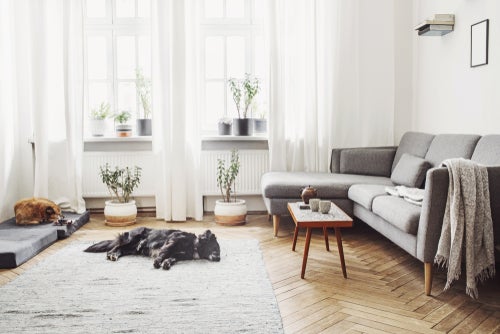 Don't overlook window treatments when researching living room makeover ideas. If your furniture and décor are bright and bold, choose neutral window curtains. Similarly, if you have neutral colors throughout the space, consider installing patterned or brightly colored drapes.
Think about which direction your windows face. If your window is north facing, that often means it won't get a lot of sunlight. You can opt to hang gauzy curtains—or nothing at all—for the maximum amount of light to shine through.
However, if your window faces south, you may find your living room hotter than other parts of the home. Heavier curtains or blinds can help keep your living room cooler on hot summer days.
Style
There are countless designs to choose from when it comes to remodeling your family room. Here are a few stylish living room makeover ideas:
Fireplace. Fireplaces aren't just useful in the colder months. They can lend themselves as a focal design piece and provide a cozy feel in any space year-round. Since a fireplace is not a quick and easy DIY installation, discuss the idea with a contractor to see if the addition or renovation is feasible for your home. You could even consider building a nonworking fireplace and putting tiered candles in the alcove for a design accent.
If you're doing a living room makeover on a budget, think about adding an electric fireplace instead. It gives you all the coziness and warmth at a fraction of the price. You also won't have to worry about gas hookups or wood.
Furniture. As you remodel your living room, take the time to sort through your existing furniture and decide what you want to keep and what needs to be rehomed. Pick and choose based on the intention of your new style. A well-designed living room should have a cohesive color scheme and a complementary combination of furniture. Feel free to mix old and new furniture for dynamic qualities.
Accessories. Blankets, pillows, lamps, and wall art are great ways to introduce color, patterns, and texture. While furniture is more of an investment, accessories allow you the opportunity to play around with design while still fitting into your living room makeover budget. Accessories allow you to test new trends because they're easy to swap out.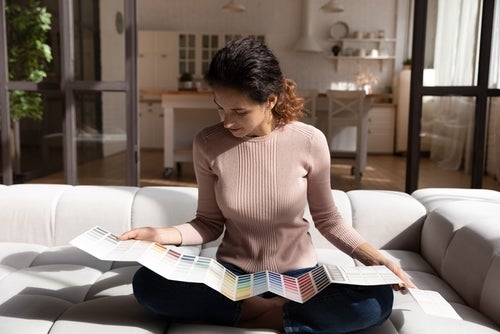 As you makeover your living room, think about serving the space's purpose while adding style and creativity. A thoughtful approach to the new design will give you a room that fits your home's aesthetic and functionality.
Read more tips for bathroom makeovers, kitchen makeovers, and showerhead makeovers.
View our pricing and plans to determine which level of coverage is right for your household and budget. See the plan contract for coverage details, including service fees, limitations and exclusions. Charges for non-covered items may apply.