Learn how you can avoid bathroom remodel nightmares this Halloween season. AHS offers insights for bathroom remodeling.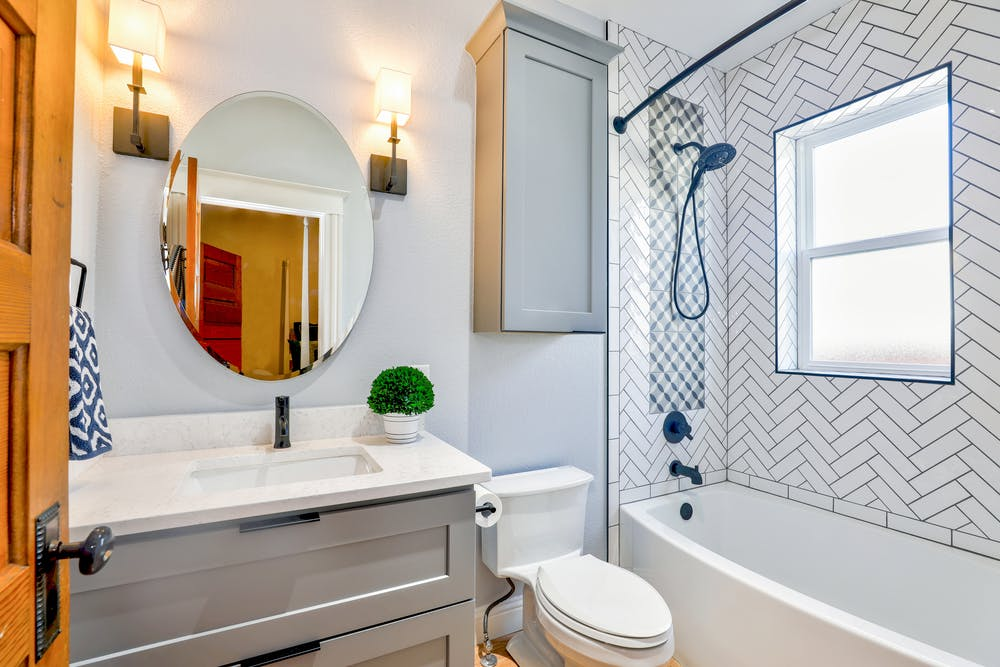 Are you thinking of remodeling your bathroom? It's a good time of year for it — the holidays are almost here, and you might be thinking of ways to spruce up the house. Or maybe you've been self-isolating for a while due to the COVID-19 pandemic, and you're starting to get sick of looking at your outdated bathroom. Being home all the time has put a strain on those fixtures anyway. It's time to freshen things up.
Before you start swinging that sledge hammer, though, you should know there are plenty of things that can go wrong with a bathroom remodel. Here's how you can avoid — or at least deal with — some of the most common bathroom remodel nightmares.
Don't Forget to Plan Around the Door
When remodeling your bathroom, it's easier and cheaper to leave the plumbing where it is (more on that later) and install new fixtures in the same places. If you are going to move around fixtures or install more cabinetry, don't forget that you need to leave room to open and close the bathroom door completely. You don't want to block your door and end up with less (or, let's face it, no) privacy. It seems like something that could never happen until it happens to you, because you've been working all day, you're tired, and you're not thinking straight when you install your new bathroom features.
Work with the Space You Have
You're not going to be able to install everything you want in your bathroom remodel, especially if you have limited space in the room.That means you may have to skip the double sink and soaker tub. Rein in your bathroom remodeling ideas accordingly.
Remodeling a bathroom means maneuvering and working with large, heavy fixtures in a cramped space. Measure everything twice and then again for good measure, so you can buy fixtures that will fit. Plan your new bathroom beforehand. That way you won't waste hours trying to muscle a vanity into a nook that is too small to accommodate it.
Leave the Plumbing Where It Is
When remodeling a bathroom, it's really the most economical to leave the plumbing where it is if you can. Unless your bathroom's layout is extremely impractical, you should connect new fixtures to the existing plumbing. Moving existing water lines and drain pipes can be very problematic and expensive.
Remember Who's Using the Bathroom
Will this bathroom be used mostly by kids, or is it in the master suite? When designing a bathroom remodel, consider the family members who will be using it most. Install a walk-in tub and grab bars for seniors and the disabled. Increase spacing to accommodate a wheelchair or make it easier for a home health aide or family member to help a disabled or senior person use the facilities.
For children, brainstorm structural and design elements that will appeal to them and will, ideally, make the bathroom easier for small family members to use. Look for bathroom, shower, and tile ideas for children's bathrooms, and get input from your kids.
Know What You're Getting Into
Removing an old tub or shower surround and replacing it with a new one isn't as straightforward as it might seem on the surface. There's a bit more to it than just yanking out the old and putting in the new. You have to make sure your hot and cold water connections are leak-free and functional. You also need to ensure the shower or tub floor slopes toward the drain. And that's not all.
Unless you're a skilled do-it-yourselfer, it might be worth it to hire professional bathroom remodelers. That way you won't end up with leaks, standing water in your new shower or tub, faulty waterproofing, or other problems that could become big issues down the road. Remember, bathrooms are wet, so a botched bathroom remodel could leave your home vulnerable to water damage — and that damage could accumulate and become more severe without you even knowing it, until it becomes irreversible.
Consider Gutting the Whole Bathroom
The potential for water damage is why you should consider gutting your whole bathroom down to the studs when you remodel. A full gut will tell you whether you need to replace a rotting subfloor or leaking drain pipes, as well as if you have a mold problem to mitigate — and it will allow you to rebuild with modern materials that are much more resistant to mold and water damage.
Bathroom remodels can reveal all kinds of problems you didn't know your house had. Read our Home Matters blog for tips and tricks to make your project a success and avoid bathroom remodeling nightmares. You can also check out American Home Shield® home warranties with plumbing coverage to make sure your new bathroom is covered in the event of a disaster or breakdown.
AHS assumes no responsibility, and specifically disclaims all liability, for your use of any and all information contained herein.