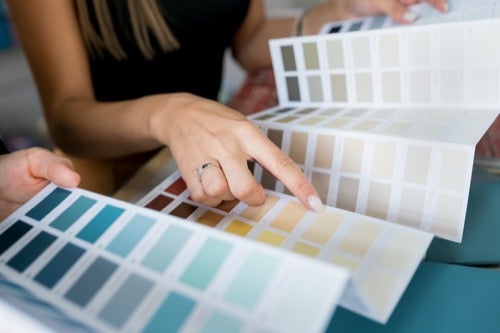 Each year, in early December, Pantone announces their highly anticipated pick for Color of the Year. Real Simple shared their predictions. Pantone has been the kingmaker for Color of the Year (CotY) for more than 20 years. Keeping this in mind, Pantone is not the only game in town. Behr, Benjamin Moore, and Sherwin Williams all pick a color of the year. Some dismiss these picks as simply clickbait in the attention economy world. The truth is that the color of the year, whether it's for fashion designers or paint and decor companies, is an opportunity to frame the vibe and discourse for the coming year.
Viva Magenta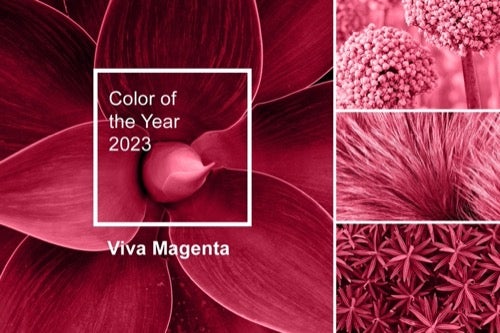 Pantone's Color of the Year for 2023 is Viva Magenta. How will Viva Magenta play a role in your 2023? Well, that's for you to determine. Pantone's CotY choices have a long history of directing fashion and style trends as well as home design and decor.
Looking for where to buy Viva Magenta products? A few terrific recommendations can be found here.
Viva Magenta is certainly a bold selection. A lush magenta that is cheerful and harmonious as Pantone suggests. A color full of power, bravery, passion, and luxuriousness. Just what some of us need to spice up out everyday spaces and bring a little pizzazz to combat mundane aspects of the daily grind.
Indoor-Outdoor Living
According to Architectural Digest, Sherwin-Williams' pandemic choices for paint color of the year in 2021 and 2022 were intentional as all of us have been trying to find a way to get back to living in "the new normal" while continuing to stay safe. SW's pandemic paint color choices "reflects design's renewed interest in the restorative nature of the outdoors."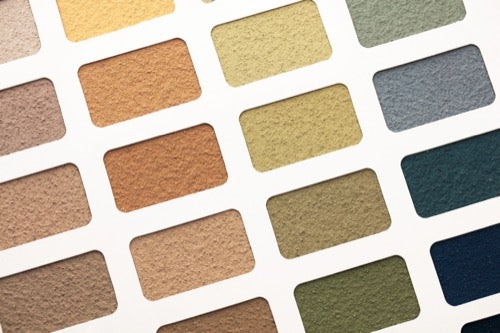 In 2023, Sherwin-Williams' selection of Redend Point SW 9081 points to a turn back towards interior design. Redend Point is a warm paint color that SW describes as "minimal", "calming", "intriguing". All these word choices signal that SW is encouraging us to transform our indoor spaces to a place of healing and nurturing. This can be seen in their examples of room redesigns sporting Redend Point. Interestingly, Sherwin-Williams has partnered with Etsy to offer you the accessories you need to compliment their paint color of the year for 2023.
Benjamin Moore x Chromeo
Collaborations are hot nowadays as illustrated by the Sherwin-Williams partnership with Etsy on Redend Point. Benjamin Moore has partnered with Chromeo, an electro-funk duo, on a song illustrating their Color of the Year (CotY) selection of Raspberry Blush. Thinking about paint wall colors it's easy to imagine Raspberry Blush as a bold and yet hushed tone selection.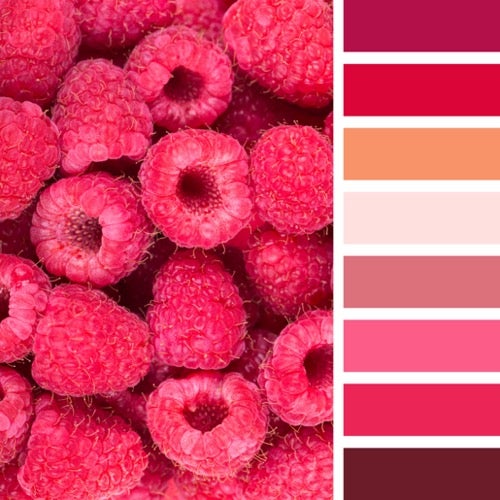 Benjamin Moore, like other companies, has expanded beyond a single CotY selection. They chose, "Our Color Trends 2023 palette was chosen for its distinct presence and personality. Each of these eight confident hues offer inspiration and creativity, while encouraging a push beyond the traditional to experience truly exceptional color."
Moore's full selections include:
Raspberry Blush

Conch Shell

Cinnamon

Wenge

Savannah Green

New Age

Starry Night Blue

North Sea Green
Wisely, Benjamin Moore suggests pairings for their Color of the Year selections. These colors are selected as ideal offsets to the pop or muting of other choices.
Pairing selection include:
Etiquette

Gray Owl

White Heron

Onyx
Benjamin Moore has created Spotify playlists that correspond with the tone they wish to evoke with each of their trend color selections. It's truly an effective way to remind people that their home decor and furnishing choices are an opportunity to express their individuality.
Consider A Blank Canvas
Behr's 2023 Color of the Year (CotY) selection is Blank Canvas. For Behr, returning to neutral tones opens the door to positive feelings of welcoming and calm. This is reminiscent of Gap's "Dress Normal" (#dressnormal) NormCore campaign back in 2014. Unfortunately, this was a mostly unsuccessful campaign strategy for Gap. Behr is not playing the same game as Gap. Gap is a consumer discretionary brand that has been struggling to find its footing for years. Behr is focused on home design and competes with the likes of Sherwin-Williams encouraging DIY home projects. Many of Behr's products are sold exclusively at The Home Depot. Other paint and decor companies have similar deals with home improvement giants. For example, Sherwin-Williams sells their products at Lowe's.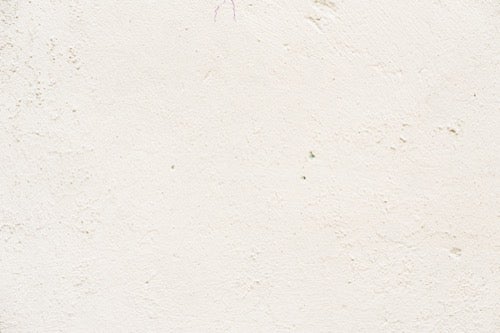 Let's go back to the Blank Canvas. With so many bright and in-your-face selections for 2023's color of the year, you have to give Behr credit for boldly going in a different direction encouraging the value that neutral colors and tones can bring to a household design strategy.
Want to Consider a Few More Possibilities?
Sherwin-Williams does not limit themselves to one paint color of the year. SW shares a color collection to help you choose what makes the most sense to express the full range of your taste. The 2023 Color Collection of the Year is the "Vintage Homestead Color Collection." This includes:
Poetry Plum

Restrained Gold

Natural Linen

Darkroom

Cool Beige

Glamour

Austere Gray

Pewter Green

Wall Street

Hot Cocoa
These selections are great options for a color consultation if you're struggling to decide on your favorite paint color ideas. There's no need to get stressed. You can always reach out to paint suppliers directly for a paint color consultation. You may want to check out these tips on how to transform a room with color. There are endless ways to glow up your house for 2023!
Home Makeovers Are a Delight Unless Something Goes Wrong
Undertaking new projects is a great way to plan for the year ahead. Of course, accidents can happen even when sensible precautions are taken. American Home Shield® takes pride in offering unparalleled protection for your home appliances and systems. Not all homeowners are aware that AHS offers comprehensive coverage for parts of up to 23 home systems and appliances that many of us use on a daily basis. Take the stress out of your 2023 resolutions for home improvement projects knowing that your home is protected with an AHS home warranty plan®.
See the plan contract for coverage details, including service fees, limitations and exclusions. Charges for non-covered items may apply. 
AHS assumes no responsibility, and specifically disclaims all liability, for your use of any and all information contained herein.