Check out these ideas to get creative when installing a TV in your home.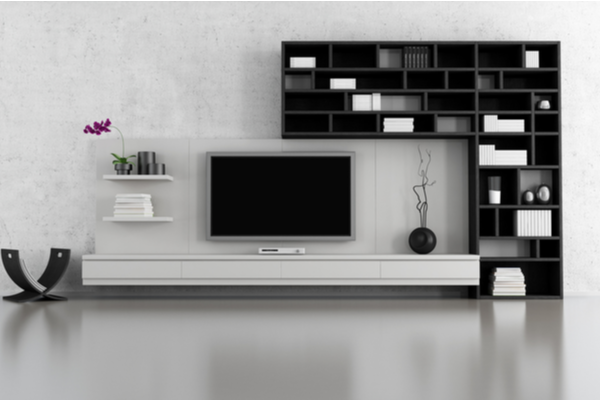 In the old days, TV sets came built into wooden cupboards that served as a separate piece of furniture all their own. As technology evolved, the cupboard was retired and TVs were placed on TV stands or in bulky entertainment centers.
Today, wall mounted TVs have quickly become the focal point of most living rooms, rumpus rooms, family rooms and even many bedrooms. With the help of TV cord concealers, a wall-mounted TV can be a sleek addition to some of the most frequently used spaces in your house. Here are some of the best TV wall mount ideas to help you ditch the clunky TV stands and entertainment centers.
Above a Floating Shelf or Console
One of the drawbacks of mounting your TV on the wall is the lack of storage. An old-fashioned TV stand or entertainment center might take up space on the floor, and it can have a big footprint in a small room, but at least there are shelves for stashing DVD players, streaming devices, game consoles and other electronics, not to mention DVDs and games, batteries, remotes, game controllers, and other accessories that go with them.
Many homeowners have solved this conundrum by mounting floating consoles on the wall beneath their wall-mounted TVs. There are all kinds of floating TV consoles available on the market today, at all kinds of price points. They offer the storage of a traditional TV stand or entertainment console with a small footprint that's suitable for small rooms. Even if your room is large, though, a floating console complements a wall-mounted TV for that ultra-modern look many homeowners crave.
Tucked Away in a Cupboard
Even a brand new, wall-mounted TV can be a bit of an eyesore, especially if you're a fan of rustic, primitive design. That's why many homeowners are stashing their TVs in specially designed hanging wall cabinets. These cabinets are mounted over the TV and have doors that can be opened when you're ready to watch and closed when you're done with your Netflix binge.
Framed Like a Picture
What's classier than hanging framed art on your walls? Original paintings bring sophistication to your home decor, and you can recreate some of that with a TV frame. TV frames mimic art frames, and they're a great way to tie a TV in with a gallery wall, or simply match your TV to the rest of your decor. You can custom-build your own TV frame with some MDF and crown molding if you're handy or you can buy one pre-made to fit your TV.
Behind a Picture
You can buy TV cover-up sets that allow you to hang a mirror, painting or other picture over your TV and then lift it up when you're ready to watch. It's a great way to integrate a TV into an accent wall, and it can help you hide your TV if you don't like the hanging cupboard option.
Surrounded by a Faux Stone Facade
If you love the look of natural stonework, you could install a faux stone veneer on the wall around your TV. Most homeowners who choose this look cover a section of wall from floor to ceiling with faux stone veneer, which is lighter than real stone and can be attached directly to most surfaces, including brick and concrete, without any need for a backer board. Simply leave space to hang your TV mount and any floating shelves and consoles you want to install, and hide the cables and wires behind the veneer. When you're not watching your TV, you can use it as an electric fireplace. Can you say cozy?
In a Bookcase
One way to solve the storage problem that comes with wall-mounted TVs is to hang the TV in a built-in bookcase, or even in the center of a regular, non-built-in bookcase. This ties the TV in with the look of the room and leaves options for storing DVDs and games, DVD players, game consoles, and all the other stuff you want to hook up to your TV.
Want a more streamlined look? Add some floating shelves to your TV wall instead. A single floating shelf underneath the TV gives you a place to put your DVD players and other peripherals. Floating shelves arranged around the TV provide visual interest, a place to arrange tchotchkes and storage for your physical media.
Your TV is one of your most commonly used household devices — you probably even have more than one. At American Home Shield®, we understand how important your devices are and how inconvenient it is when they quit working. That's why we offer electronics protection as an add-on to our home warranty plans.
AHS assumes no responsibility, and specifically disclaims all liability, for your use of any and all information contained herein.