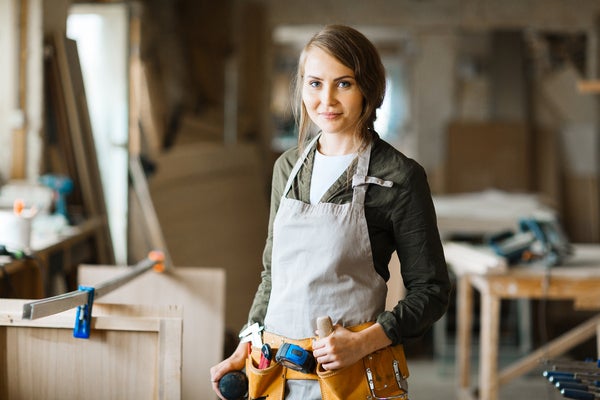 In order to have a productive space for your DIY projects, you need to know what to consider for your new workshop:
Location, Location, Location
When considering the location, think about what kind of projects you are going to be doing. Are they loud or quiet? Indoor or outdoor improvements? Small or massive? If your project materials are easily managed, you can designate a room inside your home as your project haven. On the other hand, if your project involves power tools or dirt, you may want to use an outdoor space like a garage or shed.
Give Yourself Some Space
Just as you consider the type of projects you are working on, think about how much space you will need. The last thing you want is to feel overcrowded in your own space. Be creative! If you have a small workshop space, you can use folding benches or rolling file cabinets.
Stay Organized
Organizing starts now. Plan where to keep your tools, and use some storage aids to keep everything nice and neat. These are just a few ideas to keep your organization under control:

• Pegboards
• Hooks
• Caddies
• Shelves
• Bins and crates
• Drawer dividers
• Cabinets
Flooring
Now that you've planned out your space, it's time to think about the foundation. When choosing the proper flooring, understand your constraints. If you have a limited budget or pre-selected space, you might already be stuck with a less than ideal option. Still, laying a dropcloth at the start can reduce future anxiety. If you do have more flexibility with flooring, consider the type of project you plan on doing most. For most outdoor-centric projects, tile or concrete provide a sturdy foundation for your workshop. If you are leaning towards more decorative DIY that requires long periods of time standing or sitting, make sure your floor is reasonably comfortable to facilitate your work.
Personality
This workshop is your space - let your personality show! Incorporate your favorites into the workshop's color scheme: high school or college colors are a great way to pay tribute. Do you love cars or sports? A little decor will create a stronger sense of ownership, and you will enjoy much more productivity and success in your DIY journey.
AHS assumes no responsibility, and specifically disclaims all liability, for your use of any and all information contained herein.