We all know what it's like to be afraid to open our closets for fear of everything falling out. Closets can be one of the hardest parts of a home to keep organized and looking good. Check out the best closet organizers and see which one will work best for your home.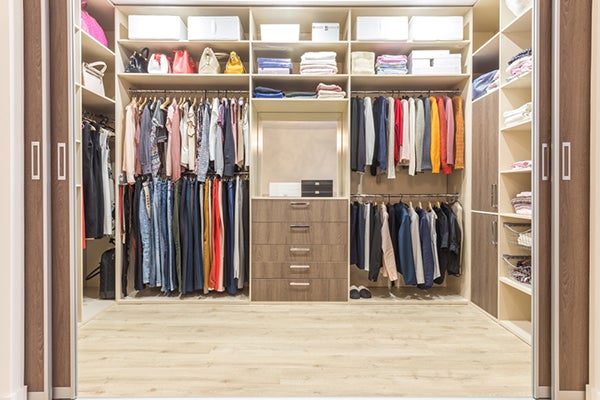 Closets provide most of the storage space in the modern home, whether it's for clothes, shoes, and accessories in the bedroom or food and spices in the pantry. A well-organized closet looks good and can save you valuable time. Sometimes we just need a little help to get the closet of our dreams—and keep it that way.
But what is the best wardrobe closet organizer for your organizing style and household? Closet organizers vary widely in cost, size, and materials, so it really just depends on your budget and preference. Here we'll cover some of the best closet organization systems for bedroom closets, along with general closet organization ideas. Let's get organized!
Best Budget Closet Organizer Systems
When it comes to simple, affordable closet organization systems, you can't go wrong with ClosetMaid. ClosetMaid has been making closet systems since 1965. Their systems work great, whether you're looking for a walk-in closet organizer, a closet organizer with drawers, or something simpler like small closet organizer accessories. The best thing about ClosetMaid storage solutions is that their systems can be modified, expanded, or reconfigured as your needs change.  
The adjustable ClosetMaid 16" Organizer and Drawer Kit, made of laminated wood, is a sturdy storage solution that includes three shelves and support kits, two drawers, and three clothes rods. The ClosetMaid Fixed Mount Closet Organizer, made of vinyl-coated steel, offers less flexibility in terms of modification but is more affordable and comes with a shoe rack. These types of racks are great for organizing shoes in a closet. If you're sharing a closet or are simply a shoe lover, you could also consider purchasing a few more standalone shoe racks to make sure every pair has its place.
Rubbermaid also makes affordable closet organizers, and they're available from popular retailers like Walmart and Amazon. With a range of options, quick installation, and easy reconfiguration, Rubbermaid closet systems will give you the space you need in your bedroom, pantry, laundry room, or other storage areas.
Best Custom Closet Organization Systems
As with most things, you can spend as much on a closet organization system as you want—the options are almost endless. Custom closet systems are an excellent option for an oddly shaped or corner closet as well as small closets.
If you're looking for a system that's perfectly tailored to your needs and constructed out of the highest-quality materials, a custom closet organizer from a manufacturer like Closet Factory might be for you. Closet Factory designs custom systems for reach-in and walk-in closets, and each custom closet begins with a complimentary design consultation. Other great custom closet system designers include California Closets, which designs high-end custom closets, and Easy Closet, which will give you a free closet design consultation over the phone. These companies also create storage systems for pantries, home libraries, laundry rooms, and garages. Get more garage storage ideas here.
Best Closet System for Kids
Small closet organizers make sense for smaller clothes, right? But how do you organize a small closet? The Little Seeds Grow with Me Closet System, available at Wayfair, Target, and Amazon, is perfect for kids because it can be adjusted to meet their changing needs as they grow and get more involved in their fashion choices. The Grow with Me Closet System features a shoe rack, three shelves, four cubbies, one drawer, and adjustable garment rods for all your kid's wardrobe storage needs. Rods are placed at child-friendly heights, so your kids can stay in control of what they wear.
Best Modular Closet System
Modular Closets offers mix-and-match systems that maximize flexibility without the high price tag of fully customized closet options. Use their online tool to get a free closet design based on your closet measurements, or shop their pre-configured options.
Best Systems for Walk-In Closets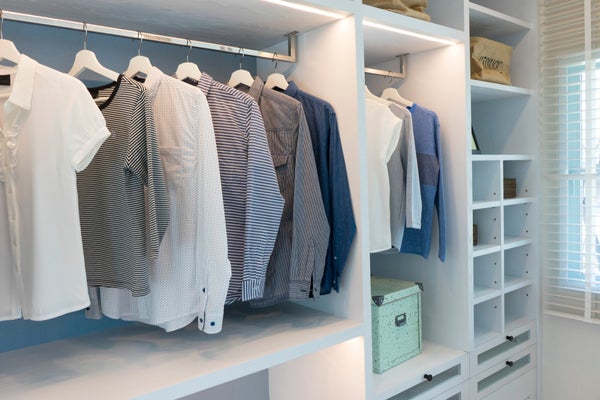 Walk-in closets are amazing, but they're not so great if they're not well-organized. To organize a walk-in closet, it helps to have zones: one or two areas for hanging clothes, drawers for folded clothes, shelves for baskets with small items like scarves or hats, and a shoe rack. If you have a small walk-in closet, there are small closet tips on how to make the most of your space. Here are a few walk-in closet organizers that can help:
The Container Store's Elfa Décor 10' His & Hers Closet Wall is one of the best closet organizers for people sharing closet space. This system doesn't come cheap, but it really has it all: multiple shelves, two drawer systems, four areas for hanging clothes, a shoe rack, and a gliding tie and belt rack.
The Rebrilliant Queenborough 72" Closet System is 72 inches wide and combines adjustable shelves and garment rods into a walk-in closet organization system that will give you a sturdy place to store your whole wardrobe.
Looking for something a bit more affordable? Rebrilliant also offers a free-standing closet organizer starter kit, available on Wayfair, with seven shelves and one garment rod. This organizer is made out of bamboo and can create a lovely focal point for your closet.
Closet organizer systems can help you turn the chaos of your closet into a neat, orderly space where your clothes, shoes, and accessories are easy to find. You have plenty of other things to worry about; you don't need to be digging around in your closet, searching for your favorite belt or that one pair of shoes that matches your outfit. Eliminate clutter and hectic, stress-filled mornings with a well-organized closet and spend your energy on more important things like cooking a new recipe, entertaining friends, or just plain relaxing.
Start on your journey to decluttering the rest of your home by checking out more decor ideas as well as home office organization and garage organization solutions. While you're at it, be sure to look into an American Home Shield® home warranty to keep your home appliances and systems protected from the unexpected.
AHS assumes no responsibility, and specifically disclaims all liability, for your use of any and all information contained herein.