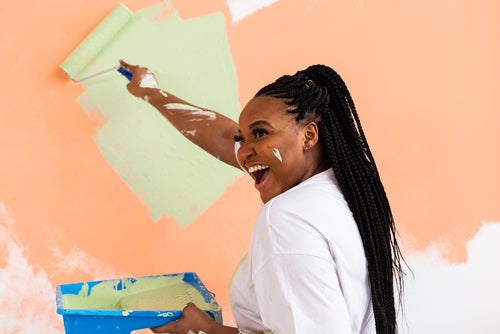 If you're renting a home or apartment, it can sometimes feel time-consuming and budget-draining to decorate it to your dream aesthetic. However, while you can't make major structural changes to your rental, there are still plenty of ways you can decorate it to make it feel like home—if only a temporary one.
Our list of rental home and apartment decorating ideas may be the inspiration you need to unleash your greatest décor designs yet.
1. Let there be light
Take on a DIY apartment décor project by upgrading your light fixtures to make your rental warm and cozy. Fast fixes include spray painting or wallpapering a wall sconce base, switching out the shade for a new one, and changing your bulbs to something that feels more you, like an Edison bulb. You can also customize your home's lighting with dimmable plug-in pendant lights or hanging lightbulbs, like those from Color Code Company. One on each side of a headboard means instant classiness.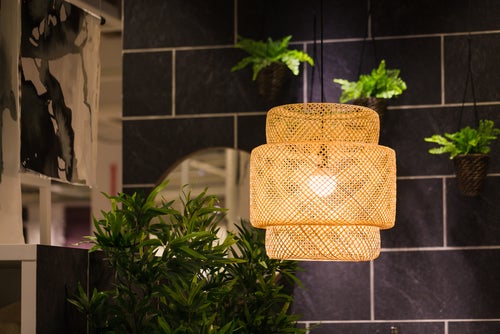 2. Paint, paper, or sticker the walls
After checking with your landlord or rental management company to make sure it's allowed, try painting your walls to give your house a pop of color. If painting seems like too much of a hassle or it's a no-go from the landlord, don't fear. Learn how to decorate walls using peel-and-stick removable wallpaper for a quick fix.
Cover the entire wall with removable wallpaper to transform your room into a lively space. Alternatively, apply temporary decal stickers as vibrant accent pieces. You can find these on Etsy or at Pottery Barn, Wayfair, or West Elm.
3. Add art
Hang a water-resistant painting in the bathroom, an antique drawing over the bookshelf, or your favorite floral print in the kitchen. Adding art and framed photographs can make your rental feel more like an extension of yourself and less like a vacation rental.
Are you afraid of leaving too many holes in the walls? One of the best apartment decorating hacks is to use large, adhesive hanging strips. Peel-and-stick mounting strips—like those offered by Command, Scotch, and Gorilla—allow you to hang artwork, mirrors, tiles, and even shelves, depending on their strength. This can be done without creating any unsightly holes in your walls that might affect your deposit when you move out.
Be sure to choose the right strength of adhesive strip for whatever you plan to hang, and follow all mounting instructions.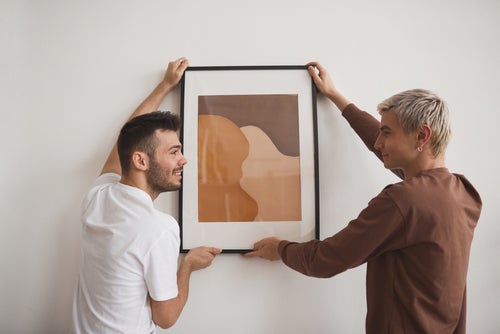 4. Use a pegboard
Pegboards provide sleek storage, comprehensive organization, and a great place to show off photos and artwork. Hanging tools, supplies, and fun objects (like purses, potted plants, or jewelry) helps to declutter your living area.
To maximize space in a small kitchen, use a pegboard to hang pots and pans, knives, or other utensils. You can even use a wall-mounted pegboard as a closet organizer; simply hang it in the back of the closet or on the closet door.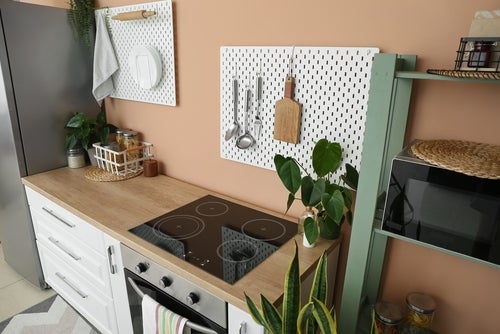 5. Invest in quality rugs
You likely won't get the go-ahead from your landlord to change out any unwanted flooring—nor will you want to spend the time and effort on floor replacement. In this case, one of our best decorating tips is to buy large, comfy rugs to cover up a less-than-desirable floor. Your eyes will appreciate it just as much as your feet. An added bonus is that you can easily take the rugs with you when you move.
6. Swap out hardware
It might seem insignificant but changing out hardware can revitalize a space. You can think of hardware like statement jewelry for your doors and cabinets. Look for hooks, knobs, and handles that fit your unique aesthetic and stand out from the paint color. If you're having difficulty deciding, gold and brass are classic hardware options, while glass hardware adds a touch of chandelier-like luxury.
7. Hang ceiling hooks
A few ceiling hooks can totally revamp your space. Hang plants, lights, and other cute apartment décor from the ceiling to update a space's look and feel.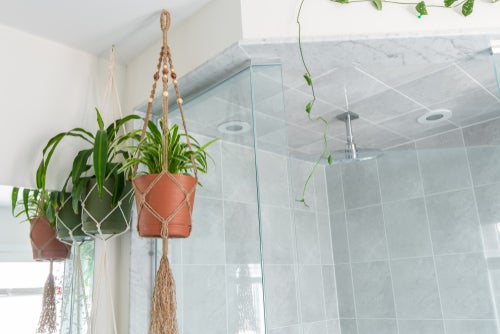 8. Replace the blinds
You can remove any cheap vinyl window blinds and replace them with luxury drapes or curtains, roller shades, bamboo shades, fabric valances, or shutters. If you're feeling artsy, try out window film or faux stained glass. Just keep the old blinds in a closet or under your bed and easily rehang them when it's time to move out.
9. Loft your bed
While not the most affordable décor idea on our list, this apartment decorating tip is particularly helpful for those living in a small space like a studio apartment, where organizing small spaces is crucial. Loft beds, such as those offered by Quinn, Living Spaces, and Wayfair, can double the square footage of your living space. If you're handy with a hammer, you can even try building your own DIY loft bed. Depending on your rental home space and size, you can add a second bed for guests, create your perfect office space, or add a bookshelf under your elevated bed.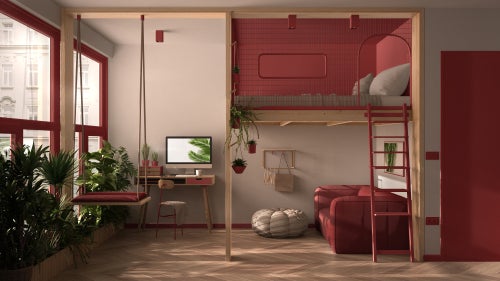 Use these apartment ideas for décor when you need a little inspiration to make your rental feel homier. When you're ready to buy a home and make the leap from renter to homeowner, consider purchasing an American Home Shield® home warranty to protect your budget when unexpected system and appliance breakdowns occur.
See the plan contract for coverage details, including service fees, limitations and exclusions. Charges for non-covered items may apply.
Recommended reading: Learn more about rent-to-own homes.