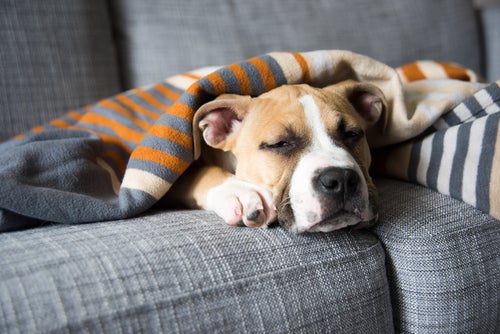 If you're a pet parent, you know the joy of coming home to a loyal, furry friend who gives you a boost of serotonin as soon as you walk in your door. Owning a pet provides a bond that can enrich your daily life.
Of course, pets chew, shed, drool, have accidents, and more. Luckily, you can prepare your home for any pet-related damage, so you can get back to snuggling your dog or cat in no time. American Home Shield® has compiled a list of some of the best furniture for pet owners, pet-friendly materials, and tools to help combat stains and odors. Here are some ideas.
1. Look for pet-friendly furniture fabrics.
When shopping for pet-friendly furniture fabric, keep an eye out for microfiber upholstery made from nylon (avoid polyester microfiber). Microfiber is one of the best pet-friendly furniture materials because it is
More resistant to ripping or tearing from sharp claws.

Designed for longevity.

Easy to clean with just a little soap and water.

Can release dog or cat hair with ease.
It also may come as a surprise that real leather is a durable pet fabric. Leather material resists staining and pet fur and is easy to clean, making it one of the best couch materials for dogs. However, it's not scratch resistant, so this may not be a good option if you have a cat.
Avoid loose upholstery weaves—like jute, flannel, muslin, and velvet—in both furniture and rugs. The looser the weave, the more likely fur and spills will seep into the material.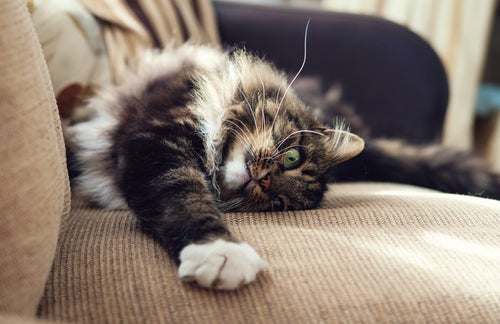 Are you looking to give your furniture a facelift but want to keep it pet-friendly? Look for durable and waterproof slipcovers for your couch and accent chairs. Slipcovers come in various designs and materials and can offer your furniture protection from your pets—but make sure to choose pet-friendly materials. With a slipcover, there is no need to find a washable couch; just take the cover off, throw it in the washing machine, and it will be as good as new.
2. Select furniture that is chew and scratch resistant.
There is nothing like the gleam of polished wood tables, chairs, and furniture legs. Wooden décor items can be beautiful statement pieces in your home. However, puppies find them irresistible, and cats use wood furniture as their personal scratching posts.
When looking for the best pet-friendly furniture, it's best to avoid wood. Instead, consider furniture with metal legs. If you like the look of wood or don't want to replace your current wood furniture, try replacing the wooden legs with metal ones until your pets are properly trained. You can also wrap the legs in no-chew bandages, which are extremely bitter and off-putting to their palate, or purchase sprays to deter chewing and clawing.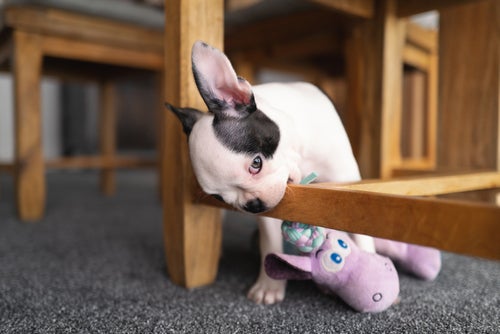 3. Shop pet-friendly furniture brands.
Here are some pet-friendly furniture brands that are comfortable for you and your companion:
Burrow. Burrow's Nomad collection is a favorite among pet owners because of the durable, tight-weave, stain-resistant fabrics. The collection includes loveseats, sectionals, and armchairs.

Crate&Barrel. This brand has an entire section dedicated to pet-friendly couches.

West Elm. West Elm offers high-end pet-friendly furniture, like a leather sofa or a tight-weave sectional.
Remember to pick furniture with stain- and scratch-resistant materials regardless of which brand you choose. To get a good deal on your décor, learn about the best time to buy furniture.
4. Pick the right flooring.
Dog owners everywhere know that carpet and a potty-training puppy don't mix. However, having a house with carpet shouldn't deter you from getting a pet—consider installing water- and stain-resistant carpet. Look for blends made of durable nylon that resist stains, moisture, and pet hair.
Washable rugs are also a great solution if you're not keen on investing in all new carpeting to pet-proof your home. Ruggable is known for its easy-to-wash rugs of all sizes, and the brand offers a variety of styles that can match easily to your pet-friendly furniture.
If you want to invest in hard flooring, be careful of real hardwood—especially softwood flooring, like cedar, spruce, and pine. This type of wood is porous and holds in stains and odors. Instead, opt for laminate wood flooring or tile that doesn't absorb liquids. If you already have wood floors, you can use temporary floor options to protect them while your pet is potty training.
5. Invest in stain- and odor-repelling cleaning sprays.
Upgrading to pet-friendly furniture is a great option if you have the funds, but it may not be in your budget—especially if you just adopted a pet who will need food, toys, accessories, and vet visits. Instead of shopping for new couches, chairs, or flooring, purchase household cleaners that help to repel stains and odors.
Brands like Scotchgard can help make your valuable furniture water resistant, and natural carpet deodorizers can help neutralize offending smells.
Cleaners and carpet stain removers may not be foolproof, but they are a wonderful solution if you're on a tight budget and can't afford new pet-friendly living room furniture.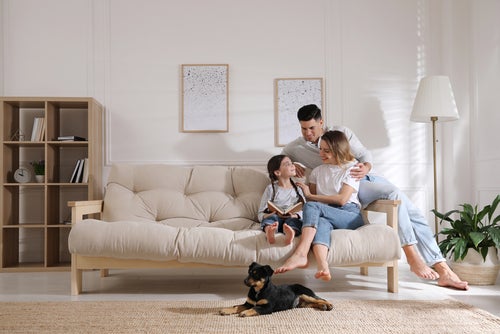 Protect your furniture and your budget.
Just like you love your pet, you love your home, too. Protect your home with an American Home Shield® home warranty. It can help you save money when your covered home systems and appliances malfunction due to normal wear and tear—leaving you with a little extra to go shopping for the best furniture for pet owners.
What is a home warranty? It is a year-long contract that helps with the cost to repair or replace covered items in your home, like components of your plumbing and electrical systems or kitchen and laundry appliances. View pricing and plan options to find a plan that works with your budget and household needs.