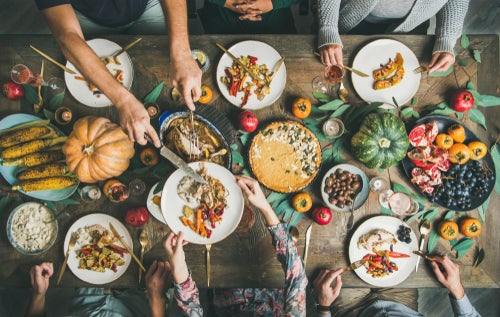 The holidays are the perfect time to practice active gratitude—and no holiday is more ideal a time to do so than Thanksgiving. Here are Thanksgiving centerpiece ideas to help set the tone for your next holiday gathering.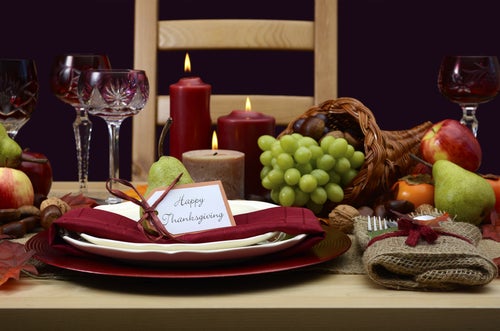 Hearken back to classical antiquity with a horn of plenty centerpiece representing bountifulness, feasting, and fortune. For an easy Thanksgiving centerpiece, buy a cornucopia basket horn to fill with pumpkins, gourds, pears, and flowers—or, if you want a little pizzazz with your plenty, invest in a ready-made, color-changing light-up cornucopia centerpiece.
Where to buy: Amazon offers plenty of cornucopia centerpiece options, ranging from simple wicker baskets to fabulous glitzy models. If you want something more unique, Etsy also has a variety of handmade artisan models. Fruit and flowers can be purchased at your local grocery store, nursery, or farmer's market. To easily bring back this centerpiece next year, consider purchasing fake fruit and flowers at your local craft store.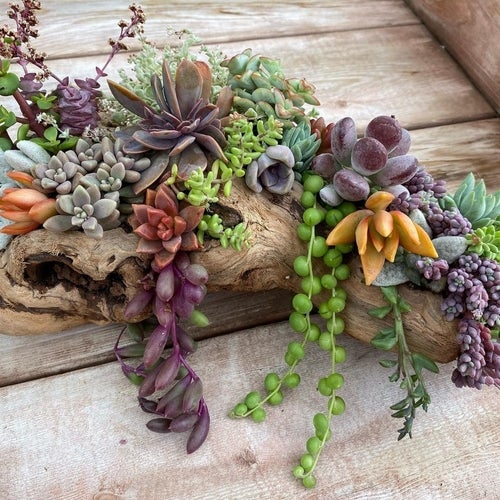 For a beautiful nature-inspired centerpiece, nest a wooden log or a handful of twigs on a bed of moss. Garnish with festive flowers or succulents, particularly in the colors of the season: orange, yellow, and red.
Materials cost: Free or low-cost for those with green thumbs or a garden-loving neighbor; $20–$30 if you're buying the materials.
Where to buy: Forage outside or purchase at your local nursery.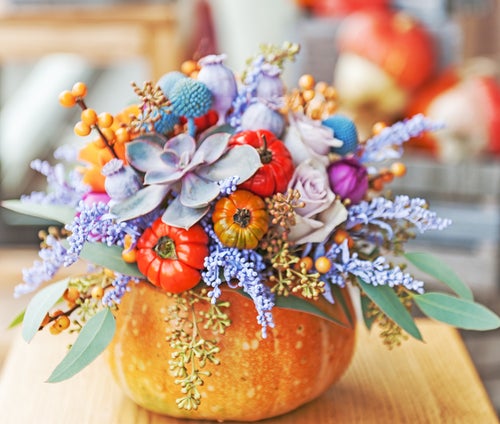 Create an eye-catching centerpiece with just a pumpkin and some flowers. Cut the top off a small- to medium-sized pumpkin and scoop out the seeds. Then, trim some Thanksgiving-hued flowers (dark reds, oranges, and yellows) to fit inside the pumpkin.
Where to buy: Purchase flowers and the pumpkin at a grocery store (or finding a pumpkin patch near you for a fun, seasonal outing).
Indigenous Thanksgiving Centerpiece
Many Americans choose to celebrate and honor the history and culture of indigenous peoples on Thanksgiving. Beyond learning the real history of Thanksgiving, you can re-center the holiday from its colonial roots by using locally sourced or native and indigenous art and flowers in your centerpiece.
Where to buy: Visit any local indigenous and native-owned businesses in your area or purchase décor from indigenous and native-owned shops on Etsy.
The Macy's Thanksgiving Day Parade is renowned for its fantastic floats and brilliantly big balloons. Evoke this nearly century-long holiday tradition with your own DIY Thanksgiving centerpiece balloon art. If novelty or character balloons seem a bit much to gaze at while feasting on turkey and cranberry sauce, you can take the minimalist route by blowing up a miniature balloon centerpiece in Thanksgiving colors—or make it easy on yourself by buying a Thanksgiving foil balloon set.
Where to buy: Check out your local crafts store or explore the many Thanksgiving balloon options on Amazon or your local dollar store.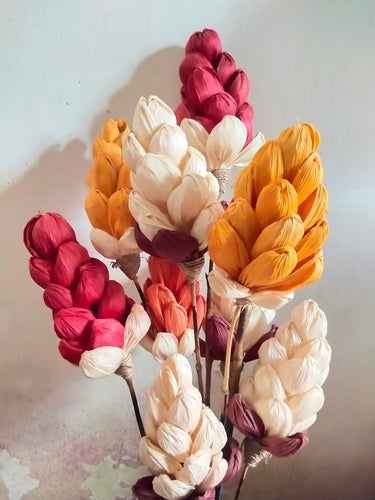 Use dried corn husks for a crafty Thanksgiving table centerpiece. You can create glorious Thanksgiving colors by dipping the husks in fabric dye and cutting them into flowers. You could also go for a more natural look by braiding husks together and laying them down the length of the table. Lean into your creative side and see what creations you come up with.
Where to buy: Purchase dried corn husks at your favorite grocery store or online marketplace. You can buy fabric dye, twine, and other decorating materials at craft stores or on online marketplaces.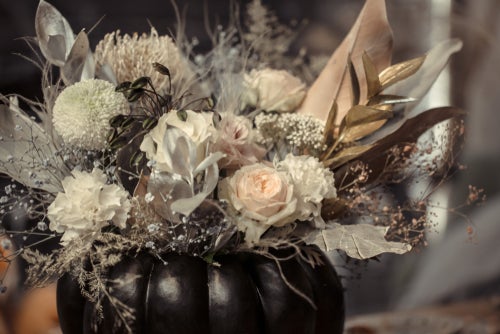 Does your autumn décor style lean more Halloween than Thanksgiving, more dark than autumnal? Celebrate your personal style by creating a gothic Thanksgiving centerpiece. You can find Velveteen fabric pumpkins in witchy black, grey, purple, and orange; realistic-looking fake crows; and a black garland to establish the table's theme.
Where to buy: Amazon and Etsy have a variety of décor options. Alternatively, you can purchase pumpkins at the grocery store and paint them in your preferred colors and designs.
For this Thanksgiving centerpiece idea, you can decorate a mason jar by printing or drawing on a label, or you can purchase a specialty gratitude jar. Put the jar in the center of the table along with small strips of paper and some writing utensils. Encourage family, friends, and guests to write down what they're thankful for this year and put the paper into the jar. Later, if everyone is comfortable with it, read the gratitude slips out loud and bask in the joy of giving thanks together.
Where to buy: Purchase a mason jar at your local grocery or home goods store or invest in a specialty decorated gratitude jar from Etsy or Michaels.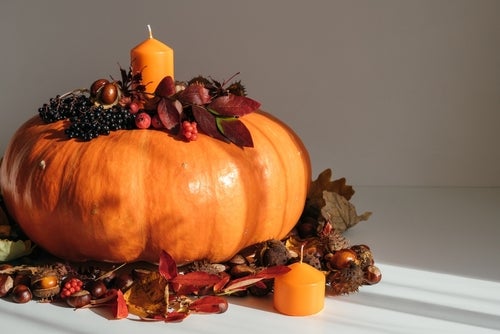 Create an aesthetically appealing DIY Thanksgiving centerpiece by placing holiday-themed candles into miniature gourds and pumpkins in the center of your feast. Scoop out the insides of the produce and fill them with shredded nonflammable batting or foam to keep the candles in place. Light the candles to create a warm, romantic ambiance.
Where to buy: Purchase the produce at your local grocery store or farmer's market and the candles and batting or foam at your favorite crafts store.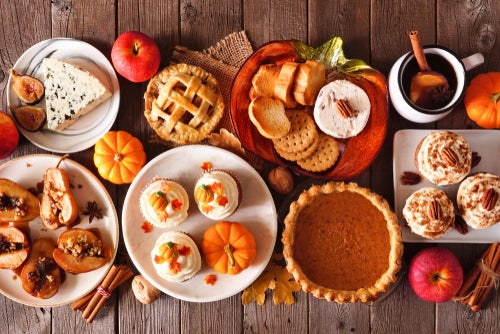 Summon your inner hobbit by creating space for both dinner and second dinner: Use an edible centerpiece to keep the Thanksgiving feast going long after the initial meal is over. Do you have any leftover apples, oranges, pears, pumpkins, corn, potatoes, or other produce after making your Thanksgiving feast? Cook up anything that needs to be cooked and then artfully arrange everything on a holiday platter in the center of the table. Or, if your artistic eye doesn't quite match your culinary one, you can always buy a pre-made edible centerpiece.
Where to buy: If you're using leftovers, you'll likely have purchased the ingredients already at the grocery store. Should you decide to outsource the arrangement, Edible Arrangements makes a variety of unique, delectable Thanksgiving centerpieces resplendent with fresh fruit. From leaf-shaped pineapple to colorful strawberries, oranges, and grapes—even turkey-shaped fruit slices dipped in chocolate and salted caramel for those with a sweet tooth—Thanksgiving is sure to be tastier than ever this year.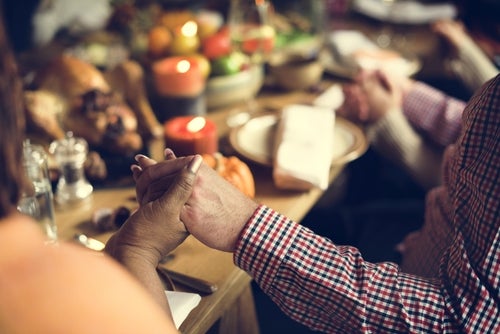 Rely on your American Home Shield® home warranty during the holidays. With so many cooking- and baking-filled days, it's no wonder that your appliances break down. Protect your budget with a home warranty. Our plans cover major home systems and appliances that malfunction from normal wear—we help to get your covered, hardworking household items back up and running again. Choose your plan today.
See the plan contract for coverage details, including service fees, limitations and exclusions. Charges for non-covered items may apply.
AHS assumes no responsibility, and specifically disclaims all liability, for your use of any and all information contained herein.