For many homeowners, the holiday season means added expenses for gifts, travel, food, and more. Luckily, adding warmth and festivity to your home this holiday season doesn't have to be expensive.
American Home Shield® has fantastic ideas for holiday decorating on a budget, so you can create a winter wonderland without breaking the bank.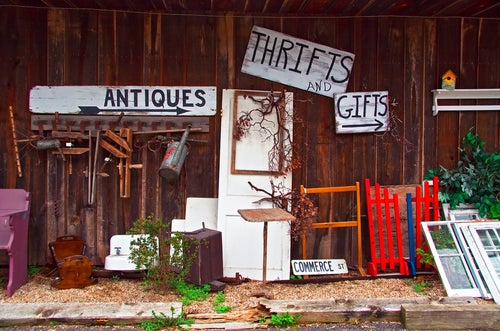 Visit your local thrift store for cheap Christmas décor.
When getting festive on a budget, your first stop should be your local thrift store. You can often find beautiful vintage holiday displays at a fraction of the cost of new items. Thrift stores are also a great source of DIY decorations. Keep an eye out for the following décor items:
Glass bowls and vases

Ribbon
Thrifting is good for your budget and the environment—repurposing products instead of buying new helps to reduce manufacturing waste.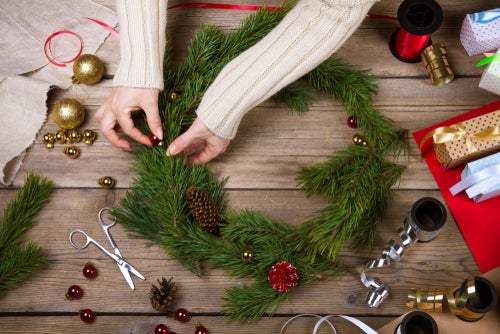 The dollar store offers cheap holiday decorations.
Dollar stores often offer attractive, seasonal décor as well as practical items like holiday tea towels, oven mitts, and dishes. These items can spruce up your home and make an affordable gift for coworkers or your child's teachers.
Cheap holiday decorations certainly don't have to look cheap. If you'd love a stunning holiday wreath for your front door but don't want to pay upwards of $100, your local dollar store can come to the rescue. To make a DIY wreath for your festive front door, you can purchase wreath circles, ribbons, cords, garlands, and bulbs.
If you have fencing, placing a wreath on each fencepost is a beautiful and easy way to transform your yard into a holiday dreamland.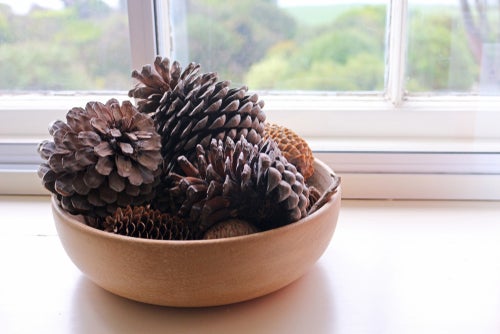 Use nature to bring a bit of winter magic into your home.
Why spend your hard-earned money on pinecones and greenery when you may have a supply just outside your door? Gather bowls or wide-mouth jars (either those you purchased from the thrift store or ones you already have) and fill them with pinecones, twigs, and cinnamon sticks. Tie a large, festive ribbon around the top of each jar and place them around your home, perhaps on tables or your mantle.
If you don't live in an area with pinecones, you can purchase them in packs from your local craft store.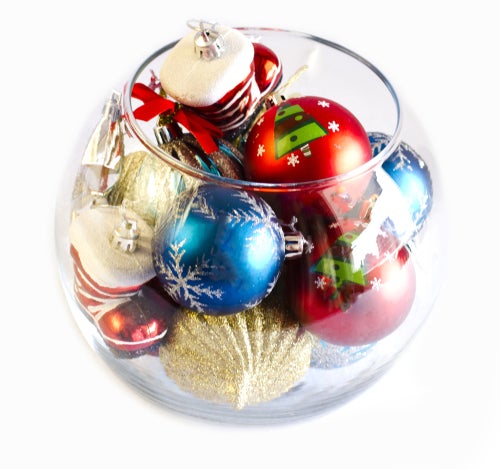 Use items you have around the house.
For holiday decorating on a budget, you can't beat using items you already own. Fill clear jars or bowls with colorful glass bulbs and display them around the house (hint: use leftover Christmas tree ornaments!). Use bulbs of different sizes and textures to make the displays more eye-catching.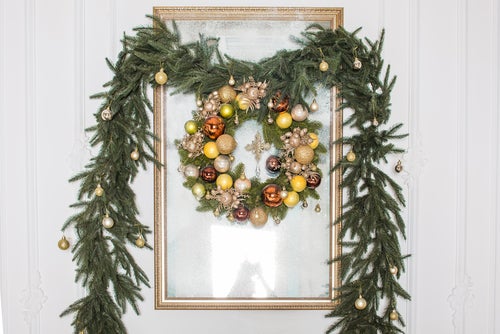 Make a garland with jute rope.
Gather leaves from evergreen trees, such as cedar, juniper, or pine. If you don't have these types of trees nearby, you can purchase cuttings from wherever you buy Christmas trees. Stores or nurseries gather the cuttings from trimmed trees and sell them in bunches.
Then, purchase floral wire and inexpensive jute rope from your local craft store. Use the wire to affix bunches of greenery to the rope— continue until the entire rope is covered. Now you have an attractive, festive garland to put just about anywhere: over a doorway, down the staircase banister, or along a fireplace mantle.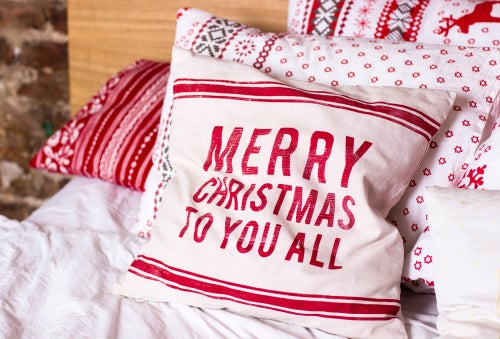 Make your own holiday pillows.
Have you ever considered making old Christmas sweaters or flannel pajamas into festive pillows? Well, now is your chance to make a DIY Christmas decorating idea come to life. Do a little Christmas sweater shopping at your local thrift store and pick out ones that would suit a pillow.
At home, cut the shirt material into your preferred dimensions, stuff in some fiberfill, and sew it up. While you can sew the pillow by hand, using a machine will help speed up the process. This YouTube video created by Tamara's Joy can take you through the process step by step.
You can also use old or discounted fabric from a craft store to make your own tree skirt. If you're not a fan of sewing, check out the blog A Beautiful Mess, which has three easy no-sew tree skirt ideas.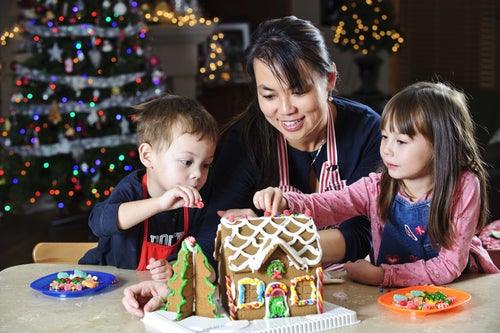 Make holiday crafts with the family.
Create memories with your family by making crafts and turning them into holiday décor.
A gingerbread house will not only give you a meaningful centerpiece, but it will also help your family create memories that will last well after the holidays are over. Another plus? It's a cheap holiday decoration.
You can also make a garland out of popcorn, cranberries, or dried fruit like orange slices. Thread a sturdy string on a needle and carefully pierce each object, allowing the string to glide through.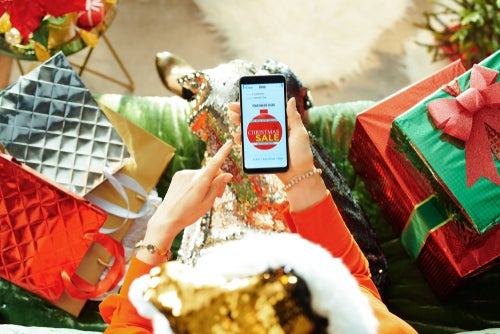 One of the best ideas for holiday decorating on a budget is to shop for Christmas décor after the holidays. Decorations are often marked down significantly, and you get breathtaking holiday displays, ornaments, and other decorations at a fraction of what they cost in the months leading up to the holiday.
AHS assumes no responsibility, and specifically disclaims all liability, for your use of any and all information contained herein.