Whether you're looking to customize your new home to fit your tastes or are ready to give your current house a glow-up, American Home Shield® can help you step-by-step. Here are eight ideas to keep the home remodel process in your budget.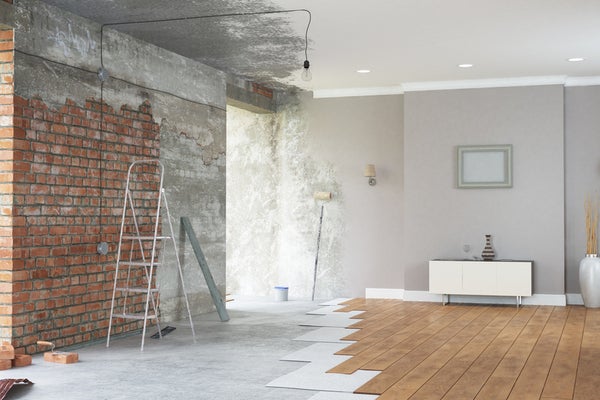 Your house is your oasis—it should welcome you like a comforting hug after a long day. Taking on a home remodeling project can help you achieve this goal. When you unlock the door and kick off your shoes, being greeted by a home customized to your exact design preferences and needs can go a long way toward relieving your stress and giving you the ambiance you crave.
After devouring DIY shows, taking screenshots of your favorite layouts online, and wandering around home improvement centers staring dreamily at cabinets and fixtures, you're finally ready to start making your house remodeling ideas a reality.
Where should you start, and how much should, and can, you spend? Everyone's financial situation is different. American Home Shield is here to help with ideas for saving money and creating a smooth house renovation process.
1. Set a budget.
The first—and most important—thing you need to do is set your budget. During house remodeling, you'll have to make dozens of choices regarding materials and décor. Every little upgrade adds up, making it easy to spend more than intended. Use a budgeting app to help you set goals and save for your project.
On average, whole home remodels cost between $44,000 and $75,000, depending on the extent of the changes and the size of your house. Home renovations do increase resale value, but you may not see a full return on your investment when it's time to sell. According to Investopedia, the average cost recovery of remodeling can be up to 85 percent of what you pay.
When figuring out exactly how much you can afford, don't forget to research grants that can provide financial assistance for the project, such as those for historic homes. Just make sure to read the grants carefully to make sure you won't have to pay them back.
2. Assess each room and determine estimated costs.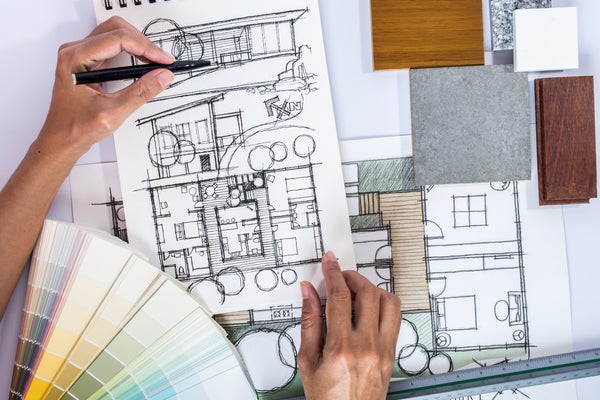 Once you establish your budget, it's time to decide where to spend it. Do a house walkthrough to determine your interior remodeling priorities. In each room, make sure to examine the details thoroughly—take note of what needs to be replaced entirely and what can stay as is. Rank the rooms in order of your remodeling needs. That way, you can start with the essentials and complete them first in case money runs low.
Be creative. If you're considering kitchen remodeling ideas, consider selling cabinets and countertop slabs online to provide more funds for your project.
After you determine what needs to be done, it's time to break down your budget. It can be helpful to use remodel calculators to get a rough estimate of what everything will cost. When in doubt, round up—house remodeling often costs more than predicted.
3. Hire an affordable contractor.
Full home remodels often include taking down walls, creating additional rooms, and adding plumbing or electrical lines. If you've done this type of work before, great! You can serve as your own contractor and save money. However, if you're new to the remodeling process, be honest with yourself about your capabilities. It's probably best to hire a home remodel contractor to ensure the work is done properly and efficiently. Even if you're only doing a small-scale remodel, like updating your bathroom, hiring a bathroom remodeler is crucial to make sure piping and electrical get done right.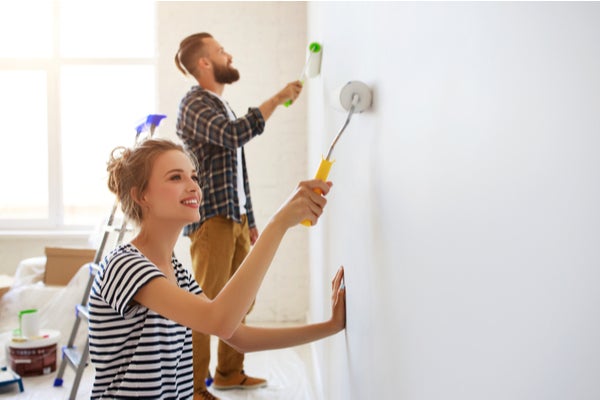 A great way to save money is to hire someone to do the expert work, then do the small stuff yourself, like painting and adding fixtures. You may even be able to do some of the demolition yourself. Just double-check with your contractor on how to do demolition safely, especially if the area has electrical wires and pipes.
Hiring a contractor will be more expensive than doing a DIY home remodel, but you can find an affordable professional by researching, asking for quotes, and asking friends and family for recommendations. You can even find contractors on home renovation apps.
4. Hunt down those permits.
If you are going the DIY route, make sure you obtain the proper permits before you start the work. Skipping this step can become a headache in the future if you decide to sell your home or get it appraised to refinance. If an inspection uncovers any code or permitting violations, you could be fined or required to tear down your hard work. Make sure you apply for permits as soon as possible since they may take a while to clear.
If you're hiring a home remodel contractor, they'll most likely obtain permits for you. Make sure to ask this question during the interview process. It's a red flag if a potential contractor seems to evade important questions about permits and licenses.
5. Determine the timeline and whether you'll need alternate housing.
For a full home remodel, it's usually more affordable to do the work all at once instead of spacing it out over months or years. If you tackle room remodels concurrently, the contractors can streamline everything and complete tasks more efficiently and cost-effective manner.
However, you will most likely need to find somewhere else to stay, especially if you have kids. Whole house remodeling can last from 7 to 15 months, depending on the size of your home and if everything goes smoothly. If you're doing a bathroom remodel and it's the only one in the house, living there throughout the remodel could become a problem—the same goes for kitchen remodels. After all, you can only eat take-out for so long.
To save money during this time, ask friends or loved ones if they have room for you and your family. House hopping from month to month could help protect your budget and allow quality time with those you love.
6. Choose inexpensive materials.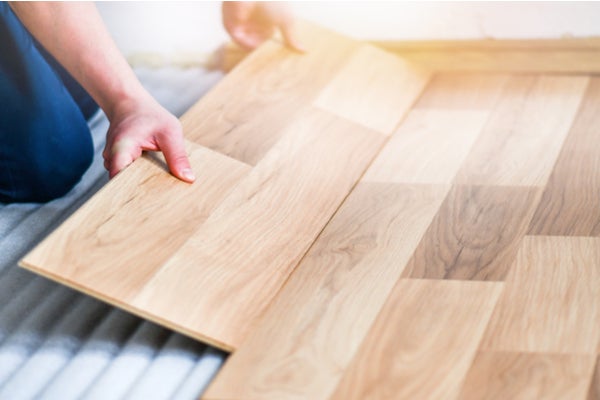 Though a marble countertop looks dreamy in magazines, its high price can impact your budget. In every room, determine what design items and materials you need to incorporate to be happy with the remodel. If there are ways to cut costs by choosing less expensive materials, like laminate flooring or countertops, see how you can fit that into the design.
7. Hire an inspector.
After a home remodel, it's important to ensure everything was done properly. Scheduling a home inspection can help you uncover code violations and potential safety issues. Inspectors can also catch errors your contractor may have made, and they can provide recommendations on how to rectify the situation before your contractor's warranty expires. If you're remodeling to increase your home's value for resale, finding these errors early can save a huge financial headache down the road.
8. Protect your remodel with a home warranty.
Once all your house remodel ideas have been accomplished, you can bask in all the new bells and whistles. However, no budget is complete without adding a home warranty to protect your home systems and appliances.
An American Home Shield® home warranty offers coverage for up to 23 key systems and appliances. When an issue occurs with one of your covered items, we'll get your household up and running again in no time. If our technicians can't repair it, we'll replace it, subject to your contract's limitations and exclusions, and haul away the old one. It's a Shield Assurance.
It's essential to stay confident in your budget when you're taking on a home remodel, whether you're planning a summer renovation or just looking at bathroom remodel ideas. Learn more about our pricing and plans, and choose your plan today.