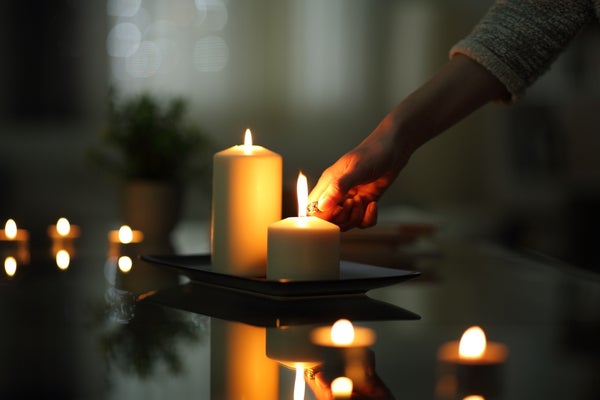 Power outages are an inconvenience. You're often stuck in the dark waiting with bated breath for the power to come back. Finally, you resign yourself to finding your emergency flashlights and supplies, and as soon as you locate them, the lights flicker back on.
Power outages like that can be frustrating when you're trying to run your household, but power failures can also be dangerous. Sometimes they last for hours, days, or even weeks. If you depend on your electricity for heat or air conditioning, refrigerating medications, or medical machines, power blackouts can be life-threatening.
Luckily, American Home Shield® can help. Though a power outage is sometimes inevitable, there are ways to prepare. Use this list to protect the health and safety of yourself and your family before and during an outage.
Prepare for a power outage before it occurs.
Here are some suggestions for how to prepare for a power outage so you're ready when it hits.
1. Purchase a generator.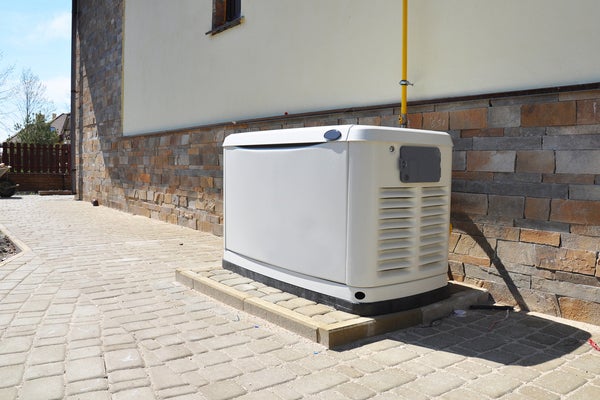 Power generators are a serious investment: small generators that power one item start at a couple hundred dollars, while full-house generators can cost up to $15,000 depending on the make and model. But they sure come in handy if you live in an area that loses power or experiences inclement weather frequently.
Having a generator for power outages is vital for individuals who depend on medical equipment like oxygen concentrators or ventilators or have medication that must be refrigerated. If you need electricity to operate these types of items, talk to your medical insurance provider to see if there are any vouchers or financial assistance available to purchase a generator.
It doesn't hurt to check with your homeowner's insurance, as some companies offer discounts on premiums if you purchase a generator—especially if you own a sump pump. Sump pumps can stop working during power blackouts and cause your basement to flood, which can cause a heap of problems.
When using a power generator, always follow safety precautions. Only use a power generator outdoors, and keep it away from windows.
2. Line up alternate housing.
A generator is a great thing to have, but let's face it—it's not an item in everyone's budget. If this is the case, establish a backup plan in case the power stays off for an extended period of time.
Finding alternate housing can be tricky because you never know how long or far the power outage will reach. It's a good idea to talk to a friend or family member, preferably one who lives in a different neighborhood or nearby city and see if it would be okay to stay with them for a few days in the case of a power failure.
3. Prepare an emergency area.
This is a must-have in any home. Having power outage supplies ready to go in a cupboard, closet, or garage can go a long way toward keeping everyone calm and organized if disaster strikes. Your emergency area should have:
Blankets, scarves, gloves, and hand warmers to help prepare for cold weather during a wintertime power blackout.
A battery-powered fan or another cooling device to stay cool without A/C in the summer.
A first aid kit and extra batteries.
Extra pantry items and bottles of water.
Flashlights and a radio. Invest in the kind that is shake-activated or has a crank, so you don't need to worry about batteries.
Portable chargers for your phones, tablets, and laptops.
Be proactive during a power blackout.
Power failures can be frustrating, but there are steps you can take to minimize damage and stay healthy if you know what to do in a power outage.
1. Don't open your refrigerator or freezer unless absolutely necessary.
Every time you open the door to your fridge or freezer, cold air escapes. If the doors are left sealed, food will usually stay fresh in the fridge for four hours and in a full freezer for up to 48 hours (or 24 hours in a freezer that is half full). Check the CDC website for more food safety information.
2. Unplug all of your electronics and appliances.
When the power comes back on, you may experience a surge, which can fry electrical devices quickly. It's a good idea to unplug everything from the electrical outlets, just in case. You may want to keep one inexpensive device plugged in, like a lamp or digital alarm clock, so you'll know when the power comes back on.
Check out the American Home Shield® electronics protection plan, which offers power surge protection, and read more about electricity safety tips.
3. Listen for updates.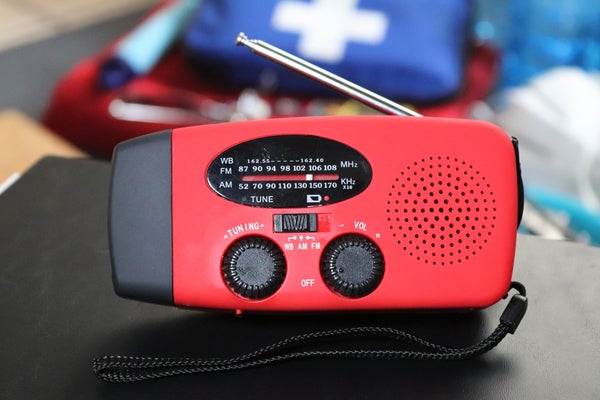 This is when your crank radio comes in handy. Turn it to a local radio station so you can stay updated without using up your phone battery. The radio will keep you both informed and entertained through different news and music stations.
4. Use alternate heat sources for power outages.
If you live in a region prone to blizzards and ice storms during colder months, you know that power line damage can occur. When that happens, it can take days to restore. It's essential to be prepared.
Properly heating your home during a power outage can help keep you and your family comfortable until the power returns. Here are some ways to maximize heat:
Gather everyone in one room (preferably south-facing to utilize warmth from the sun) to conserve body heat. Don't forget about pets! They need to stay warm, too, and they can contribute. Move their dishes and litter boxes in the room so they don't get hurt or lost in the dark home.
Pile on layers, and have a large supply of blankets ready.
Seal any drafty windows with duct tape or clear plastic sheeting, and tuck rolled towels under doors to keep the heat in.
Follow directions carefully when using an indoor portable heater, and never leave it or your fireplace unattended. Ensure your carbon monoxide detectors are working before utilizing these heating tools. (Never use a gas stove to heat the home—they emit carbon monoxide and could be dangerous.)
Many cities set up heating and cooling centers when widespread power outages occur. These are helpful during an emergency and if you need power for medical supplies. A quick internet search for your area, as well as local radio station updates, should supply you with this information.
What if You're out of Town During a Power Outage?
If there is a power failure while you're out of town, your food could spoil and refreeze after the power comes back on, putting you at risk of getting sick.
A good trick is to freeze a small container of water, then place a coin on top. If you come home and the coin is below the frozen surface, you know you lost power at some point, causing the ice to melt and the coin to sink.
Final Thoughts
You're a pro at running your household, but sometimes unexpected events like power blackouts can occur. The best way to prepare is to have a clear game plan, the necessary supplies, and know exactly what to do when one occurs.
When your power is back on, it's time to consider having a home warranty for electrical systems, which can protect you from having to pay full price for covered repairs and replacements. Find out what's covered with American Home Shield® home warranty protection. Call 833.410.0920 today to speak with an agent.