Few things are as annoying as messy drawers. Learn how you can organize them and get your peace of mind back knowing every time you open a drawer, you'll find what you need right away.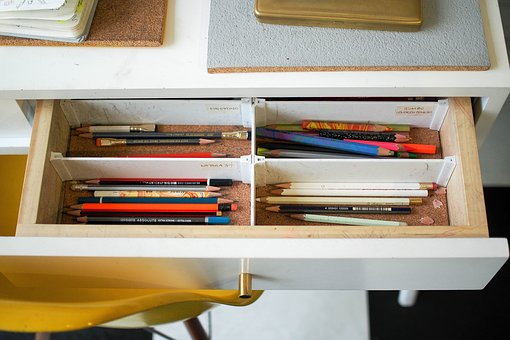 What's worse than opening up a drawer to find a tangled, jumbled mess of stuff? It's especially annoying when the chaos in your drawer reaches a level that makes it impossible to even open.
You don't need to buy a lot of expensive drawer organizers to take back your storage space. With a little creativity, a little free time and some inexpensive products, you can organize every drawer in your home and garage — from your dresser and bedside drawers, to your bathroom, laundry room, kitchen, workshop and garage drawers. Organizing your drawers is the easiest of DIY projects. Here's what you need to know.
Think About How You Use Your Drawers
Before you start organizing your drawers, think hard about how you use them, how you'd like to use them, and the objects you store in them or would like to store in them. For example, maybe you have deep bathroom drawers where you like to store makeup and skin care products. You'd like to be able to simply pull out your bathroom drawer and find these products without cluttering up the surface of your vanity or knocking your facial cleanser, serum and night cream into the basin of the sink.
It'll be much easier to keep your drawers organized long-term if you think realistically about how you're going to use the items stored within. You could make crafting, sewing and simple home repairs easier by organizing drawers so you can simply pull them out, see everything at a glance, then get the tools you need directly from the drawer.
Cheap and Easy DIY Drawer Organizer Ideas
You don't need to spend a lot of money — or any money — to get a custom-made drawer organizer. If you need an organizer for small objects, like notions, you could use an inexpensive bead organizer box with the lid removed. Craft stores carry these boxes in a range of sizes and configurations. Inexpensive cutlery trays are also great for organizing bathroom and office items.
You can purchase cheap, expandable drawer organizers from Amazon that are ideal for storing makeup in your bathroom or vanity drawers and office supplies in your desk drawers. Cut a piece of newspaper to the size of each drawer you want to organize and bring it shopping with you. Make notes on the size and depth of the drawer, and what you want to store in it, on the paper.
For deeper drawers, or drawers in which you need to store items in a wider range of sizes, you can craft your own custom organizers easily. Use cardboard jewelry or phone boxes to store smallish items that are cluttering a drawer, or cut out cereal boxes to make custom dividers for your drawers. Organize tall items in a deep drawer by cutting the top and bottom off a cereal box. Cut shoe boxes to fit in your drawer by removing a section of the middle, lengthwise or widthwise, and then taping the halves back together (or, if the drawer is big enough, stick the whole shoebox in it).
Want something a little more permanent and classy? Go down to your local big-box hardware store and buy some poplar, oak, aspen or pine craft boards to create cheap, sturdy and beautiful custom drawer dividers. Cut the boards to fit your drawers, or take your measurements to the store and have them professionally cut. At home, line the drawer you're organizing with newspaper, insert the pieces of wood as desired, glue them together with wood glue or heavy-duty adhesive, smooth out the glue along the seams and let it dry. Don't glue the divider into the drawer just yet; when it's dry, take it out to remove the newspaper, then you can glue the divider to the inside of your drawer or leave it removable if you want.
Organizing your drawers is an inexpensive, easy DIY project that will make your home feel so much cleaner and more comfortable. No more struggling to yank open a drawer or digging through a messy, cluttered drawer in search of a lost item. Now, everything you need will be within easy reach, right when you need it.
AHS assumes no responsibility, and specifically disclaims all liability, for your use of any and all information contained herein.