A leaking pipe can quickly become a financial drain, but figuring out if your pipes are leaking and how to fix them can protect you and your budget from drowning in debt.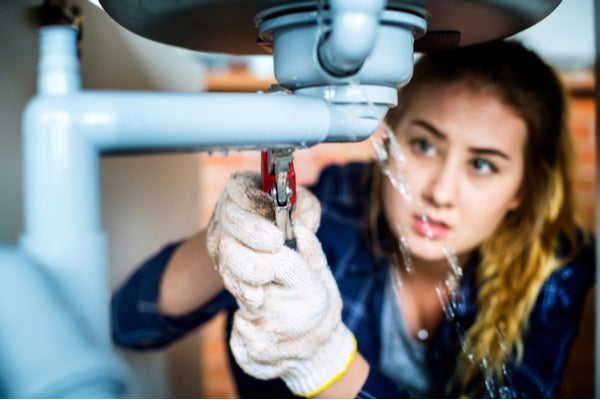 These tips will show you how to fix a leaking pipe and conduct thorough pipe leak repair.
How Do I Know if a Pipe is Leaking?
Leak detection tests can help you determine if your pipe has a leak. Even if you don't see an apparent leak, you should still conduct leak detection tests regularly to save water and money—and prevent major damage to your home.
Here's what to look (and smell) for:
Water meter. It can be helpful to figure out what your usual water meter usage numbers are and then monitor them regularly. To monitor your meter, first, turn off all water faucets in your home. Check the meter and write down the numbers. In a few hours, check the meter again. If the numbers have changed, you have a leak.
Water gauge. Use a water gauge to test your water pressure. Your showerhead should produce a certain amount of water pressure based on its model and design. If the pressure is lower than it is supposed to be for that specific showerhead, your home likely has a leak.
Puddles. Look inside your bathroom, laundry, and kitchen sink cabinets. Puddles around the cabinets or around toilets, tubs, showers, and washing machines indicate the presence of a leaking pipe. You may also notice loose tiles, peeling or flaking paint, or mold caused by water accumulation.
Napkin test. Even if you don't see any puddles, you may still have a leak. You can test for water leaks in the bathroom, laundry, and kitchen by wiping below-sink connections with a napkin, paper towel, or piece of toilet paper. If it becomes damp, you probably have a leaking pipe under the sink.
Discolored walls. Walls that are discolored—usually with brown or yellow stains—or bulging might mean that they have been impacted by water damage caused by a leaking pipe.
Smell. A leaky pipe will create sitting water, and over time, that water may develop a musty smell. If your home smells musty, but you can't locate the source, it may be due to a leak.
Steps for Fixing a Leaking Pipe
Once you have identified a leak, it's time to learn how to fix a leaking pipe. Although the best way to get a leaking pipe repaired is to submit a service request through your home warranty plan's plumbing warranty coverage, you can mitigate damage by using these quick repair tips:
A leaky drain can be remedied by tightening the pipe base, replacing the drain seal, caulking the rim, and tightening the pipe nut.

Similarly, a leaking toilet pipe can be treated by tightening the packing nut. You may also need to replace the valve.

A leaky faucet may just need tightening or replacement of the washers. If that doesn't work, consider replacing your faucet.

If your pipe has a hole in it, you may want to use a pipe leak sealer or pipe leak tape. This quick fix for water pipe leaks can also temporarily fix a copper pipe leak.
Pinpointing and fixing a leaking pipe can be easier than you think. You can even learn how to prevent frozen pipes and resolve noisy water pipes. The home plumbing DIY options are almost endless!
To get home warranty coverage for plumbing issues in your home, invest in an American Home Shield® home warranty plan today.
AHS assumes no responsibility, and specifically disclaims all liability, for your use of any and all information contained herein.