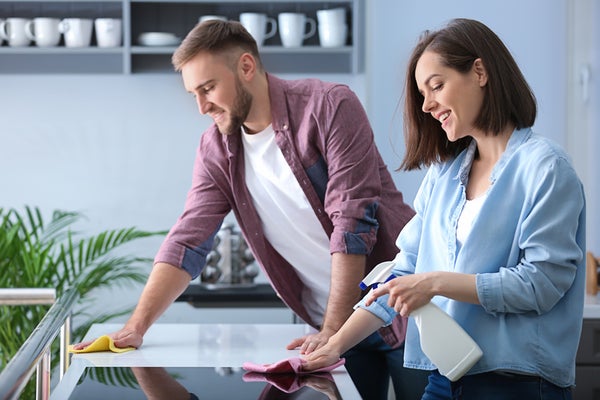 COVID-19 has spread throughout the U.S. at an alarmingly fast rate, and it continues to do so. While there might be lots of things you can't control during this pandemic, one thing you can control is how clean your home is, and that can help you protect your family from infection.
Follow these tips to clean and disinfect your home and lower your risk of illness.
Clean and Disinfect Every Time Anyone or Anything Comes into Your Home
The CDC recommends cleaning and disinfecting your home daily to protect against COVID-19. You should at least do it when someone leaves your home and returns, or whenever you bring groceries, packages or mail into the house.
Quarantine or Disinfect Mail
Though you're unlikely to catch COVID-19 from mail, you can wipe packages and envelopes down with a disinfecting wipe. For good measure, avoid touching your eyes and face after handling mail. And be sure to wash your hands thoroughly.
Target High-Touch Surfaces
You don't need to scrub your whole house top to bottom every day. Focus on cleaning and disinfecting high-touch surfaces. These include:
Door knobs
Toilet seats and handles
Table surfaces
Hard chairs
Bathroom and kitchen counters
Light switches
Game controllers
TV remote controls
Faucets and faucet handles
If there are any other surfaces in your home that you or your family interact with a lot, clean and disinfect those daily, as well.
Clean, Then Disinfect
Cleaning means removing any visible surface contaminants like debris, dust and residue. Disinfecting means using an EPA-approved disinfectant to kill pathogens. Many of the best cleaning products do one or the other. Products for cleaning need to cut through grease and gunk, while disinfecting products need to kill viruses and bacteria. Disinfectant sprays and wipes are both effective. Make sure to follow package instructions — many disinfectants need to stay on the surface until dry to be effective.
Make Your Own Disinfectants
Disinfecting wipes and other house cleaning supplies may be hard to come by right now. If that's the case where you live, make your own disinfectant by combining two teaspoons of household bleach with one quart of water in a spray bottle. To make wipes, pour the mixture into a coffee can and insert a roll of paper towels cut in half. Never mix bleach with any other cleaning chemicals — you could create toxic gas.
Quarantine Sick People from Others in the Home
If anyone in your home gets sick, keep them quarantined from the rest of the household in a separate room. Have them wear a mask, and be sure that you wear gloves and a mask when caring for them and wash your hands afterward. It's safest to ask the sick person to disinfect after themselves in the house, if they're not too sick.
Disinfect Bathrooms After Every Use by a Sick Person
If possible, give a sick person their own bathroom. If you have to share a bathroom with a sick person, ask them to clean it and disinfect surfaces after each time they use it. If they can't do this on their own, whoever does it should wear a mask and gloves. If you can give it some time before disinfecting, you're less likely to contract the virus from surfaces.
Wear Gloves When Disinfecting
You should always wear gloves when disinfecting for COVID-19. If possible, wear disposable gloves. Wash your hands before putting them on and after taking them off. If you have to use reusable gloves, only use them for COVID-19 disinfection.
Disinfect Your Belongings
If you carry a backpack or bag, don't forget to disinfect them when you come in. Wiping them down with a disinfectant wipe should be sufficient.
Take Your Shoes Off Outside
If you can, leave your shoes outside to help avoid bringing COVID-19 into your home. You'll also avoid tracking in all kinds of dust, dirt, debris and chemicals.
Disinfect Laundry Surfaces and Hampers
You can do your laundry as you normally would — hot water and soap will kill the virus. But you need to disinfect any surfaces the dirty laundry touched, including the laundry hamper or basket.
Disinfect Your Devices
It's supposedly safe to wipe down your smartphone or tablet with a disinfecting wipe or with 70 percent isopropyl alcohol, but if you're worried about it, invest in a UV phone cleaner. You can also use it to disinfect other small items, like car keys.
Remove any plastic or rubber phone cases or other accessories and wash them with soap and water after every outing. You can and should wipe off the keyboard, mouse touchpad and other high-touch surfaces on your laptop, but don't wipe the screen with a disinfectant wipe or alcohol.
The COVID-19 crisis continues, and as the situation develops, you can protect yourself and your family with careful and diligent cleaning and disinfecting at home. While you're self-isolating, you can tackle some of those cleaning duties and home projects to keep busy.
AHS assumes no responsibility, and specifically disclaims all liability, for your use of any and all information contained herein.