As any seasoned homeowner knows, buying new appliances is an important and sometimes challenging process. How much can I afford? What brand and model should I buy? What features do you need? There are many questions you may ask yourself when you embark on the appliance-buying journey. To get the best deal, you also need to know when the best time to buy appliances is.
If you can help it, you don't want to wait until your refrigerator, oven, built-in microwave, dishwasher, washer and dryer, or another appliance breaks down to start researching its replacement. Little is worse than realizing halfway through what was supposed to be a delicious meal that your oven is not working. If you sense that your appliance is on its last days, be sure to leave yourself plenty of time to research replacements for old appliances and shop for the best price on your preferred item.
Appliance manufacturers usually give their products a life span so that consumers have some idea of when to expect to replace a big-ticket item. It can be helpful to read through your appliance's reference manual to get an idea of the kind of life span you can. You can also reference our handy appliance life expectancy chart. Planning ahead can help you get the best deal on your new appliances; in order to do that, you need to know the best time of year to buy appliances.
As a pragmatic consumer, you want to get the best deal on new appliances, but it can be hard figuring out how to do so. Thankfully, American Home Shield® did the research so that you don't have to. Read on to learn about the best time to buy appliances.
When to Buy New Appliances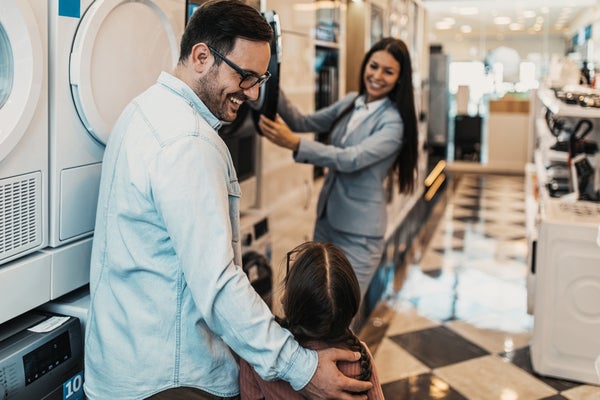 The beginning of fall is the best time to buy a washer and dryer. It's also the best time to buy kitchen appliances such as ranges, ovens, built-in microwaves, and dishwashers. Manufacturers typically roll out their newest models in September and October, meaning that you should be able to pick up the previous year's models of large and small kitchen appliances as well as laundry appliances.
The exception to this rule is refrigerators. Most manufacturers roll out their brand-new refrigerator models over the summer, so May is the best month to get a good deal on a new refrigerator.
Since new appliances can be expensive, you may need a few extra months to budget for your new appliance purchase. In that case, try checking stores in January. If stores do have the previous year's models in January, they must drop prices even further in order to get rid of them and make room for the current year's stock. Consider what features you need; if you're on a tight budget, you probably don't really need a refrigerator that plays music (as fun as that might sound). Even though it might mean fewer bells and whistles, buying last year's models for a discounted price can save you big bucks.
Holiday weekends are also some of the best times to buy appliances. Many retailers offer deals on new appliances in celebration of various holidays, like President's Day, the Fourth of July, Memorial Day, Labor Day, and, of course, Black Friday. Just do some comparison shopping to make sure you're actually getting the best price.
If you need a new appliance sooner rather than later, you don't have to wait for a specific month or holiday to get a good price. Most retailers offer their sales staff commissions on new appliance sales, and some also impose sales targets that staff members need to hit each month. Armed with this knowledge, you can wait until the end of any month and try to negotiate a better price on the appliance of your choice. Research prices for the same brand and model at other stores and see if they will match the lower price. Of course, trying to negotiate is also a good idea throughout the rest of the month; the worst they can do is say no. You'll probably have more success negotiating if you go on a weekday when stores are less crowded.
Where to Buy Appliances
Some of the best places to buy appliances are at big-box stores like Home Depot, Lowes, Sears, Best Buy, and even Costco or Sam's Club.
If you need a new appliance but don't have time to shop around in person, there is always the internet. You can often find great deals on new appliances online year-round, and comparison shopping is never easier than when conducted online. Services such as Google Shopping, Capital One Shopping, and Price.com even do the price comparisons for you, making buying appliances easier and more affordable than ever. Be on the lookout for online sales days such as Amazon Prime Day and Cyber Monday, which can save you lots of money on bigger purchases. Many retailers will even offer free shipping for appliances purchased online.
Protect Your New Appliances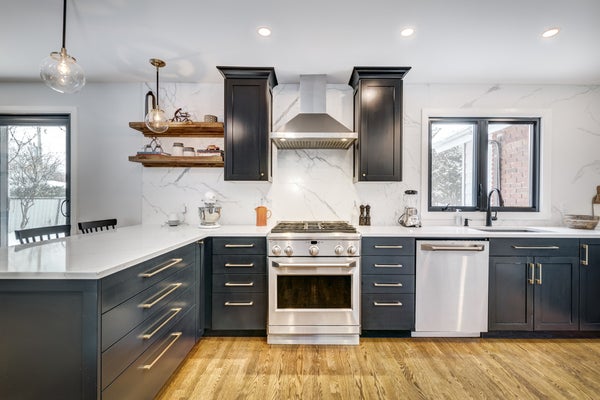 Once you've purchased a new appliance, it's a smart idea to protect it with a home warranty. What does a home warranty cover? An American Home Shield® home warranty provides coverage for components of up to 23 home systems and appliances. We offer two home warranty plans that cover appliances: The ShieldGold™ and ShieldPlatinum™ plans include refrigerator warranty coverage, dishwasher warranty coverage, washing machine coverage, and more. Learn more about which appliances are covered with an AHS® home warranty.
Our home warranty plans help defray the potentially expensive cost of repairing or replacing your covered appliance when it eventually breaks down. American Home Shield helps cover the cost to fix home appliances or replace broken appliances subject to the limitations and exclusions of your contract. If the covered issue necessitates a replacement, there's no need to learn how to dispose of your appliance. We'll remove the broken appliance or system and haul it away for you.
Now that you know the best time to buy appliances, it's important that you protect your new purchases with a home warranty. Compare plans today to choose the best one for your household and budget.
AHS assumes no responsibility, and specifically disclaims all liability, for your use of any and all information contained herein.