Having a small closet does not have to be a bad thing. Use these 5 tips to help you organize and make the most out of your closet.
1.The Purge
In order to make the most out of your small closet space, first thing's first: You must purge! If you're a self-proclaimed minimalist, you can go ahead and skip to the next section. But for those who are holding on to the mantra, "I'm going to wear it …eventually", listen closely.

Paring down your clothing and accessories will not only help create more room for your wardrobe essentials, it'll also help bring peace and order into your home. The smallest changes can make the biggest impact – so why not start in the closet? Take a few extra hours over the weekend, take the plunge and tackle that clutter. Professional organizer, Andi Willis, from Good Life Organizing suggests, "A great first step to decluttering your closet is to put all like items together. Put all your short sleeved shirts together, all the pants together and all the dresses together. Then sort items by color. This will allow you to see exactly what you have, making it easier to make decisions to part with 3 of your 10 pairs of black pants." Willis also explains how keeping a donation bag in your closet will help decrease clutter in the future.
2. Look up, down and all around
Willis says,"The best way to make the most of a small space is to go vertical. Add extra shelves above your hanging rods, put hooks on small sections of the wall, and don't forget the back of the door."

Be sure to measure the height of the ceilings in your closet. You can instantly double your closet capacity with closet rod expander kits, which adds a second, lower rod that hangs off the existing one. You may also find tension rods useful for awkward corners.

Additionally, make sure you utilize the whole space. That little area where you kick your shoes into a pile, may be the perfect spot for a shoe rack or a customized DIY solution that fits the area just the way you need it.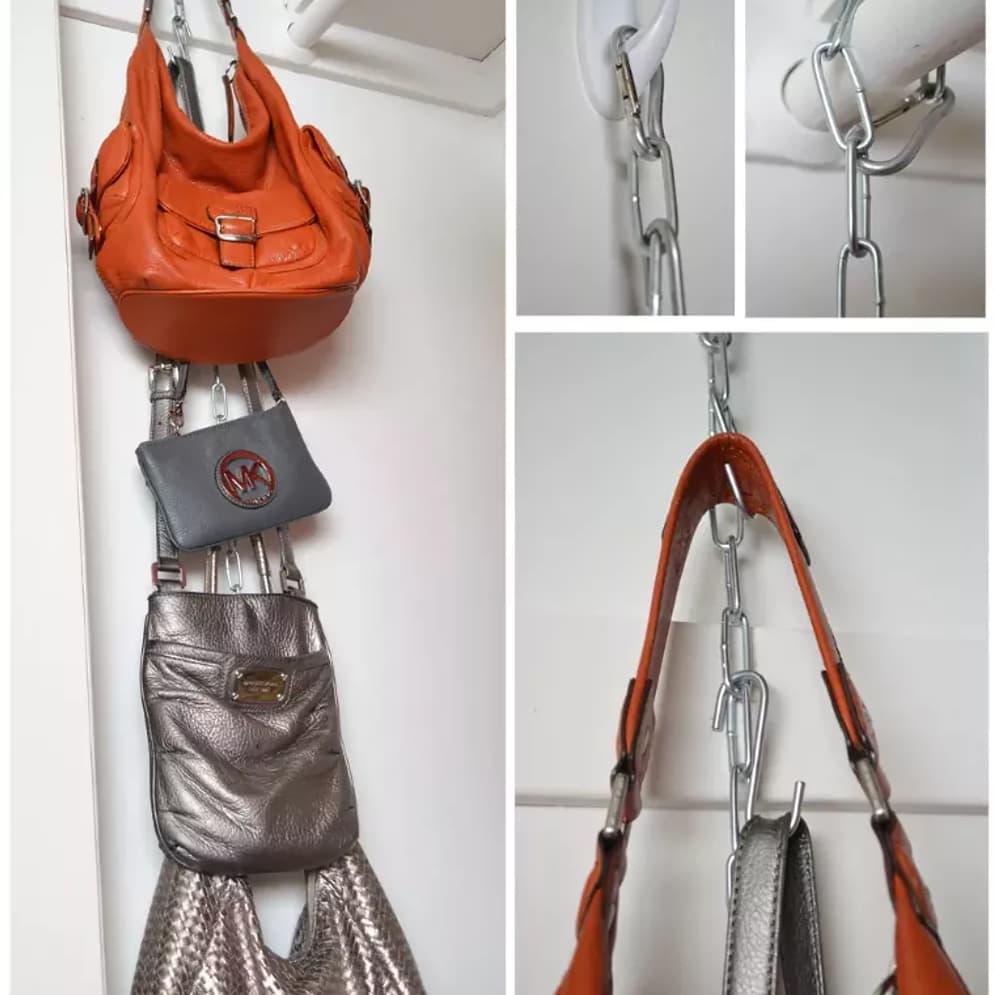 via Home Talk
3. Hook it up
Get value out of wasted wall space with the use of hooks. A variety of organizers are available that hook onto the back of closet doors, whether you want to hang your shoes or creatively store bulky sweaters. Try S-hook chains (found at your local hardware store) to organize your favorite bags, scarves and belts. You can also look for stylish side hooks that could be used to organize jewelry.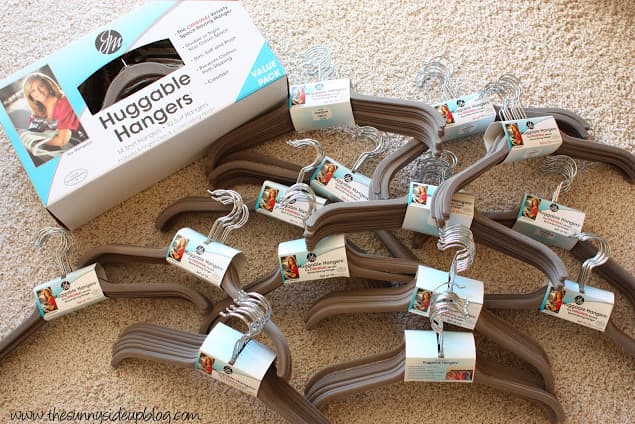 via The Sunnyside Up Blog
4. Slim Down, Tighten Up.
Another surefire way to get the most out of your small closet space is to upgrade your hangers. Instead of using clunky wooden, plastic or wire hangers (insert Mommy-Dearest throwback), consider lightweight, thin and textured options. Many hangers come in felt or velvet material so that your clothes won't slip off, which makes for a tidier, uniformed look.
5. Make It Pretty
Just because your closet is small doesn't mean it should lack character. Make your humble space a place you would enjoy visiting once or twice a day. Create your own petite boutique by adding little aesthetic touches that make it welcoming. Removable wallpaper, your favorite Instagram shots, and even motion activated lighting are some cool ideas you can use to add flare and not take away space. Another great idea is to add hanging mirrors, which can give the illusion of a bigger space.If your closet looks good, the more likely you'll want to maintain it.
ABOUT THE CONTRIBUTOR
---
As the Chief Organizing Officer of Good Life Organizing, Andi Willis is a Professional Organizer who is passionate about helping people find creative solutions to organize their homes and simplify their lives. Working with clients from busy moms to busy executives, Andi helps people get past the clutter and get on with their lives! Learn more about Andi and Good Life Organizing.
---
Next
>
Rest Easy with a Bedroom Makeover
AHS assumes no responsibility, and specifically disclaims all liability, for your use of any and all information contained herein.