The rumors are true: Living in Austin, Texas, means you're living in a truly special place. The Live Music Capital of the World—and capital of Texas—has seemingly endless opportunities for entertainment, outdoor recreation, scenic views, art and cultural experiences, and drinking and dining.
Each neighborhood is as varied and quirky as the city itself. If you're considering moving to Austin, TX, you probably want to know what the best neighborhoods in Austin are for you.
Luckily, American Home Shield® is here to help. We created a quiz that will help you figure out which Austin neighborhood is the right one for you.
BEGIN QUIZ
Take our quiz to find out the best places to live in Austin, Texas, for your lifestyle.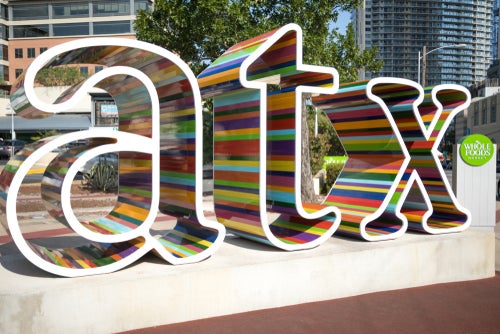 1. Who is moving to the neighborhood with you?
A. My college roommate
B. My dog
C. My significant other and children
D. My startup business partners
E. Just me
2. What sounds like your idea of fun?
A. Hitting the town after acing my test
B. Hiking with my pup
C. Exploring museums and parks with my kids
D. Grabbing drinks with coworkers
E. Seeing live music
3. Which of the following best describes you?
A. Books, coffee, and late nights studying
B. Chew toys and dog treats
C. Kid-filled and happy
D. A workaholic who cherishes the weekends
E. Always on the go
4. What's the most important quality in your choice of residence?
A. Proximity to the University of Texas at Austin
B. A fenced-in yard for the pups
C. Enough space for the whole family
D. Opportunities to meet like-minded young professionals
E. Access to arts and culture
5. What type of dining do you enjoy?
A. The cheaper, the better
B. A place with a dog-friendly patio
C. Something my kids will love
D. Anything trendy
E. Restaurants that are open late so that I can grab a bite after a show
Tally up your results and see which Letter (A, B, C, D, or E) you got the most
Mostly A
Based on your answers, you probably want a neighborhood ideal for students.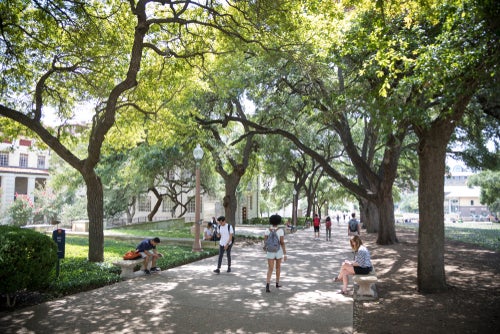 Mostly B
Based on your answers, you want a dog-friendly neighborhood for you and your pup.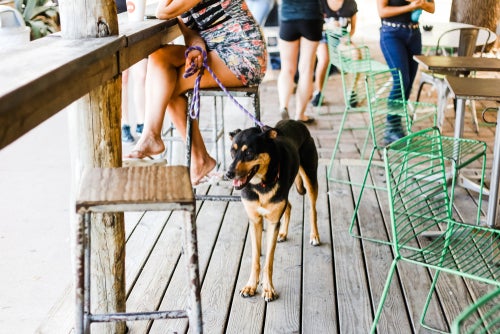 Mostly C
Based on your answers, you're on the lookout for the best neighborhood to raise your family.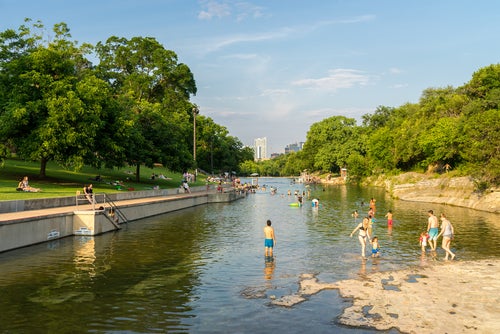 Mostly D
Based on your answers, finding a place for young professionals is important to you.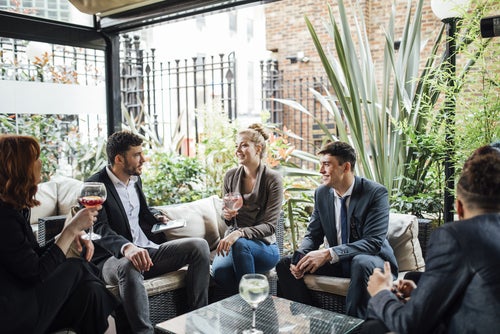 Mostly E
Based on your answers, you're likely drawn to the coolest Austin, Texas, neighborhoods.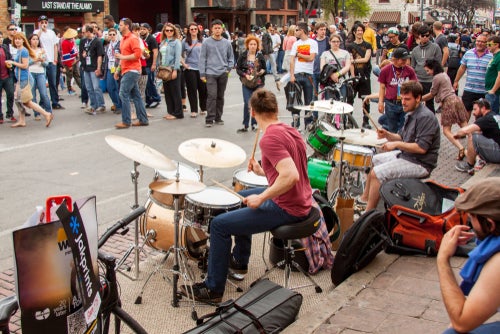 Tied Between Two Letters?
Read on to learn more about which neighborhood in Austin is right for you—whether you're a student, a dog-lover, raising a family, looking to meet other young professionals, or wanting to live close to the nightlife of Downtown.
The Best Neighborhoods in Austin for Students
Because there aren't enough dorm residences, more than 85 percent of the University of Texas at Austin (UT Austin) students live off-campus. If you're a student looking for the best place to live in Austin, fear not: Many nearby neighborhoods welcome students and offer housing in a lively, friendly environment.
The UT Austin campus itself has something for everyone. With multiple museums, historic architecture, the iconic UT tower, and sports teams to cheer on, the University of Texas campus is a wonderful place to explore for students and non-students alike.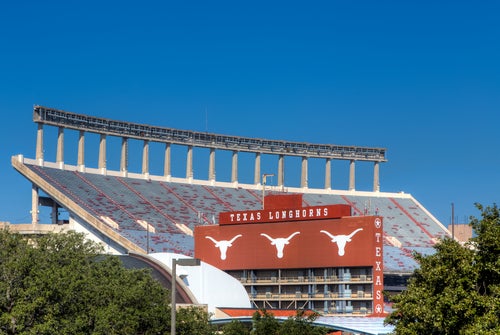 Best Neighborhood for Students: West Campus. It may seem like an obvious pick given how close it is to the University of Texas, but this neighborhood has more to offer than mere proximity. Only a 15-minute walk from the center of the university, West Campus offers an upbeat, diverse vibe, with plenty of coffee shops and dining options. Top picks include poetry slams at The Ballroom at Spider House, wings and beer at Plucker's Wing Bar, or any of the many West Campus food trucks on 26th Street. You can also put on your dancing shoes and try swing night at the Texas Federation of Women's Clubs Mansion.
For outdoor recreation, try your hand at volleyball, baseball, or basketball at the 42-acre Pease.
West Campus is zoned for student housing, so you'll find many pre-furnished residences in buildings that offer student meal plans and recreation. Don't forget to dust off that toga—many UT fraternity and sorority houses line the streets of West Campus.
Runner-Up: Hyde Park. Hyde Park is a conveniently located neighborhood with many housing options for students and a laid-back, collegial vibe. Highly walkable, full of charm, and one of the safest neighborhoods in Austin, Hyde Park is an ideal place to live for students who want a quieter lifestyle than can be found on-campus or in West Campus. You'll find a mix of places to live, including turn-of-the-century Victorian houses, cozy apartment complexes, and even dorm-style housing for that real student-life feel.
Hyde Park offers many opportunities for exploration and excitement. Architectural highlights include Shipe Park's historic log cabin, the Elisabet Ney Museum, and the historic Moonlight Towers. After a day exploring the neighborhood's rich history, catch a play at Hyde Park Theater or meander through the 21-acre Mayfield Park and Preserve. Opportunities for grub include The Parlor's famous pizza, Mother's Cafe's vegetarian options, or Uncle Nicky's Italian sandwiches.
The Most Dog-Friendly Austin Neighborhoods
If your dog is your copilot, you'll be happy to learn that Austin is proud to be pup friendly. As the nation's biggest no-kill city, it should come as no surprise that Austin has some of the best pet-friendly neighborhoods. Austin is a dream for dogs and the people who love them: You can find multiple off-leash dog parks, ponds, and natural springs; breweries that allow dogs indoors; coworking spaces with full-time dog attendants; dog yoga studios; and even dog spas.
Discover the best neighborhoods in Austin for you and your canine companions.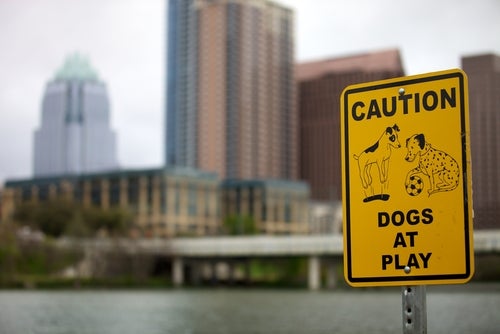 Most Dog-Friendly Neighborhood: East Austin. If your version of paradise is being surrounded by joyous, wiggling balls of fluff, then East Austin is the place for you. In fact, a recent study shows that dogs outnumber children two to one in this neighborhood. Nestled on East Riverside Drive close to I-35, Norwood Estate Dog Park offers more than five acres of grass, shade, and off-leash dog frolicking. One of the fastest-growing neighborhoods in the city, East Austin is home to dozens of dog-friendly restaurants, bars, and breweries. Austin Eastciders Collaboratory even has dog toys for sale so your pooch can play while you sip.
If you have a green thumb, all the better: East Austin is home to approximately half of the entire city's community gardens, meaning you and your pup can spend the day planting for your future.
Once your pup is tuckered out from a day of play and adventure, you'll likely want to visit the George Washington Carver Museum, Cultural and Genealogy Center to learn more about African American history in Austin. Afterward, grab a seat and a cocktail at the delightfully quirky Kitty Cohen's, tuck into Native Bar and Café, or order a Frito Pie at Yellow Jacket Social Club. Close out your day by exploring nightlife performances at the Hotel Vegas, Butterfly Bar, or Skylark Lounge.
With new apartment complexes popping frequently, housing in East Austin is more accessible than in many of the city's other neighborhoods. If a home with character is more your style, be sure to look into one of the area's many charming bungalows and Craftsman-style houses.
Runner-Up: Allandale. You and your pup should be able to find an Allandale home with a yard big enough for tug-of-war and fetch. When the backyard just doesn't quite cut it, Allandale has several dog-friendly spots. The neighborhood is home to the famous Yard Bar, a restaurant and bar with its own off-leash dog park. For a nominal fee, your dog can play with its canine pals while you drink and be merry with your human ones. Bark Rangers watch over the park, intervening if any pups happen to play too ruff.
If your pup prefers the great outdoors, the Great North Boulevard off-leash dog park is a great place to spend the afternoon. After a day at the park, take a stroll to Allandale food classics like Amy's Ice Creams and The Peached Tortilla.
A close-knit Austin suburb, Allandale continues yearly traditions such as a neighborhood-wide spring garage sale and a Fourth of July parade.
The Best Neighborhoods in Austin for Families
Austin has fantastic kid-friendly opportunities for entertainment and learning, which is likely why the city is named time and again one of the best places to raise a family.
For interactive animal encounters, the Austin Aquarium and Austin Zoo can't be beat. Children love the fun educational opportunities for early learners at Thinkery and the Science Mill. The Georgetown Palace Theatre puts on kid-friendly plays and shows, and Peter Pan Mini Golf and the Indigo Play center are sure to provide full-scope sensory enjoyment to your little ones.
If you're looking for the best area to live, play, and raise your children, consider the following best neighborhoods in Austin for families.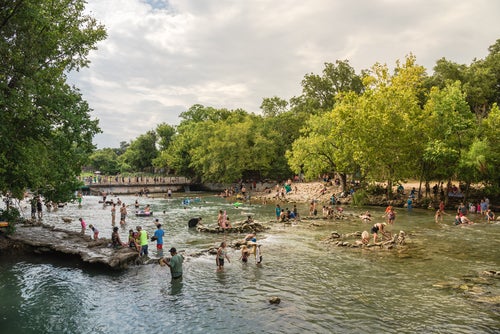 Best Neighborhood for Families: Rollingwood. Upscale, scenic, and conveniently located (it's only 10 minutes from Downtown Austin), Rollingwood is a great place to raise a family if you have some money to spare. The neighborhood features large Texas-size homes that sell in the millions. Although the 0.7-square-mile Rollingwood is technically its own city, most Austinites consider it another Austin neighborhood.
With five nearby schools awarded an A+ review from Niche and multiple recreation options, including two outdoor natural swimming pools, Rollingwood is among the best Austin, Texas, suburbs for families. The neighborhood is nestled between the Colorado River and beautiful rolling hills, meaning that a family summertime walk is bound to be idyllic.
Kid-friendly activities include visiting the Austin Nature & Science Center and hiking or boating at Zilker Park. Afterward, grab a bite at the kid-favorite Lover Boy Pizza.
Runner-Up: Olympic Heights. If Rollingwood house prices make you wince, the 800-home Olympic Heights community in Southwest Austin might be the place for you. The neighborhood has a jogging trail, a community pool, and an active homeowners association that hosts ongoing kid-friendly activities, including an annual Halloween Boo Bash.
Nearby family-friendly eateries like Valentina's Tex Mex BBQ and Southside Flying Pizza will be a hit with the kids. For an active adventure, grab some skates and head over to the Austin Roller Rink or wind through Bauerle Ranch Park on bikes.
The Best Austin Neighborhoods for Young Professionals
Considered one of the best places in the country for young professionals due to its many opportunities for networking and business development, Austin has even been named the "Top Tech Town" in the U.S. multiple years in a row.
Many startups and tech companies have been founded in Austin, including big names such as Tesla, Dell Technologies, Indeed, Vrbo, Whole Foods, and YETI. If you're looking to kickstart your career, these Austin neighborhoods can help you on your path to success.
Best Neighborhood for Young Professionals: South Lamar. Only a short drive from the vibrancy and bustle of Downtown Austin, South Lamar is one of the best Austin neighborhoods for young professionals. The area is very popular with young professionals who want to rent before settling down as homeowners. Living in South Lamar means you can easily take a short walk or hike to Lady Bird Lake or head west to the Barton Creek Greenbelt to explore its hiking trails.
If you're looking for date ideas, consider going to a movie at the nine-theater Alamo Drafthouse, line dancing at the Broken Spoke, taking in local art at the Austin Art Garage, or watching a live performance at ZACH Theatre. South Lamar is a trendy foodie's dream, with several farm-to-table eateries, spicy fusion Tex Mex joints, and award-winning sushi restaurants. The neighborhood is bicyclist-friendly, with bike lanes that take you directly to Downtown Austin.
Many small businesses and entrepreneurs have made South Lamar their home, meaning that settling in this neighborhood could work double-duty as a career move. With the area's great shopping, leisure, and food options, many South Lamar residents see its comparatively high rent prices as worth it.
Runner-Up: North Loop. If you're a young professional who wants to settle into a tight-knit community, North Loop is for you. This laid-back, eclectic Austin, Texas, neighborhood is only a 10-minute drive to Downtown and a 15-minute drive to Silicon Hills, a North Austin tech hub home to companies like Amazon, Adobe, and Facebook. You can find single-family bungalows or new condos for sale in North Loop, typically in the $500,000–$700,000 range.
When you are off work, you probably won't want to leave the North Loop neighborhood—you'll have your pick of artsy, vintage shops and tasty restaurants to grab a bite. Peruse Breakaway Records or Monkeywrench Books, then head to Zucchini Kill Bakery for a vegan treat or Foreign & Domestic for a full farm-to-table meal.
No young professional neighborhood is complete without a lively bar or brewery scene, and North Loop delivers. Stop in for after-work drinks with friends at Drinkwell or sip on a weekend pint at The Brewtorium.
The Coolest Austin Neighborhoods
Austin is renowned for its reputation as being quirky, creative, and musical. After all, there's a reason it's often called the Portland of the South. Find the best places to live in Austin, Texas, if you enjoy being close to the hustle and bustle of a city but want a dose of funky vibes.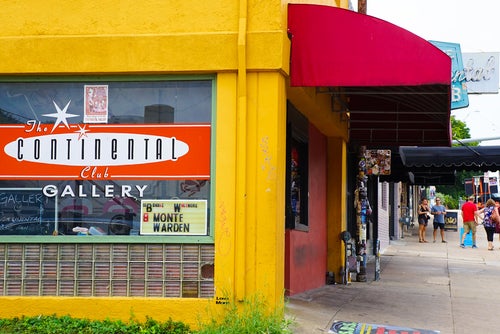 Coolest Neighborhood: South Congress. If you've ever been intrigued by a postcard of Austin's iconic skyline, South Congress—known colloquially as SoCo—might be the place for you. The best-known neighborhood in Austin, this bustling area just south of Downtown is trendy, walkable, and fun. You'll find a mix of single-family homes off of the main drag (S Congress Ave) as well as condos and apartment buildings.
If you have a hankering for something tasty, SoCo is home to many culinary delights, including Jo's Coffee with its Instagrammable "I Love You So Much" mural, food trucks of every type and flavor, and the unforgettable 12-seat Japanese restaurant Otoko. Shopping opportunities include South Congress Books—a bibliophile's dream—and the eclectic, vintage Lucy in Disguise with Diamonds costume shop.
As befits the Live Music Capital of the World, South Congress boasts multiple live music venues, including The Continental Club, a bluesy, Austin landmark; local act production hosts Guero's; the open-air Far Out Lounge & Stage; or the laid-back Sagebrush, which also features two-step dance lessons on Wednesdays. If theatrical performance is more your jam, the historic Paramount Theatre—in its early days known as a vaudeville house—hosts comedy, dance, drama, concerts, parties, and film festivals.
Runner-Up: Downtown. Though the cost of living here is a bit higher than in other Austin neighborhoods, you'll always have your choice of things to do. Living in Downtown Austin means you're close to everything that Sixth Street has to offer. Often called the Bourbon Street of Texas, Sixth Street is where locals and tourists mingle. The neighborhood is bursting with personality, and the entire street is closed to traffic from Thursday night through Saturday night, allowing people to bar- and restaurant-hop freely.
When you live in Downtown, you'll always have plenty of fantastic entertainment, drinking, and dining options at your fingertips. If historic hospitality with a touch of Texas brings you delight, the Driskill Hotel on the corner of Sixth Street and Brazos Street is an iconic hotel that still maintains its centuries-old tradition of serving afternoon tea. Alternatively, the Firehouse Lounge & Hostel provides a hidden wonder: Just pull open the bookcase to enter a specialty cocktail speakeasy, complete with live music. For cool and quirky entertainment, catch a reggae show at the Flamingo Cantina; listen to local bands play at the Blind Pig Pub; or watch a comedy, music, and magic show at Esther's Follies.
After work or on the weekends, head down to the Ann and Roy Butler Hike and Bike Trail that follows the Colorado River. You can even rent or bring your own kayaks to glide along the water.
Between Downtown Austin's luxury apartments, historic district homes, and urban affordable housing options, finding a place to settle shouldn't be too hard of a feat, no matter your housing preference.
Final Thoughts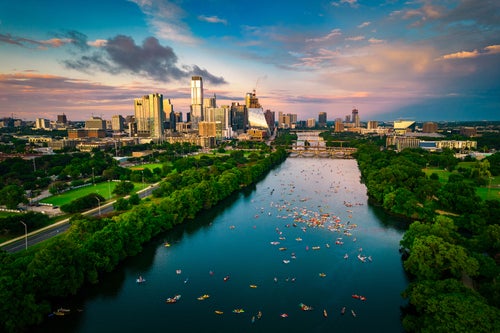 For more information on moving to Austin, TX, check out our homebuying guide and first-time homebuyer tips to help prepare for your big Texas move.
Whether you're moving to a new home or building or buying a home in one of these best neighborhoods in Austin, it's a great idea to sign up for a Texas home warranty plan. With comprehensive coverage and flexible pricing and plans, a home warranty plan from American Home Shield will help you have peace of mind that your new Texas home investment is protected. Learn more with our Texas home warranty video guide.