If you've decided to follow the tiny house movement, you know that there are many benefits to making the most of having less space. With these tips for tiny home organization, downsizing doesn't have to mean downgrading.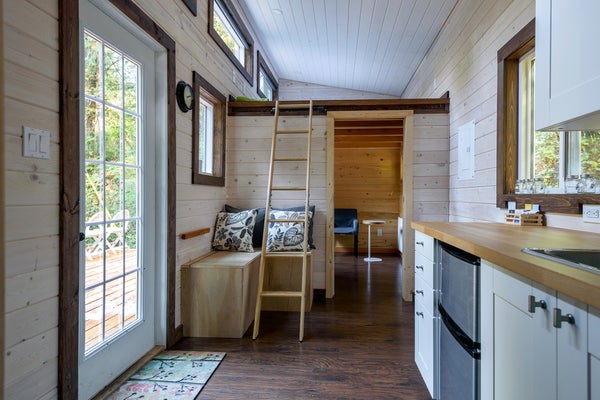 Tiny home life often means restructuring your possessions and your lifestyle. Many tiny home enthusiasts report having more quality time with their families and stronger community bonds. The tiny home movement's inherent environmental and budget-friendly footprint is just icing on the minimalist cake.
Despite its benefits, a tiny home is truly that: tiny. When you have less than 400 feet of dwelling space, organization for tiny homes is vital for a positive lifestyle. No matter how many times you attempt to figure out which of your possessions spark joy, it can be challenging to figure out how to fit in your belongings.
The following tiny home organization ideas compiled by American Home Shield® will help you live large in your tiny home. They fall into three categories: minimize your possessions, make good use of vertical space, and think creatively for more storage opportunities.
1. Minimize Your Possessions
When striving for tiny home organization, the most important thing you can do is get rid of unnecessary items. Of course, that's much easier said than done. The following tips will make the minimization process a smooth transition instead of a sorrowful goodbye to the material possessions you've accumulated over the years.
Minimize by category.
Minimizing your things can feel overwhelming, but it's the most important step you can take toward curating your well-organized, tiny dream home. It can be helpful to break down the process into categories to provide a structure and routine so that you don't become so overwhelmed that you give up.
First, give minimizing your books a go. Remember that investing in an e-reader is a good way to keep your love of books alive without sacrificing sacred space.

Once you've accomplished that, try moving on to clothes, then kitchen goods, electronics, and so on.

If you have any duplicate items, determine which one you need or like most. For example, you may not need two puffer jackets or two chef's knives. Try using one for an extended period; you might be surprised by how you can "make do" with just one item.
If minimizing one category still seems too stressful, try breaking it up into subcategories. With clothes, for example, you can try minimizing based on seasonal or functional subcategories. Once you master this step, consider utilizing a versatile, extremely minimalist capsule wardrobe. When you can no longer think of a category, try minimizing your miscellaneous items (yes, including the dreaded junk drawer).
Sometimes it's hard to part with an item, even if you don't need or use it every day. Perhaps you have a box of photos from your grandparents or a memento from a loved one who has passed. Make space for items that are most dear to you, whether it's in your tiny house storage or a local, rented storage unit.
Reconceptualize the way you think about minimizing.
Spatial organization ideas originate in an organized mind. If you think about minimizing as deciding what you really consider worth keeping—rather than what you want to rid yourself of—you should have an easier time getting to what's important.
Try writing down 5–10 of your personal priorities, and then see how your possessions fit into those priorities. For instance, someone who prioritizes creating family time through cooking might place more value on an extensive cookery collection than a bibliophile who places value on their physical book collection.
Different priorities should mean retaining different possessions when it comes to minimizing for your tiny home.
Remember that your stuff doesn't define you.
The process of downsizing your things can feel like you're getting rid of some intrinsic part of what makes you you—but it doesn't have to. Happiness doesn't come from what you own, but rather who you are and the people you surround yourself with.
Breaking free from the cycle of consumerism by becoming more intentional with your time and possessions will allow you the space to properly organize your small space. Try being as intentional as possible when it comes to your possessions. If something you own doesn't benefit your life, it might be time to get rid of it.
2. Make Good Use of Vertical Space
Once you reduce your possessions and adopt a minimalist mindset, it's time to implement organization ideas for small spaces. Our next tip for tiny house organization involves using tried-and-true small home ideas for making good use of your space. The best-designed and most well-organized tiny homes take advantage of their vertical real estate.
Every inch of your tiny home's walls can be used to store your treasured possessions. You can use vertical space to organize your tiny home in a few different ways.
Fill your home with shelves.
Adding extensive shelving to your tiny home will provide exponentially more room for tiny house storage. Floor-to-ceiling shelving is the most space-efficient, but depending on what you want your tiny home to look like, you could offset some of your shelves to create a more interesting aesthetic.
It can be helpful to organize your shelves by placing items you're less likely to use regularly on the shelves closest to the ceiling and things you often use on shelves you can easily reach.
You may also want to assign a category to each shelf so that you never get confused about what goes where. For example, you might have a shelf for books, another for jewelry, and yet another for dog treats and toys.
Hang hooks and pegs on the wall.
Hooks are lifesavers when it comes to organizing small spaces; you can hang your coat, purse, scarves, and belts without needing to have a coat rack taking up space.
Or, if you don't want to make too many holes in your tiny home's walls, you can install a pegboard. A pegboard allows you to store and organize your tools, jewelry, pots and pans, and more on one large panel mounted to the wall. You can even jazz up a pegboard by painting it or hanging photos, plants, and art from its hooks. Pegboards also offer great flexibility since you can always add or remove hooks or rearrange their layouts.
Hang items from the ceiling and cabinets.
Depending on your height and the height of your tiny home, you can install hooks in your tiny home's ceiling and hang items that way to create more space. This tiny house organization idea is an excellent way to maximize your tiny bathroom, where toiletries can otherwise take up too much space. It's also useful in your tiny home's kitchen, where pots, pans, and mugs can often make it feel like you have no room to move, and more importantly, to cook. You can also hang items individually underneath cabinets by installing hooks, or you can install a rod between cabinets to give yourself even more space for storage.
Add a lofted area to your tiny home.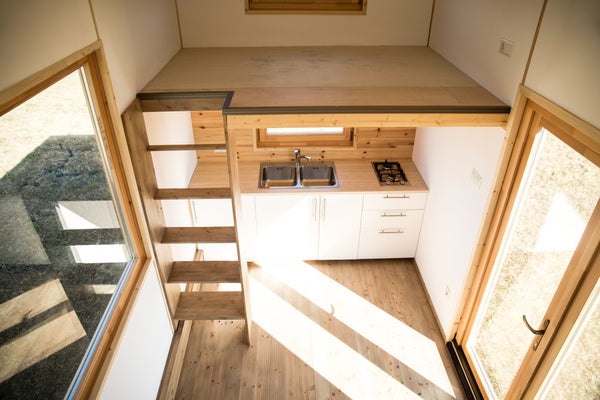 Depending on your tiny home's size and layout, you may be able to install a lofted area to maximize your use of vertical space. This will leave you with a larger area on the ground floor, meaning more room for storage and less room for mess.
Many tiny home residents place their beds in their home's lofted area, allowing them to maximize their kitchen, dining, and entertainment area on the ground. However, you can also use a lofted area in a tiny home as solely a storage space or even as a different area of your home, like a play area for your kids.
You may be wondering how to access this lofted area. Consider installing a small staircase or using a ladder for a minimalist solution that saves space and provides you with more room for tiny house storage.
Install wall-mounted, fold-up everything.
We can't have a small house organization list without including the Murphy bed, a space-saving fold-out wall bed. William Lawrence Murphy invented the original Murphy bed in 1900, and wall bed technology has only improved since then. Installing a wall bed in your tiny home provides you with much more room for activities, and some Murphy beds even offer additional storage opportunities through shelves and drawers. When you're not using the bed, it simply folds into the wall, allowing you to optimize your space.
Fold-up organization ideas for your tiny home don't have to end at wall-mounted beds:
A wall-mounted, fold-up table can provide multifunctional, space-saving possibilities for your dining, storage, sewing, laundry, and bar table needs.

A wall-mounted, fold-up nightstand can give you a place to hang your hat—as well as your glasses and the book you read until you fall asleep.

Installing a wall-mounted, fold-up desk in your tiny home means you can pull it out to work as necessary and then fold it back up once you're done.

You can even install wall-mounted, fold-up chairs. Attaching stools to the wall means you always have a seat or place to leave your stuff when needed, and you can fold them back up when not in use.
3. Think Creatively for More Storage Opportunities
Once you've made good use of your tiny home's vertical space, you may be wondering what other tiny house storage ideas can help you organize. Depending on your specific home layout, storage needs, and lifestyle, you can think creatively to create more storage space and maximize your tiny home organization.
Take advantage of your tiny home's architectural elements: exposed beams, studs, and those seemingly awkward nooks and crannies can all offer tiny house storage. You can also think creatively to maximize the use of items that fill your home. For example, modular furniture has multifunctional capabilities as room dividers or decoration stands, and appliances for small kitchens allow you to maximize your tiny house kitchen organization without sacrificing efficiency. No matter what, thinking creatively about how to maximize your storage will allow you to organize your tiny home better.
Create storage space using your furniture.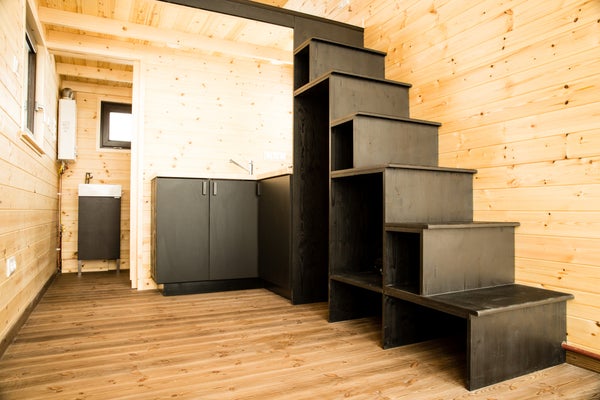 Everything in your tiny home can be a tiny house storage opportunity. If your tiny home includes a lofted area and you don't feel comfortable using a ladder, that doesn't mean you need to waste that space with traditional stairs. Install under-stair storage drawers in your tiny home, so you can have extra storage possibilities in a space that generally goes unused. Some tiny house owners even install hideaway storage compartments in their floors and walls.
Another option to maximize storage in your tiny home is to use furniture pieces that include their own storage and organization features. For example, you might invest in a storage bench, ottoman, bed, or sofa to keep many of your possessions organized and out of sight—but within close reach.
Use drawer, cabinet, and closet organizers.
There's more storage space in your cabinets and closets than you realize. Organizing small spaces is easier when everything you own has a home. Drawer, cabinet, and closet organizers allow you to organize without having to rifle around blindly through a mess just to find that old muffin tin.
Try an expandable spring-loaded drawer organizer for instant organizational possibilities, or check out stackable drawer organizers to make the most out of limited space. Small kitchen solutions include:
cupboard stand racks

pantry shelves

expandable pot, pan, and lid organizers

rack holders

stackable holders

over-the-cabinet-door organizers
From stackable shoe racks to over-the-door hanging shelves to modular, grid-based organization configurations, adding closet organizers are a great way to organize your small closet. We recommend using closet organizers that offer personalized configuration, meaning that you can adjust your closet's shelving and rods as you and your possessions evolve. Many home improvement stores provide DIY guides for building your own drawer, cabinet, or closet organizer that fits your specific vision and needs.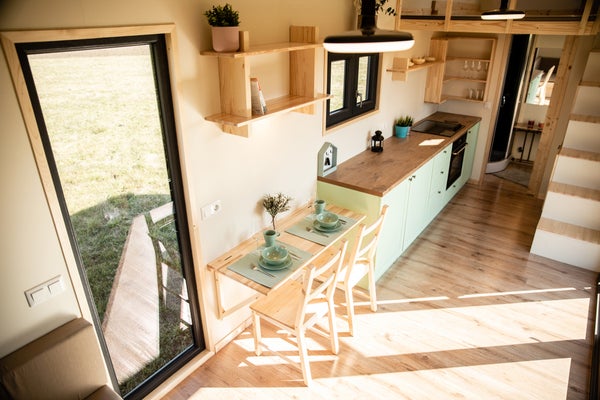 By minimizing your possessions, fully utilizing vertical space, and finding storage opportunities through the creative use of space, you'll be on your way to the tiny home organization of your dreams. If you're fully organized but still not quite cozy, check out our recommendations for more décor ideas to help turn your tiny house into a home.