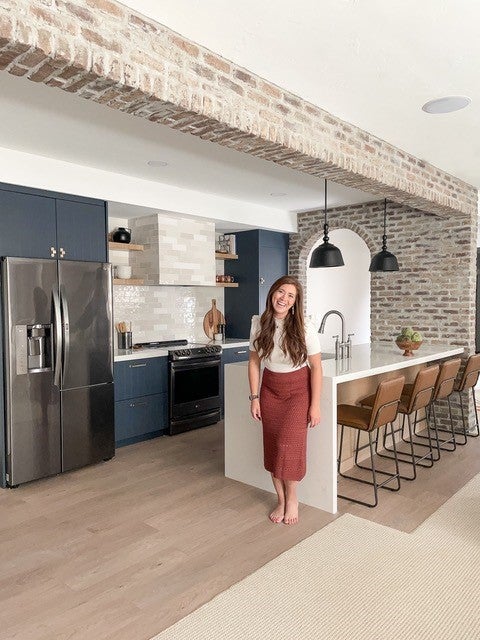 This post was written by American Home Shield® partner Christine Gummersall of the website www.honeybuilthome.com.
Over the last decade, I have been DIYing my home from simple furniture fixes, to building walls and entire kitchens. Most of my training has come from watching experts, and trial and error. Although I have tackled a lot of big projects and consider myself to be a DIY expert, there are still things I deem out of my DIY scope and hand over to the professionals to tackle.
Each one of these appliances is engineered in a way that it takes professional training to open properly, diagnose, and repair. Whether you are moving into a brand new home or one that is years or decades old, you've invested a lot of money into the home purchase itself, and now have to allocate a large portion of your budget for the monthly payment. The last thing you want is to have a dishwasher or a refrigerator break down and need costly repairs. The typical cost to repair or replace a refrigerator can cost up $1,500, while a dishwasher can cost up to $600. That might be more than your entire monthly mortgage payment!
Did you know that of all the trades, the labor and parts for plumbing are of the most expensive? Just to call and get a diagnosis can be upwards of a few hundred dollars. So, let's dive into what it costs to repair plumbing. A water heater can cost up to $1,200 to repair or replace, while interior plumbing lines can cost up to $1,850 to repair. Less expensive things to fix include toilets, faucets, and valves, but they can still cost up to $250-$350 to repair or replace.
If there's one thing we don't want to break in our homes it's our furnace or air conditioner. The comfort of having functional units to heat and cool our homes is unmatched. And as one can expect, these pieces are EXPENSIVE to repair or replace. It can cost upwards of $3,800 for each of them to be repaired or replaced, and possibly another $1,981 if there's ductwork that needs to be repaired or replaced.
Now I don't want these real repair numbers to scare you away from home ownership. Home ownership is one of the most amazing investments we can make! Homes continue to appreciate value and grow our wealth with equity. They also give us a refuge from the world where we can create life-long memories with our loved ones and the opportunity to personalize the space with paint, furnishings, and decor.
It's important to note that these are real costs that can be avoided by investing in a home warranty plan like one from American Home Shield. For as low as $40 a month, American Home Shield covers the major parts of your home's systems and appliances when they break down! For more information on how you can sign up for a home warranty click here.
*Repair/replacement costs are the eightieth percentile of U.S. costs according to a nationwide survey of homeowners conducted in 2019 by ClearVantage for American Home Shield"
AHS assumes no responsibility, and specifically disclaims all liability, for your use of any and all information contained herein.