Why Should I have a Mudroom?
There are many benefits of a mudroom. Sure, it's not a man cave or a she shed. But a mudroom is a practical space that can have a wide range of uses.
Garage mudroom transformations have become popular and for good reason. Left to accumulate whatever you don't know where to store can turn a useful garage into a glorified storage space. A garage mudroom makeover could be precisely the excuse you need to once again make your garage a functional space with real utility value.
A mudroom can have a wide range of uses and have the potential to add value to your home. Prospective buyers see the benefits of a mudroom, and this, in and of itself, is a reason to consider adding a mudroom if you plan to sell your home in the foreseeable future.
Mudrooms are typically used as a liminal space between the inside and the outside. They are an entry point where you can clean up and leave muddy or otherwise soiled clothing and footwear in a space that will not track dirt and debris around your home.
In warmer months, rain and, in turn, mud are a factor. In colder months, snow, slush, and ice-melting salt and pellets are good reasons why you may want to have a space where you can leave shoes, boots, and clothes, to prevent tracking nasty materials around your home. You may already be aware that getting mud and slush out of your carpet is easier said than done. A mudroom is a way to offset costs that might otherwise be spent on carpet cleaning.
How to Make a Mudroom
Get ready to say goodbye to tracking mud and other unpleasantness around your home. Before you start building, pick a location for a mudroom that is a high-traffic entrance. For some, this is the garage, for others, this may be a basement entrance to your house.
Generally, building a mudroom begins by constructing the floor. Time is required to insulate the area between the ground and the floor before moving along in the process.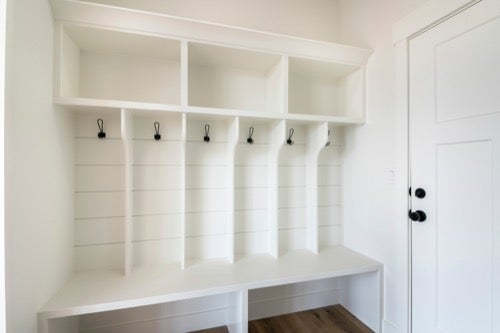 The next steps involve creating the walls and roof. This assumes you're building a full-on addition. If you're simply altering an existing space (build-in vs. freestanding), you may not need as much time committed to the floor and ceiling. The walls remain a focus. Installing siding or paneling with functional intention is a major part of the battle. Storage and the final flooring are installed at the end.
Garage Mudroom Makeover
Your dream of a garage mudroom makeover can become a reality, and it does not have to cost an arm and a leg.
The cost of a mudroom renovation is, on average, $8,000-$16,000. This can vary significantly based on your game plan. If you are redesigning an already existing space, that will most likely lower costs as opposed to constructing an altogether new addition. New additions may require additional fees as well as a go-ahead from your HOA and/or township.
Prices vary for creating a mudroom in part due to the size of the space. As a general rule of thumb, twice the square footage equates to twice the price.
Mudroom cabinets and "cubbies" are relatively inexpensive, all things considered, when compared with amenities like a shower. You might be surprised that adding a sink is not extremely expensive. A dog wash area is an amenity that will certainly appeal to some. This can cost $1,000-$3,000 or more. You'll want a sense of your overall budget, in advance, before you get started. Definitely plan a bit of cushion into your budget as it's common for folks to exceed their budget by as much as 30%.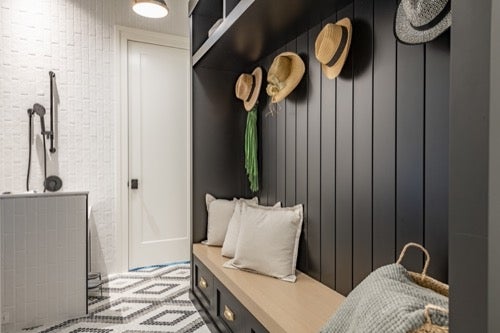 Start thinking now about all the possibilities you can do with your mudroom that will make your mudroom reveal the envy of your neighbors.
Is a DIY Mudroom a Good Idea?
When considering a DIY mudroom, there are pitfalls you want to be aware of before taking the initial steps of breaking ground.
Let's examine the pros and cons of a DIY mudroom.
It's important to note that the cost of a mudroom can vary dramatically depending on the type of mudroom you plan to build and the location of the mudroom.
Pros:
Keeps your home clean
Extra storage
Can be extremely useful for organization
Adds value to your house
A fun home renovation project
Cons:
The mudroom itself can get dirty without regular tidying up
May require a special permit (especially if you're adding an addition to your house)
Depending on the location of your mudroom, it could be exposed to the elements which may result in damage and additional costs
Mudroom Storage
Extra storage is a big reason why mudrooms can be exciting. They can provide a new space to allow you to get organized and help declutter spaces that have otherwise proved difficult to maintain.
Common mudroom add-ons include: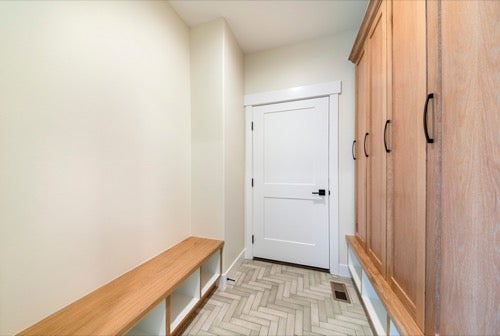 A mudroom is a great place to store outdoor clothing and seasonal gear.
Depending on the set-up, this may be an ideal place to install a washer dryer.
Here are a few ideas to get you dreaming up a storm about a DIY mudroom.
Protect Yourself with a Home Warranty
Whether you're embarking on a home project or simply want to help protect your budget, it's great to have home warranty coverage for the appliances and systems that keep your home running smoothly.