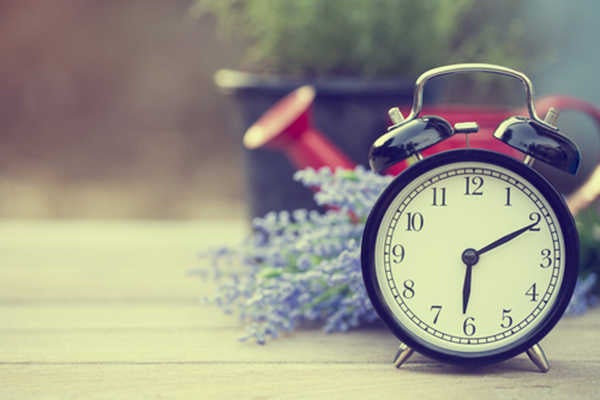 Don't forget to change your clocks and spring forward one hour on March 14. And while you're at it, this is a great time to do the maintenance tasks around your home that are so easy to forget or put off. Use this handy checklist to get it all done in no time. You'll be so glad you did!
Test

Y

our

S

moke

A

larms and

C

arbon

M

onoxide

D

etectors
This is one of the most important home maintenance tasks you should do regularly to ensure your family's ongoing safety in case of fire or a carbon monoxide leak in your home. You will want to refer to the information that came with your smoke alarm and carbon monoxide detector packaging, such as instructions on how and when to test each device. These instructions can often be found online with a quick search in case you no longer have the original information on hand.
Flipping a mattress will prolong its life by distributing wear points on both sides and both ends. Not all mattresses need to be flipped, however, such as most pillow-top or memory foam mattresses. Check the label on your mattress or contact the manufacturer to learn if flipping is recommended for your mattress make and model.
C

hange or

C

lean

Your Fi

lters
C

lean

O

ut

Y

our

F

ridge and

F

reezer
It's easy to put off cleaning the fridge... until odors or spills make it impossible to ignore. Avoid heavy cleaning by regularly removing expired items and old leftovers from your fridge and giving it a good clean. If you have a freezer that requires defrosting, this is also a good time to undertake that task.
Pro tip: If you have an automatic ice maker, toss out any old cubes that may have absorbed odors and start with a fresh batch.
R

estock

E

mergency

and

Fi

rst

A

id

K

its
Along with having a family plan for what to do in an emergency, check the stock in your emergency kit and first aid kit. Replace anything that's expired and ensure you have enough medicine and supplies to last at least three days. Now is a good time to restock your car emergency kit, too.
Do you have some larger maintenance projects lingering on your to-do list? ProConnect, an American Home Shield service, is here to save the day by providing services such as gutter cleaning, power washing, carpet cleaning, painting, tv mounting, window cleaning, and more. Think of it like your own personal handyman, but delivered by vetted, highly reviewed Pros. Just go to ProConnect.com, select the service you are interested in, book online (same day service is available!) and pay once the work is done. It's truly that simple. Then you can cross the task off your to-do list, which we all know is the best feeling ever. ProConnect is available in most major markets. Maintenance services vary by market.
P

repare

Y

our

Yard

for

S

ummer
Investing some time now in preparing your yard for summer will pay off in a few months. Prune shrubby perennials, plant summer bulbs, aerate and thatch your lawn, and plan your seasonal garden projects in March for a garden that you'll want to live in all summer long.
I

nspect

Y

our

F

ire

E

xtinguishers
This is another important safety check that shouldn't be put off. Ideally, you should inspect your fire extinguisher monthly, but the daylight savings change is a good reminder in case it's fallen off your radar.
C

lean

R

efrigerator

C

o

ndenser

C

oils
This isn't as involved as it sounds; it just means dusting off the coils at the back of your fridge. Here's how, along with other regular refrigerator maintenance tips.
Cl

ean

Y

our

G

arbage

D

isposal
Pro tip: After cleaning your disposal, run a few citrus peels through it and your entire kitchen will smell like a citrus grove!
This one sounds a little scary, but it's not. It's important to drain your water heater annually (or more often if you live in a hard water area) to help prolong the life of your appliance and prevent leaks. Here's how drain your water heater the right way.
R

eview Your Home Insurance C

overage

and Home W

arranty

Pl

an
Review your home insurance policy to ensure you have adequate coverage. This is particularly important if you've recently done any renovations, additions, remodels, or upgrades to your home. Homeowners insurance pays for damage and loss caused by outside forces such as fire and weather — or even vandalism committed by a burglar. If any of these events damage or destroy a portion of your home, insurance would help you rebuild and replace your lost and damaged belongings. It's also important to review your home warranty to make sure your systems and appliances have adequate coverage A home warranty covers the cost of repairs and replacements of certain appliances and systems in your home caused by everyday wear and tear or from old age. And if you don't already have a home warranty plan, now's a great time to consider becoming an American Home Shield member because we do more than cover breakdowns - we help protect your budget and provide peace of mind.
Investing a little time and effort into cleaning and maintenance around your home can prevent breakdowns and help extend the life of your systems and appliances. It's worth it to know that your home is running smoothly.
AHS assumes no responsibility, and specifically disclaims all liability, for your use of any and all information contained herein.