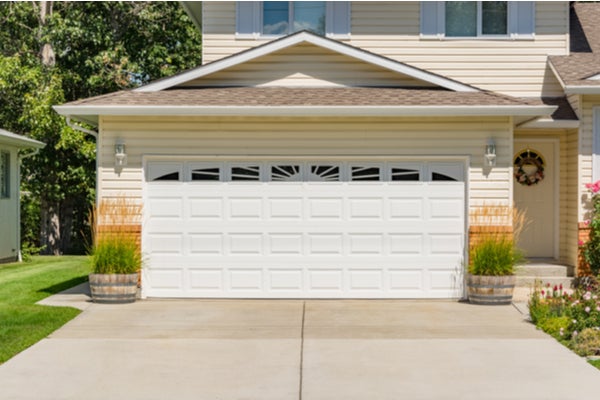 When it comes time to update your garage door, one question to consider is whether or not you should insulate your garage door. For the most part, garage door insulation is a beneficial feature for both your garage and the rest of your home. It can improve energy efficiency and gives you the option to use the garage as another room.
If you're searching for garage door replacements, this guide will help you learn what the best insulated garage doors on the market are and what makes them great. If you're updating an existing door, we offer up some advice for the best way to insulate a garage door.
Let's begin by understanding the differences between an insulated vs. uninsulated garage door, and why having garage door insulation should be your next home project.
Insulated vs. Uninsulated Garage Doors
Whether it's an insulated roll-up garage door or a sectional, insulated garage doors can protect your garage and your belongings from extreme weather. During the winter months, insulated garage doors can help retain the heat in your home, preventing it from escaping through what's generally considered to be the largest and most-used door in your house. During the hotter summer months, insulated garage doors can prevent warm air from entering your home. The last thing you need during a heat wave is a gust of hot air sneaking into your climate-controlled home.
With the additional layer, garage door insulation also helps reduce noise from both entering and exiting the garage, which is nice when you use your garage as another living area or a band rehearsal space (your neighbors will thank you!).
Uninsulated garage doors, on the other hand, are generally cheaper than insulated doors. If you live in a climate that is mild year-round, an uninsulated door may make more sense for your household. Just keep in mind that a little more risk comes with an uninsulated garage should unexpected, extreme weather hit.
Insulated Garage Door Cost
From size and style to material and color, there's a lot that goes into selecting a new garage door if you're buying a brand new one. According to HomeAdvisor, the typical insulated garage door cost can be around $800 on the low end to upwards of $10,000 on the highest end of the spectrum. The more custom options and features that you put into your insulated garage door, the more expensive it will get. High-end features include things such as insulated garage doors with windows or insulated, glass garage doors—a garage door style that is commonly found in modern home designs.
Keep things like style and functionality in mind when considering your budget for an insulated garage door.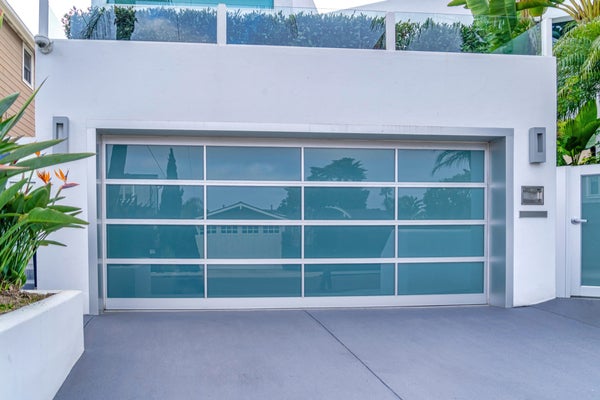 DIY Garage Door Insulation
Maybe your current garage door is working great and you're just looking to upgrade it with garage DIY fixes. Well, you're in luck! Here's how to insulate a garage door that is already installed.
There are a couple different methods for insulating your existing garage door, whether you're using a garage door insulation kit, which comes with garage door insulation panels that are often made of Cellofoam and are pre-cut for the size of a standard garage door, or if you're installing the fiberglass insulation that is used to insulate the rest of the walls in your home.
The best way to insulate a garage door depends on the type of garage you have and the type of insulation that you'll need to insulate the garage. We're going to get technical for a moment, so bear with us.
Insulation type and effectiveness is measured in R-values, which is determined by the thickness of the insulation. Depending on your garage setup, you may need a higher-rated R-value ranging from 10–14+. You'd need this level if a living space is located directly above your garage or if the garage itself is heated. On the other hand, a detached garage, and even some attached garages, may just need a little bit of garage door insulation to be effective, meaning you can go with a lower R-value, which ranges in value from zero to nine.
Now that we've discussed the level of insulation you need, let's move on to the installation itself. If you're using a garage door insulation kit, simply follow the directions on the package to install your garage door insulation. If you're not using a pre-cut kit, cut the garage door insulation to size and attach the insulation to your garage door using retention clips, making sure to tuck the insulation into the door panels themselves to ensure it doesn't get caught in the garage door. If it does, you may have to manually open the garage door and fix the insulation.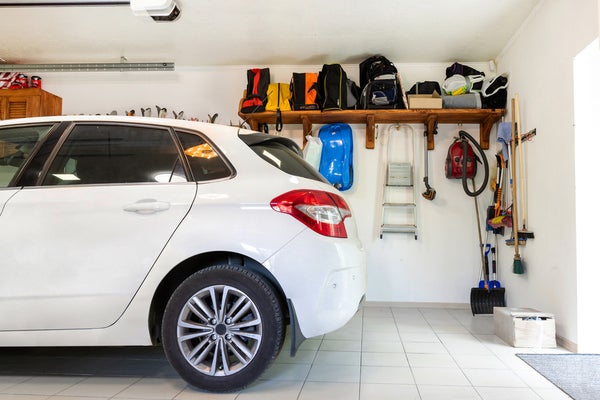 However you use your garage—whether it's a place to park your car or an extra living space—outfitting your garage door with insulation is a great way to protect your home while making it more comfortable, the same way that an American Home Shield® home warranty protects your home while giving you peace of mind.
The great news is that we have several home warranty options to protect key components of your home's systems like your garage door opener, plumbing, electrical, A/C, water heater, and more. With American Home Shield home warranty plans, your covered systems and appliances will be protected from the unexpected.
Now all that's left for you to do is decide what to do with your newly insulated garage.