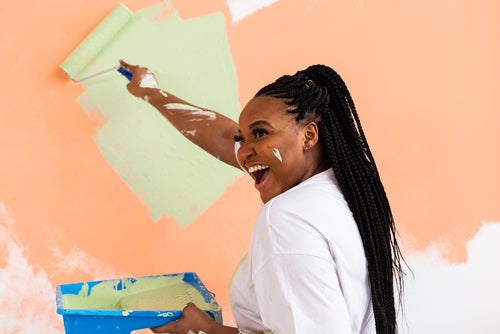 Whether you're taking on a full home renovation, redesigning a space in your home, or simply redecorating, the interior design process can feel overwhelming. Thankfully, there are many helpful home design apps that can help make the process easier. Here are the five best interior decorating apps that will inspire you to achieve the interior design of your dreams.
Expertise level: Beginner
Havenly is one of the best interior design apps for people just starting out on their home design path. Havenly offers personalized design packages with realistic 3D renderings of your space and the furniture and décor that fits in it. The company offers two design packages, both of which pair you with a personal designer to help with your project: 
The Havenly Mini, aimed at people who only need a few decoration and furniture ideas, costs $99.

The Havenly Full, which renovates a room with a full makeover, costs $179. The Full package also includes more extensive renderings and a blueprint for where to place your furniture and décor.
Pros: The app's style quiz is very helpful if you have an idea of what you like but don't yet have your style fully fleshed out. The quiz also considers budget, location, and timeline.
Cons: The price might feel hefty, particularly since there are free app options out there.
Expertise level: Beginner
IKEA Kreativ was created by the masters of the Swedish meatball and everyone's favorite budget-friendly furniture store. You can use the IKEA app to decorate a room, whether it's a kitchen makeover or a bathroom makeover. The app allows you to start designing in virtual showrooms to test out what products and placements feel right in the room. Then, you can scan your room, and the app will create a full-scale replica that you can use to play around with your space. Once you've figured out the perfect design, simply add the items to your cart and await your packages.
Pros: The IKEA decorating app is free, easy to use, and allows you to purchase items with the click of a button.
Cons: Although the app offers inspiration in the form of virtual showrooms, you're on your own when it comes to compiling the design.
Expertise level: Intermediate
If you want a fully comprehensive home improvement and interior design app, Houzz is the one for you. The 3D floor planner helps you to craft floor plans and place furniture and décor, and the app's mood boards and millions of searchable images allow you to be inspired by other people's designs. Houzz Pro is $65/month, although there is a free plan option, too. With Pro, you can hire designers and contractors to redesign your home—all from within the app. 
Pros: The Houzz app allows you to search based on style, room, and budget and lets you save examples of furniture, fixtures, appliances, and décor all in one spot for future reference. 
Cons: The app includes a social platform with stories, user comments, and posts. While this can create a wonderful sense of community with your fellow homeowners, there have been some reports of antagonistic posts.
Expertise level: Intermediate
MagicPlan is a fantastic home design app. First, you scan photos of your space. Then, the app designs floor plans around the images—no tape measure, calculator, or blueprint drawings required. Although the app is aimed primarily at contractors, it is also a valuable resource for homeowners who want inspiration from experts on how to form a floor plan. 
Pros: The app's room-scanning technology is fast and accurate, meaning that you can start adding objects to your plan and design almost as soon as you have the idea to redecorate.
Cons: Some MagicPlan users complain about cost transparency and features among plans. 
Expertise level: Advanced
One of the best decorating apps, Morpholio Board has it all, including Pinterest, which is fully integrated into the app. Its home redesign tools allow you to create mood boards, control the tiniest details on images, and add smart text to your 3D room renderings. At only $12 per year, the app is a steal, especially considering that it uses machine learning to figure out what kinds of designs you like and curate a product library accordingly. Morpholio Board's augmented reality function means that you don't only see what your room looks like on a screen—you can also see what your furniture and décor choices look like in your actual room. The app also includes an automated furniture list so that you can expedite the process with the highest level of efficiency. 
Pros: Morpholio is one of the most high-tech interior design apps. In addition to helping you visualize items in a real space, the app's AR function allows you to sample colors from the world around you and capture them in the app. So, perhaps you're starting a living room makeover. If you see a loveseat in the exact shade you've always dreamed of, simply snap it in the app, and you'll be able to order something for your own space in that color.
Cons: The app is so multifaceted that it can feel confusing for amateur home decorators just wanting to add a few choice items to their home.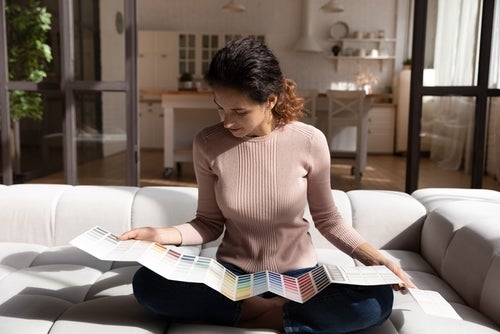 After using your preferred home design app to help decorate your home, consider signing up for a home warranty plan to protect any appliances or home systems you have incorporated. American Home Shield® offers coverage of parts of your home's major systems and appliances. When a covered item breaks down due to everyday wear and tear, we'll help repair or replace it, subject to your plan's coverage limits. Take a look at our pricing and plans to determine which home warranty plan is best for your newly decorated home and budget. 
See the plan contract for coverage details, including service fees, limitations and exclusions. Charges for non-covered items may apply.   
AHS assumes no responsibility, and specifically disclaims all liability, for your use of any and all information contained herein.