As a real estate professional, you know the many benefits and advantages that home warranty coverage can bring to transactions. A one-year service agreement that covers the repair or replacement of important home appliances and system components that break down over time, American Home Shield® Home Warranties can help smooth transactions, save you from involvement in post-closing disputes, improve client satisfaction, and boost your referrals. Adding American Home Shield Home Warranty coverage to real estate transactions can also help protect your clients from unexpected, covered breakdowns from listing to closing and beyond. Here's when to talk to your clients about this industry-leading protection: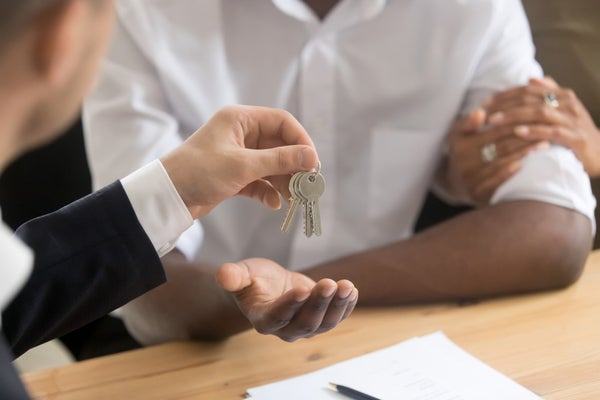 At listing
A home warranty can help protect a sellers' budget and keep sales on track if an unexpected covered breakdown occurs while the home is on the market. With the Seller Coverage Option from American Home Shield, your clients can add home warranty coverage to their listing (up to $2,000 on covered repairs and replacements during the listing period) for six months with payment at closing*. Adding American Home Shield coverage can also help distinguish listings from others on the market and help reassure potential buyers.
During the home search process
American Home Shield's real estate home warranties were specifically designed for real estate transactions with input from pros like you. Our unique real estate plans give your clients the protection they need at special real-estate-only prices.
When clients are concerned about the age or condition of systems and appliances
Your clients can get protection regardless of the age or appearance of a covered item. No maintenance records or inspections are required.
When clients are relocating
Clients moving from another area won't know who to call when a home system or appliance breaks down. American Home Shield removes the guesswork for covered items, eliminating the time and frustration of asking for repair recommendations or calling contractor after contractor. When covered items break due to normal wear and tear, our nationwide network of 14,000 local service contractors are ready to help.
After home inspection results
With an American Home Shield Real Estate home warranty, sellers can help mitigate unexpected covered issues from the home inspection to keep the sale on track.* Plus, American Home Shield coverage offers buyers good faith and assurances that the home is covered for the first year of ownership. If a listing isn't already covered by a home warranty, buyers can add their own post-purchase. That way they can focus on making their new house their home rather than worrying about pre-existing issues.
At closing
Many homebuyers choose to add American Home Shield coverage at closing. Breakdowns will happen, and the cost of repairing or replacing them could be costly. With an American Home Shield Home Warranty, buyers pay a consistent monthly fee and a set Trade Service Call Fee when they request service, making it easier to budget for their new home purchase.
After closing
Buyers have up to 60 days after closing to purchase an American Home Shield Home Warranty at special Real Estate Edition prices.
Whenever you talk to your clients about home warranty coverage, remember to tell them that American Home Shield members enjoy a 30-day workmanship guarantee. If members have an issue with a completed repair within 30 days of service, American Home Shield will send a contractor back out for free.
*Additional limitations and exclusions may apply. See plan for details.
AHS assumes no responsibility, and specifically disclaims all liability, for your use of any and all information contained herein.