What better gift to give your parents or grandparents than a home warranty? Learn the advantages of doing so.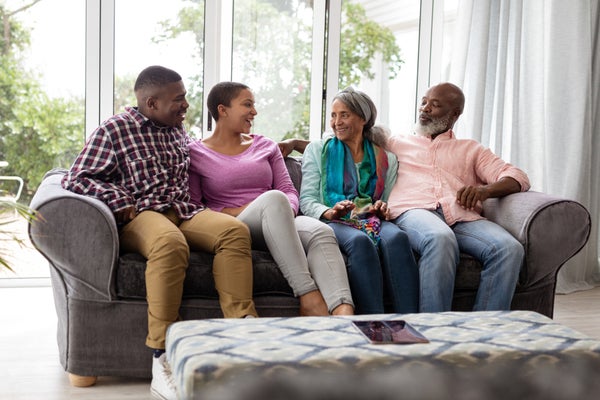 2021 sure has been a long year, but it's been one that's given us the opportunity to reflect on what's truly important in life: our families and our homes. We've had more time to consider our older family members' safety and security especially since we haven't been able to visit them as often due to COVID. With that in mind, let's talk about how a home warranty plan can help your older relatives keep up with home maintenance and repairs, even when you can't be there to help in person. It could also make it easier for your parents or grandparents to stay in their own home as long as possible.
Here are just a few of the advantages of giving a home warranty to your aging parents or grandparents.
Help Your Parents and Grandparents Age in Place
Aging in place is one of the most popular retirement living arrangements — 89 percent of Americans age 50 or older want to stay in their homes as long as they can. And it's not hard to see why. Aging in place lets your older relatives stay in their comfortable home environment, keep all of their things and preserve their privacy.
Not only that, but aging in place can be a lot cheaper than going into a nursing home. According to Genworth, an S&P 400 insurance company, living in a nursing home can cost anywhere from $2,500 to $7,000 a month, which is why many people turn to in-home health care and non-medical services, like cleaning or cooking, to help them stay in their homes instead.
If you're worried about caring for an aging parent, the cost savings of aging in place may be worth it – it's cheaper to arrange for in-home care for your aging parent, and keeping your parent in their home can help them maintain a strong social network and stay healthier longer.
Protect Your Elders' Retirement Budget
Your parents or grandparents have planned ahead carefully for retirement, and they may have Social Security and pensions to draw from as well, but still, retirement funds are limited. It's important to make the most of every dollar when you're living on a fixed income.
Not to mention, the cost of repairs can easily get out of hand. Home warranty coverage can help your parents keep repair costs manageable. American Home Shield® offers a range of plans for optimum flexibility in coverage and budget. With a home warranty from American Home Shield, you (or your parents) will pay a yearly or monthly charge for coverage. Depending on the plan you choose, there's a trade service call fee of $75 to $125 when a contractor comes out to make a diagnosis.
Help Your Parents or Grandparents Even When You Can't Be There in Person
You never know when a home appliance or system will break down, which means you can't always be there in person to help your aging parents or grandparents complete a home repair. In addition to helping defray the cost of a home repair or replacement, home warranty coverage can make it easier for your loved ones to schedule service.
All they'll have to do is call or submit an online service request to American Home Shield, and we'll send someone from our qualified, local, independent contractor network to diagnose their covered home system or appliance. American Home Shield also offers additional services that can help your parents or grandparents continue to stay independent as they grow older, including lock re-keying and yearly HVAC tune-ups. We also offer a number of plan add-ons, like pool and spa coverage and electronics coverage, that can save your parents or grandparents money and help them stay comfortable and connected.
Relieve Home Maintenance Stress
Few things are more stressful than trying to organize and pay for home repairs and maintenance on your own. The gift of home warranty coverage can ease that stress for your parents or grandparents. The more you can relieve the stresses of daily living, the happier and healthier they'll be. A home warranty from American Home Shield can also ease the stress of finding a contractor and managing home repair costs. While a home warranty doesn't cover everything, you can rest assured knowing your parents or grandparents are protected from the most common systems and appliance breakdowns.
Your parents and grandparents have been there for you all your life. The gift of a home warranty is a great way to return the favor and help them truly enjoy their golden years. Go online today to buy a home warranty plan for your parents or grandparents.
AHS assumes no responsibility, and specifically disclaims all liability, for your use of any and all information contained herein.