For the homeowners on your holiday shopping list, consider a home warranty. Reduce their budget stress all year long with a personalized warranty plan.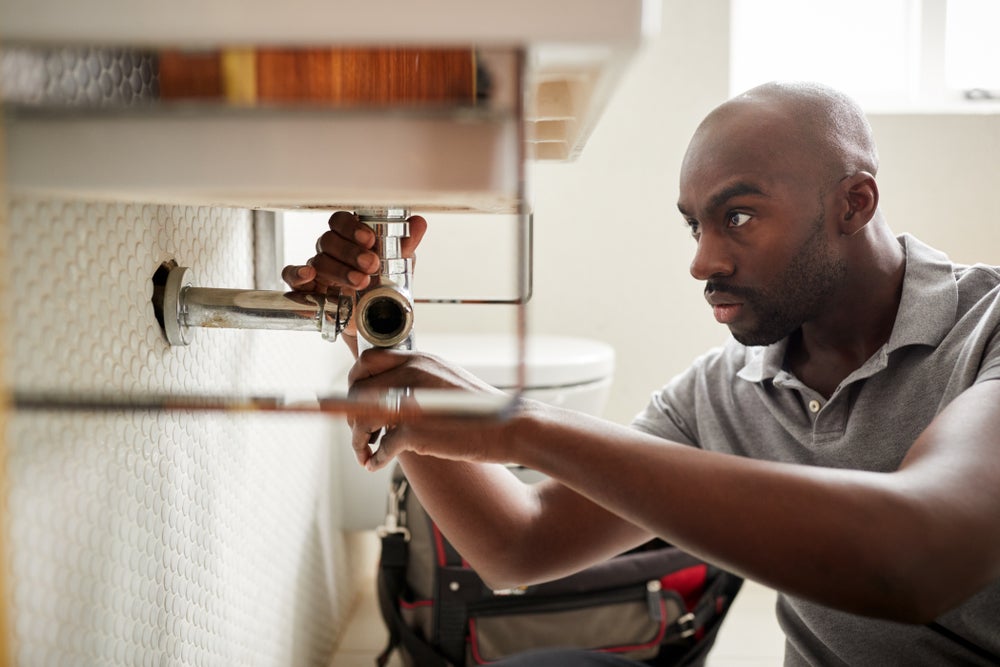 If you're still searching for the perfect holiday gift for a homeowner in your life, why not choose a home warranty? A home warranty is the perfect gift for a first-time homeowner, an older person who needs a little more help getting things done around the house or someone in your life who might need help covering the cost of unexpected repairs.
Here are five reasons to give someone you care about a home warranty this year.
1. It's The Gift That Gives All Year
When you give someone an American Home Shield® home warranty as a holiday gift, you're giving them a full year's worth of coverage for up to 21 home systems and appliances. Those include major appliances, like the refrigerator, range, built-in microwave, dishwasher and washer/dryer. Home systems covered include HVAC and electrical.
If your recipient experiences a normal breakdown caused by wear and tear of a covered home system or appliance, all he or she will have to do is go online or call to request service, and American Home Shield will do the rest. We'll arrange to have the problem repaired by an independent, local contractor with whom we already have a relationship. If your recipient chooses, they can renew their coverage after their first year.
And even if your recipient doesn't have a covered breakdown during the year, he or she can still benefit from being a member of American Home Shield with perks like discounted HVAC tune-ups and discounts on furnace filters.
2. You Could Save Them Thousands of Dollars
When you buy someone a home warranty, it's the next best thing to just writing them a check. Why? Because it can turn out to be so much more valuable than the purchase price alone.
How much is a home warranty, and what does a home warranty cover?
Most plans cost $350-$500 a year. American Home Shield plans include the Appliances Plan, which covers 10 major home appliances; the Systems Plan, which covers 11 home systems; and the Combo Plan, which covers both. Most repairs due to normal wear and tear are covered, even if it requires replacing the appliance or home system.
While some of the most expensive repairs might not be completely covered, your recipient could still save thousands if something goes wrong.
3. You'll Be Helping with Their Budget
Whether your intended recipient is a first-time homeowner still adjusting to the costs of homeownership, or an older relative living on a fixed income, gifting a home warranty can help them budget for home repairs. It can be hard to plan for unexpected expenses, and while you know that home appliances and systems will someday fail, no one can predict when that day will occur.
Gifting a home warranty relieves some of the financial pressure of budgeting for unexpected expenses, and since your recipient will only pay the trade service call fee when he or she requests repairs, it'll make it easier to manage the costs.
4. You Can't Always Be There to Lend a Hand with Repairs
Whether you live far from family or you're just leading a busy life yourself, you can't always be there to help perform a repair or schedule a service visit. Especially in a year of socially distanced and virtual gatherings, those opportunities to help out are few and far between.
Maybe your aging parents no longer know anyone in their area who performs home services and repairs, and they aren't sure who to call. Maybe your adult child never could use access to a network of local service professionals. An American Home Shield home warranty empowers your recipient to handle scheduling and completing a home repair. They can request service by phone or online, and they'll receive prompt, professional service from a local technician.
5. Add Coverage to Meet Your Recipient's Needs
Gifting a home warranty can be a great way to help a loved one look after their home, and you can add extra coverage to meet your recipient's needs. Maybe your loved one lives in a rural area and needs coverage for septic systems and well pumps — no problem! You can also include coverage for guest units, pools and spa pumps, and you can even add electronics coverage.
A home warranty is a great holiday gift for anyone who wants to help a loved one take better care of their home. It's a gift of financial stability and budget protection that lasts all year long, and in times like these, it's sure to be a gift that's appreciated.
Learn more about American Home Shield home warranty pricing and plans to choose the right option for your loved ones.
AHS assumes no responsibility, and specifically disclaims all liability, for your use of any and all information contained herein.