Just when you've begun to enjoy the chilly days and pumpkin spice everything, winter creeps in, in all of its icy, frigid glory. You may not be ready for all the cold and the snow, but you can make sure your home is.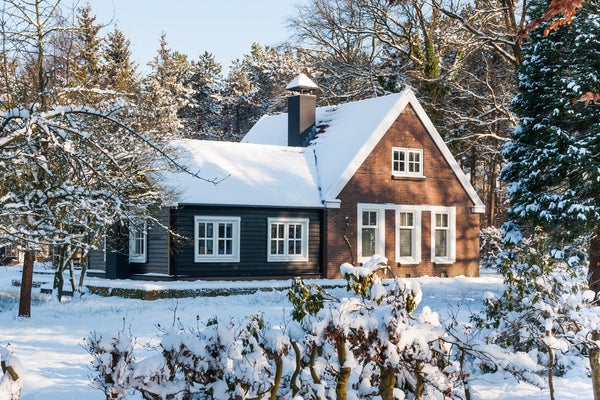 American Home Shield is here to help you prepare for extreme cold with a winter home maintenance checklist.
Prepare emergency kits.
That first big snowstorm always seems to sneak up on us, doesn't it? Before you know it, the blizzard is approaching, and you find yourself rushing to the store and jumping right into a melee of other shoppers desperate for supplies. Maybe you like the rush of emerging from the fray, triumphant, clutching the last bag of salt from the shelf. But if you'd rather be home with a good book and a hot beverage, you should prepare both a home and car emergency kit for lousy winter weather. Your emergency supply winter checklist should include:
Shovels: Get an extra one to keep inside for your porch or deck, so you don't have to trudge through the snow to retrieve one from your shed.
Large bags of salt: You get brownie points from your future self if you also prepare a bucket and scoop for your porch for easy access. No one likes to lift heavy bags of salt in the early morning before work.
Bottled water and canned goods: Stock up on these items to prep for potential power outages due to winter weather.
Flashlights and a portable radio: Have batteries on hand for the flashlight. You can buy hand crank radios, so you don't have to worry about batteries. The radio will come in handy to track winter weather during a power outage.
Blankets
First aid kit
Ready these items as soon as the leaves start to fall, so you don't have to participate in any extreme shopping sports later.
Get rid of fire hazards.
House fires are much more likely to happen in winter than in any other season. There are many reasons for this—poor ventilation and improper use of heating equipment can sometimes be the culprit. Changing furnace filters and cleaning your fireplace and chimney should be an essential part of your homeowner's winter checklist. You should also change the batteries in your fire and carbon monoxide alarms and make sure they're no more than 10 years old.
It's also important to know the proper way to use portable heat sources in an emergency. Check out NFPA.org for more info on how to lower your risk of home fire this winter. It's also a great idea to schedule an HVAC check-up, so you know your furnace is winter-ready. One of the American Home Shield® home warranty benefits is a discounted or free HVAC tune-up included in your home service coverage plans.
Reduce your energy usage.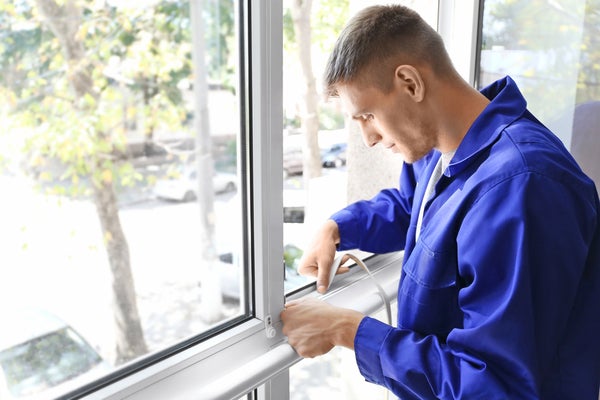 One of the byproducts of living in a region with harsh winters is expensive heating bills. Luckily, there are ways to keep that precious warm air from escaping and costing you a fortune. Some winter home tips to reduce energy usage are:
Buy window insulation kits. These kits contain insulating shrink film to reduce cold air and drafts. They have everything you need, including handy instructions, and can usually be found in any hardware store. Picking up some door draft stoppers and door seal strips can prevent warm air from escaping. Another winter tip for homeowners? You should also consider insulating your garage door to prevent more heat loss.
Purchase a smart thermostat. With a smart thermostat, you can automatically set it to coincide with your lifestyle. Control the temperature from an app on your phone; keep the temp lower when you're not at home, and raise it to a higher temperature about a half hour before you get home. According to Energy.gov, a smart thermostat can save you around 10 percent a year on your heating and cooling bill. It also suggests heating your house to no higher than 68 degrees in the winter to save on energy. Running a thermostat too high can also affect the humidity level in your home. This can cause health issues like dry skin, sore throat, and allergy flares. Just make sure not to dip below 55 degrees to prevent frozen pipes.
Reverse your ceiling fans. This may be the easiest task on your "getting house ready for winter" checklist. Heat rises, so reversing your ceiling fan to push the air down will help get all of the cozy warmth back down to you. This can typically be accomplished with the click of a button.
Check the insulation in your attic. Ceiling fans can only do so much. Make sure to check your attic for air leaks, and make sure everything is properly insulated. Not only does effective insulation keep the heat from escaping, but it also helps prevent ice dams, which are formed when the warm air from your attic melts the snow on your roof, creating pools and eventually turning into ice. You don't want to add roof damage to your winter home repairs.
Get your home's exterior ready for winter.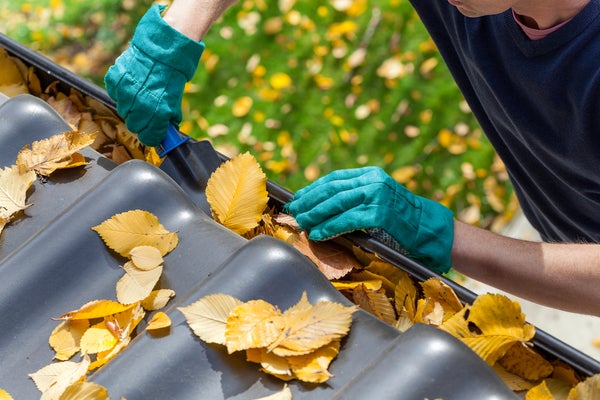 Part of winter maintenance is prepping the exterior of your home. First, clean your gutters thoroughly. Making sure your gutters are free of debris is another preventive measure against ice dams. Investing in a roof rake to get excess snow off after a snowstorm can help with that potential issue, too.
Next, note the condition of your trees. If are any branches are hanging over your roof, cut them back to avoid damage if they freeze and break. You also want to clear any dead trees out of your yard for the same reason.
Finally, prepare your outside water spigots for the cold. Turn off the water to the outside taps and drain any excess. Coil and store your hoses, and put stoppers on the spigots. This, along with insulating your pipes, can help prevent freezing. If you have a sprinkler system, make sure you shut off the water and drain per the sprinkler instructions.
Protect your deck.
Next time it rains, step outside and take a quick peek at your wood deck or porch. If the wood is absorbing the raindrops, it may be time for another coat of stain. Late fall is the perfect time to take on this winter home maintenance task since you'll be putting all of your outdoor furniture in storage in preparation for the snow.
Pick a weekend that's supposed to have nice weather—it's good to let the stain sit undisturbed for at least 48 hours. Then, after thoroughly cleaning, preferably with a power washer, seal it. New to sealing? Check out these detailed instructions on how to winterize your deck and extend its life.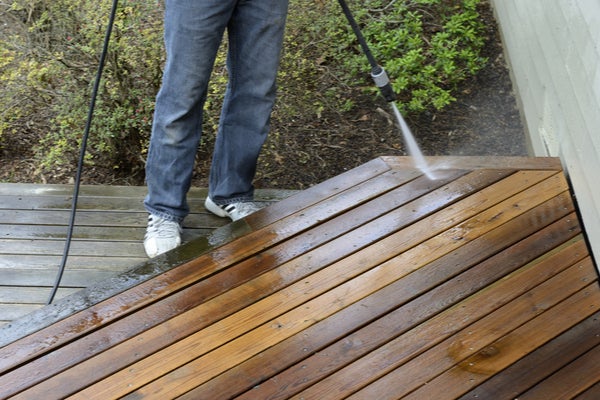 Winter can be a stressful time—expensive holidays, family get-togethers, winter home maintenance, and inclement weather. The last thing you need to worry about is your home systems and appliances. An American Home Shield® home warranty can help you repair or replace covered items that break down from wear and tear. Our qualified, local professionals diagnose issues, and we process claims efficiently to help your household continue to run smoothly. We protect up to 23 major parts of your home systems and appliances, no matter their age, with add-on features so you can customize your coverage to fit your home's needs.
Once you've ticked everything off your winter home maintenance checklist, read about more winter tips.
AHS assumes no responsibility, and specifically disclaims all liability, for your use of any and all information contained herein.