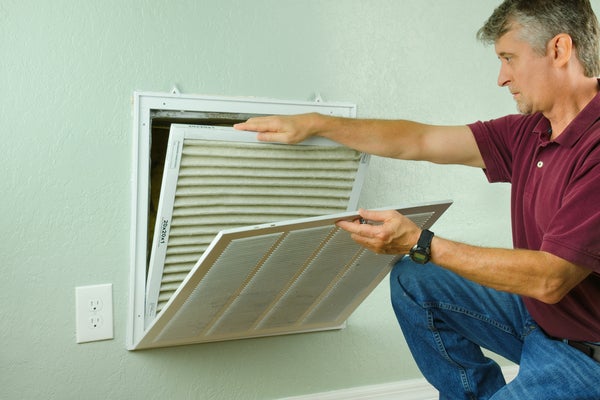 Spring home maintenance is about more than spring cleaning; it's a time to prep your house—inside and out—for summer and the warmer days ahead. Show your home a little TLC now and you'll reap the rewards in the months ahead.
Preventative maintenance is worth undertaking on a regular basis to keep your home, appliances, and systems in good working order so you can avoid unnecessary repairs and breakdowns when it's most inconvenient. (Is there ever a convenient time for your HVAC to stop working?)
Not sure where to start or what to do? Don't worry, here's your ultimate spring preventative maintenance checklist.
Test your

smoke alarms

, fire extinguishers, carbon monoxide detectors, and all GFCI outlets

.

Replace batteries in alarms and household gadgets.

Inspect and clean out all drains, especially tub and

shower drains

. If the water drains slowly when you run the water, you likely have a cl

og and will want to remove it using a plumber's snake or a commercial clog removal product.

Inspect your washing machine water hoses for cracks

and give it a thorough

cleaning

.

Clean your faucet aerators and showerheads to remove mineral deposits. Soaking in equal parts water and vinegar solution for about 30 minutes should do the trick. Use

a

commercial mineral removal product for

heavy or

stubborn

deposits.

Vacuum

your

heat registers and heat vents

.

Flush out your hot water heater

. This will remove sediment to help

it work more efficiently and

prolong the life of your water heater.

Inspect and clean out your dryer vent and make sure

that your

outdoor air vents aren't

blocked

.

Check your water softener and top up salt if

necessary

.

Clean your

garbage disposal

.

Refinish your deck if the finish is showing signs of wear and tear.

Power wash your windows

, siding, patio, and driveway

.

Change your

air conditioner filter

.

Tune up your lawnmower and other yard maintenance equipment.

Clean ceiling fans.

Check your basement and attic for moisture, leaks, or infestations.

Trim trees and shrubs.

Check caulking and silicone seals in bathrooms, kitchen, and around windows and doors.

If you have a septic tank, have it inspected and pumped.

Get

your air conditioning system serviced.

(Or learn how to do a

DIY HVAC inspection

.)

Remove winter insulation on outdoor faucets.

Inspect your chimney for damage or decay. For wood-burning fireplaces,

we recommend getting

the chimney cleaned by a professional chimney sweep.

Clean blinds, window screens and door screens.

Clean your furnace filter. You want to remove dust build-up to make it easier for the furnace

to

function properly in regulating your home's temperature. This will also help keep e

nergy bills down, too.

Inspect your gutters

for clogs and your roof for leaks

as well as l

oose, damaged, or missing shingles.

Lastly, it's important to review your home warranty to make sure your

particular home

systems and appliances are adequately covered, especially your HVAC for heavy summer air conditioning usage. And if you don't already have one, now's a great time to consider getting a home warranty from

American Home Shield

because we do more than cover breakdowns - we help protect your budget and provide peace of mind.

After all, isn't that what prevention is all about?
We know that's a lot to undertake but it's worth the effort to keep your home systems in check. If you have some spring preventative maintenance projects on your list that you'd rather not tackle yourself, we can help! American Home Shield ProConnect provides a variety of home services, such as gutter cleaning, power washing, carpet cleaning, painting, TV mounting, window cleaning, and much more. Think of it like your own personal handyman, but delivered by vetted, highly reviewed, dependable, and trustworthy pros. Just go to ProConnect.com, select the service you're interested in, book instantly online (same day service is available!) and pay only when the work is done. It's truly that simple. The only thing left to do is cross the task off your to-do list, which we all know is the best feeling ever! (ProConnect is available in most major markets. Maintenance services vary by market.)
Investing a little time into proactive and preventative home maintenance around your home this Spring will help prevent breakdowns and extend the life of your systems and appliances. It's worth it to know that your home is running smoothly, and you can just relax and enjoy your home, all season long.
AHS assumes no responsibility, and specifically disclaims all liability, for your use of any and all information contained herein.