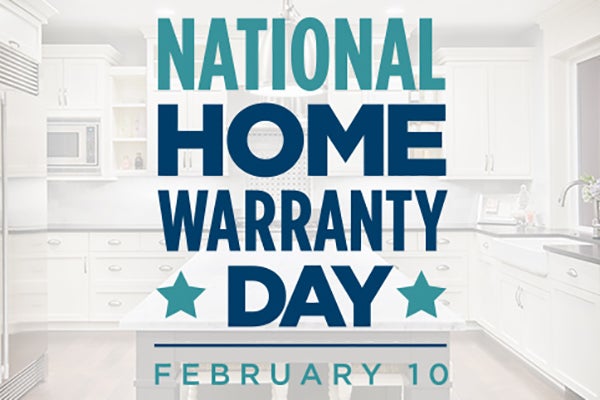 February 10 was just a regular day until 2016, when it was officially declared National Home Warranty Day with the National Calendar Day registrar. National Home Warranty Day was established to help bring awareness to the importance and benefits of having a home warranty, and remind people each year to review their service contract and make sure it's up to date.
It makes sense that National Home Warranty Day is so close to Valentine's Day, because it's one of the easiest ways to love and protect all the important appliances and systems in your home. Having a home warranty can save time, money, effort, and a whole lot of stress. Now that's something worth celebrating! Read on to learn more about the many benefits of having a home warranty.
A home warranty can help save money in the long run by covering the costs to repair or replace a variety of systems and appliances around the home. Wouldn't you rather spend your hard-earned money on something other than fixing a refrigerator that's on the fritz?
A quality home warranty should cover the cost to repair or replace parts of the systems and large appliances in a home, such as a furnace, air conditioner, stove, and more. American Home Shield warranties even cover items that break down due to normal wear and tear, too, no matter how old they are. Better yet, Shield Assurances are included in every plan, which means you'll get coverage for things that aren't automatically included in many home warranty plans, like old appliances, improper installation, mismatched systems, rust and corrosion, and more.
Don't Miss

Out

on Comfort and Convenience
It always seems to be the coldest days of winter when the furnace stops working or a sweltering summer heat wave when the A/C sputters out. With a home warranty, you'll be able to quickly and easily repair or replace the covered appliances and systems that keep your family comfortable and your home running smoothly.
Get the Protection You Need
The best time to get a home warranty is before you may need one. A home warranty can be designed around your needs and you can expand and add to it as needed to make sure all your important systems and appliances are covered. Bought an extra freezer for the garage? Make sure it's covered in your current service contract. If it isn't consider updating your contract.
Once you have a home warranty, it's a good idea to do an annual review of your service contract, and National Home Warranty Day is a great time to do it. When reviewing your service contract, be sure to check the following:
Warranties Complement H

ome

I

nsurance
Many people don't realize that a home warranty is an additional layer of coverage and complements an existing home insurance policy because most home insurance policies don't cover appliances (and certainly not for normal wear and tear). It can be a shock to make a home insurance claim for a costly breakdown, only to learn that system isn't covered in a home insurance policy.
A home warranty is a service contract that protects homeowners against the costs of unexpected, covered breakdowns or repairs for home systems and large home appliances. Homeowners insurance, on the other hand, typically covers damage due to things like fire, fire, tornadoes, and other catastrophic events. It generally doesn't cover home systems and appliance wear and tear, and a good home warranty can help fill that gap. Learn more about the differences between a home warranty and homeowners insurance.
It's

E

asy!
Securing a home warranty couldn't be easier (really!) and you're definitely in the right place. Many companies offer home warranties, but they can vary widely in quality, reliability, coverage, and service. American Home Shield was the first company to offer home warranties to consumers 50 years ago, and still offers some of the best and most comprehensive coverage in the business.
AHS assumes no responsibility, and specifically disclaims all liability, for your use of any and all information contained herein.