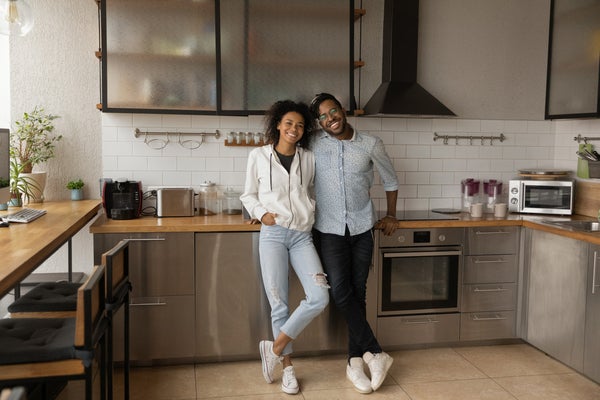 American Home Shield has been protecting homes and homeowners across the country for 50 years. And just like our homes and needs have evolved over the years, so have our plans.
To celebrate our 50th anniversary, we've launched our best home service plans yet to help you protect your home and keep it running smoothly. For American Home Shield members, a home service plan is like a home warranty, but better because it includes member-exclusive pricing on home maintenance services, as well as a variety of home services — from tech installation and setup to pre-season HVAC tune-ups, and more. Our plans work harder to give you peace of mind while protecting your budget. Let's explore the new features below.
These are the most comprehensive plans that American Home Shield has ever offered, with more coverage and benefits than ever before. Also, all of our home service plans come with our Shield Assurances, which means you'll get coverage for things that aren't automatically included in many home warranty plans, including:
Older items, no matter their age

Undetectable pre-existing conditions

Items without maintenance records

Breakdowns caused by lack of maintenance
Improper installations, repairs or modifications

Malfunctions due to sediment, rust or corrosion

Removal of old, defective items

Duplicates of the same item, like that extra fridge

in the garage
Get to Know Our Best Plans Yet
Our plans can help you get ahead of household problems before they ever occur. We help protect your budget against breakdowns of major components of up to 23 covered home systems and appliances. We also offer a range of plans so you can select the one that's right for you and your family: ShieldSilver™, ShieldGold™, and ShieldPlatinum™.
ShieldSilver™ helps protect parts and components of the 14 major systems you and your family rely on every day, including heating and cooling, electrical systems and accessories, and plumbing systems. You can even adjust your coverage with add-ons for roof leak repair, electronics, pools and in-ground spas, guest units, septic pumps, and well pumps. Some highlights of ShieldSilver™ coverage:
A

ir

C

onditioning

U

nits

Heating Units
Ductwork
Built-in Exhaust, Vent & Attic Fans
Main Breaker & Fuse Panel Box
Interior Electrical Lines
Doorbell & Chimes
Ceiling Fans
Garage Door Openers
Interior Plumbing Lines
Toilets
Faucets & Valves
Whirlpool Tub Motor & Components
Plumbing Stoppages & Water Leaks
Damage from Sediment, Rust & Corrosion
Water Heaters
ShieldGold™ is our most flexible plan and provides broad coverage for 23 essential home appliances and systems. It includes everything in ShieldSilver™, plus the following kitchen and laundry appliances:
Refrigerators

Ranges

/

Cooktops

Ovens

Dishwashers
Built-in

M

icrowaves

Garbage

D

isposals

Instant

H

ot/

C

old

W

ater

D

ispensers

Washers
Dryers
Like ShieldSilver™, you can also further tailor your plan with a variety of add-ons to best suit your needs and budget.
ShieldPlatinum™ is the plan for those who want the most comprehensive coverage. It's the crème de la crème of home service plans. It includes everything in the ShieldGold™ plan, plus a variety of other benefits you can only get through American Home Shield, including coverage for:
Roof

L

eak

R

epair

Cooling and Heating Systems
Electrical

S

ystems

Plumbing

S

ystems

Kitchen

A

ppliances

Laundry

A

ppliances
But wait, there's more! ShieldPlatinum™ goes even further and includes a free annual HVAC tune-up to help extend the life of this important system and keep it running smoothly. You'll also get coverage boosts, which provide unlimited A/C refrigerant, coverage against code violations, permits, and modifications, and much more.
Did you know? Some air conditioner repairs require additional refrigerant, which has an average cost of $60-$90/pound. Most units require at least 9 pounds, which could cost you a total of $540-$810... or you could get ShieldPlatinum™, which offers unlimited refrigerant coverage and a free annual HVAC tune-up for complete peace of mind.
These new plans go beyond standard home systems and appliance warranty coverage. Every American Home Shield member with a ShieldSilver™, ShieldGold™, and ShieldPlatinum™ home service plan also receives additional benefits such as flat-rate re-keying services, free or discounted HVAC tune-ups, free or discounted A/C refrigerant, and air filter discounts.
The pricing for home service plans varies slightly by state and property type but range from $50-75 per month depending on the plan you select, and can save you hundreds or possibly thousands of dollars in repair and replacement costs every year. For about the cost of a cup of coffee a day from your favorite java joint, you can become an American Home Shield member and rest easy knowing your budget and critical components of your appliances and systems are protected by the best home service plans in the industry. We've been protecting homeowners for 50 years and have built a nationwide network of 17,000 qualified, independent contractors to help turn your home problems into a solution.
AHS assumes no responsibility, and specifically disclaims all liability, for your use of any and all information contained herein.