For most real estate professionals, a cell phone is more of an appendage than it is a technological tool. Since agents depend on their phones for communication and for a variety of tasks and conveniences, a low battery warning can initiate waves of panic and a frantic search for a charger. Even though you may have your phone with you at all times, are you using it efficiently? Here are six ways to put your phone to work for you while you're in the field: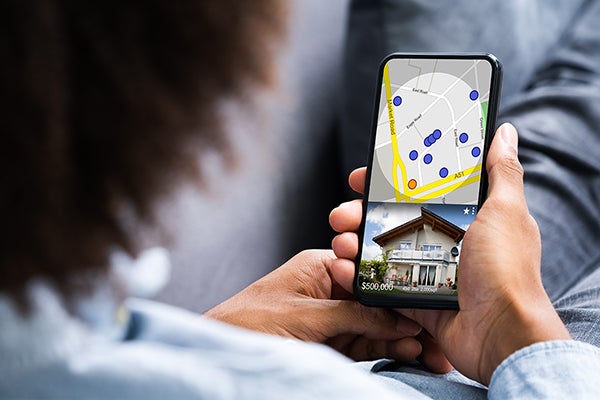 1. Client Communication
Responding promptly to your buyers and sellers is a big part of the service you provide to clients. Your cell phone gives you the ability to return calls, texts, and emails quickly or to let clients know when you'll be available.
2. Navigation
Even if your car has a GPS system, navigation apps can be quite handy when you're looking for a listing address, meeting a client, or exploring a new area. It's easy to use a voice command instead of keying in the information on GPS, and some apps even offer traffic reports to help you avoid snarls and delays. Phone navigation can be used for walking directions as well as for driving, which can be handy on city streets and in urban areas.
3. Market news
You can stay abreast of the latest real estate market news and economic forecasts on your phone. When you have a few minutes between appointments or a longer break, check in with news websites or real estate apps for the latest reports. You can also set alerts to notify you of breaking news.
4. Documentation
Phones are great tools for recording and authenticating when you're in the field. Use the camera to take photographs or videos of properties or take advantage of the notes app to record measurements, dates, and other important information. You can share the documentation from your phone or save it for future reference.
5. Calendar/Schedule
Entering important dates and appointments on your phone can help keep you organized and on track, even when you're away from your office or home. It also enables you to make changes or additions on the spot, without having to remember the modifications later. You can also share your calendar with others from the field.
6. MyAccount Pro
Tools like MyAccount PRO from American Home Shield® can save you time and effort by enabling you to order and manage home warranties from your phone. With MyAccount PRO, you get secure access to home warranty information, applications, plans, closing information, service requests, email confirmations, and escrow information at your convenience 24/7 without having to place phone calls. Signing up for MyAccount Pro is easy and quick, and your American Home Shield Account Manager can help if you have questions or need assistance.
Although cell phones are vital business tools for agents, remember to practice good phone etiquette when clients are present. When possible, silence the ringer and give clients your undivided attention. If you're expecting an important call, text, or email that can't wait, explain that you may be interrupted and apologize in advance to your clients for the inconvenience. They'll appreciate your consideration and your attentiveness.
AHS assumes no responsibility, and specifically disclaims all liability, for your use of any and all information contained herein.