When the outdoor temperatures heat up at the same time the real estate market does, navigating busy showing days can be challenging. Here are some tips for staying cool while traveling to showings this summer: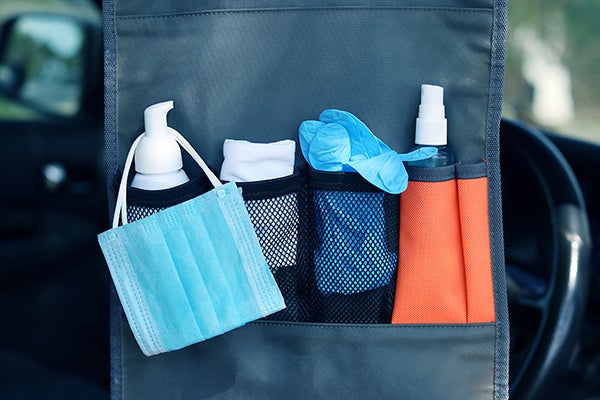 Have your car serviced and maintained before the summer months begin.
Ask the technicians to pay close attention to coolant, fluid levels, and your air conditioning system to help ensure that everything is in peak operating condition. Check your spare tire for cracks, leaks, and have a set of jumper cables in your vehicle.
Dress in natural, lightweight, loose-fitting fabrics that breathe and wear comfortable shoes.
Keep a change of clothes in the car for those days when you don't have time to go home before evening appointments, when you spill something, or when you want to feel refreshed.
Have Water and Snacks Available.
Store water or other hydrating drinks in your vehicle in a cooler or insulated container. You can also keep some light, non-perishable snacks in the car to maintain your energy between showings, and you don't have time to stop for regular meals.
Have plenty of hand sanitizer and disinfecting wipes in the car, as well as a mask and disposable gloves.
Always follow current Centers for Disease Control and Prevention (CDC) Covid-19 guidelines for conducting real estate business and any related state and local ordinances.
Keep a Charged Phone.
As a real estate professional, your cell phone is your lifeline, so make sure to have a wall charger as well as a car charger with you.
Keep an umbrella for yourself and extras for your clients.
This preparation tip will help in case unexpected summer showers pop up. It's also a good idea to have a lightweight jacket or sweater for those times when the air conditioning runs full blast in homes or offices. Additionally, a hat or visor and sunglasses can come in handy when you're outside to inspect exteriors or walk property lines in bright daylight.
Have shoe covers available.
This tip will help you and your clients avoid bringing dirt and mud into houses after heavy rainfalls, or in new construction homes where landscaping, walkways, and driveways may not be completed.
Have a First Aid Kit.
Keep a small bag in your vehicle stocked with a pain reliever, antihistamine, stomach remedies, bandages, antibiotic ointment, and any prescription medicines that you take regularly.
Use GPS navigation.
GPS Navigation can help between appointments to make sure you're taking the quickest route. Allow ample travel time between showings in case you're delayed by traffic or road construction. To help pass the travel time, listen to industry-related podcasts to stay current on real estate matters.
American Home Shield home warranties can help you keep your cool this summer by offering sensible, affordable budget protection for your clients and by helping to keep real estate transactions on track. American Home Shield real estate home warranty plans cover the repair or replacement of major parts and components of many home systems and appliances that break down over time due to normal wear and tear. To help your clients take advantage of special Real Estate Edition prices, contact your American Home Shield Account Representative today.
AHS assumes no responsibility, and specifically disclaims all liability, for your use of any and all information contained herein.