The most innovative real estate products in the home warranty industry now offer even more value and peace-of-mind with comprehensive coverage and enhancements designed specifically for the needs of today's homeowners. New coverage, desirable add-ons, and a range of home maintenance services make homeownership easier for buyers and sellers. Plan improvements and additions include expanded coverage for home systems and appliances regardless of age, increased coverage limits for high-end appliances, additional risk management for agents and clients, plus much more. With American Home Shield coverage, when buyers experience covered home system or appliance breakdowns after closing, they'll contact us instead of the seller or agent. This can help lessen liability and stress for agents and keep post-closing relationships positive.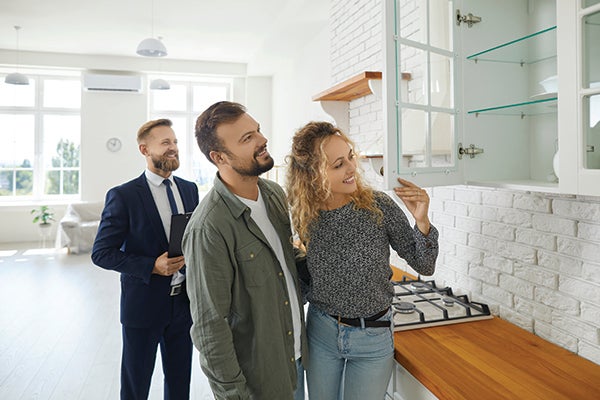 Starting April 1, 2022, here's what's new for every American Home Shield real estate home warranty plan:
ShieldCompleteSM, our most comprehensive and highest level of protection continues to cover all items in ShieldEssential and ShieldPlus and now also includes these improvements:
An increased appliance coverage limit – up to $7,000 per appliance

An increased limit for permit, code violations, and modification coverage -up to $1,250 in the aggregate

One free rekey service* with no Trade Service Call Fee required

Roof Leak Repair coverage** up to a $1,500 service limit (more than many competitors)

Unlimited refrigerant coverage
ShieldPlusSM will continue to cover items in ShieldEssential plus many major home appliances, and now also includes these improvements:
An increased appliance coverage limit – up to $4,000 on all appliances

No limits on the number of covered refrigerators, washers, and dryers

Now provides coverage for installed instant hot/cold water dispensers
ShieldEssentialSM will continue to cover the parts and components of many major home systems, and now also includes these additional coverage features:
Garage door openers

Ceiling fans

Doorbells

Built-in exhaust, attic, and whole house fans

No coverage limits on select bath items (faucets, shower heads/arms, etc.), toilet tanks, bowls, and mechanisms
*Rekey service is an additional benefit that may be offered by a third party.
**Not available in Hawaii.
Livable and Forgivable Coverage Built for The Realities of Everyday Life
One thing that hasn't changed is the Livable and Forgivable Coverage included in all American Home Shield real estate home warranty plans. This coverage is more important than ever in today's sellers' markets when buyers may be compelled to forego home inspections, to submit "as is" contracts, or to spend more than anticipated in order to buy a home. Livable and Forgivable Coverage includes breakdowns due to:
Normal wear and tear – no matter the age of the item

Lack of maintenance

Rust, corrosion, and sediment

Undetectable, pre-existing conditions

Mismatched systems and improper installation, repairs, or modifications
Coverage is subject to the terms and conditions of a contract, which includes limitations and exclusions. For a complete list of coverage and limitations and exclusions, please view the sample agreement, available at ahs.com/realestate.
Seller Coverage Option Offers Improvements, Too
American Home Shield's Seller Coverage Option offers added value as well. This option covers the same home systems and items (excluding rekey) in the ShieldEssential plan, including the newly added items:
Ceiling fans

Doorbells

Garage door openers

Built-in exhaust/attic/whole house fans
Subject to a $2,000 cap for all trades during the listing period. Sellers can cover their home for up to six months, while it's on the market, and extend up to 12 months versus 18 months in the previous plan.
You and Your Clients Deserve American Home Shield Protection and Value
In every type of real estate market, American Home Shield home warranties bring important value and peace-of-mind to transactions. These plan enhancements were designed to meet buyers, sellers, and agents with the kind of customized coverage they need for today's real estate climate. For more information, see your state-specific product and pricing flyer and contact your local American Home Shield Account Manager for new digital and print marketing materials to meet your business needs. You may also view the sample contract by visiting ahs.com/realestate. We're here to make things easier for you and your clients.
Limitations and exclusions apply. See plan for details.
AHS assumes no responsibility, and specifically disclaims all liability, for your use of any and all information contained herein.