Once clients hear about you through marketing, social media, word of mouth, or a direct referral, it's time for you to persuade them to take that next step and select you as their real estate agent. Buyers and sellers may interview several agents before making their final choice, so it's important to make sure you use this opportunity to connect with potential clients and present yourself in the best possible light. Here's how to convince clients to choose you: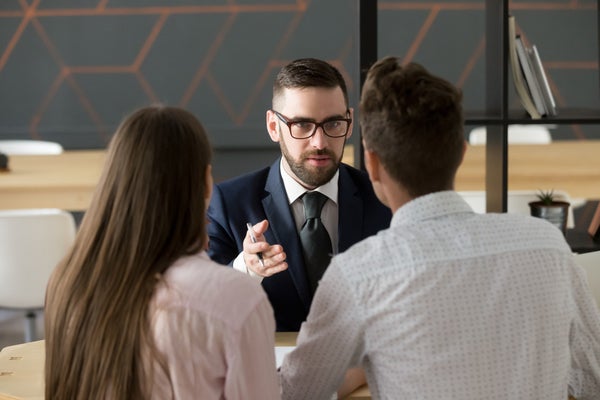 Listen
Find out all the information you can about them before you start talking about yourself. Ask questions about their real estate goals, families, careers, lifestyles, interests, preferences, and concerns. Inquire about real estate transactions they've completed in the past and how they feel about those. Any information you gather at this point will help you match your skills and services to their needs.
Relate
Finding some common ground early on can lay the foundation for building a relationship. Perhaps you have a sports team in common or a hobby you both enjoy. Maybe their first home reminds you of yours, or you have the same number of siblings. Having something in common with someone creates an immediate bond and can open the door to find more things you can share.
Show understanding
It's important to let potential clients know that you know how they feel, and you've heard what they've told you. You can do this by repeating back what you've heard them say and by asking questions to clarify or expand on the points they've made.
Talk about your experience
Match your skills and experience to their needs. Let clients know a little about your background and expertise and how you can leverage your knowledge to help them. For example, if you've sold a lot of properties where they live or where they'd like to buy, let them know you're familiar with the area. Don't be afraid to toot your own horn and give examples of times when your experience has made a difference in real estate transactions.
Talk about service
Let clients know that they can expect service excellence from you. Tell them about your commitment to communication, integrity, work ethic, or other qualities that differentiate your service and set you apart from other agents. Tell them what they can expect from you and how you hold yourself to high standards.
Share testimonials
One of the most effective marketing tools is that testimonials can make a big impression and impact potential clients. Have a printed marketing piece with testimonials to hand to clients in person or send quotes or videos electronically.
Be positive
Exude optimism and refrain from speaking negatively about other agents or brokerages. Point out the good things about your market. Exhibit a "can-do" attitude through your words and body language.
Be honest
It's important to be candid about market conditions, the type of house buyers can expect within their budget, the condition of the home they may want to sell, and any other factors that may affect their real estate transaction. Potential clients appreciate honesty and sincerity.
Follow up
As soon as possible, send a message electronically to potential clients thanking them for the opportunity to speak with them. Let them know that you appreciate their time and enjoyed getting to know them. It's also nice to mail a second, written message for them to receive. Even if potential clients don't choose you as their agent, they may pass your name on to friends or family at a later time if you made a good impression.
Your American Home Shield® Account Manager has customizable marketing tools, materials, and other resources that you can use to help build business and communicate with clients. Contact your Account Manager today, or visit ahs.com for more information.
AHS assumes no responsibility, and specifically disclaims all liability, for your use of any and all information contained herein.