Whether you work from home sometimes, part-time, or all the time, having a home office that suits your needs is important for your productivity and convenience. Here are some tips for setting up an efficient workspace that works for you: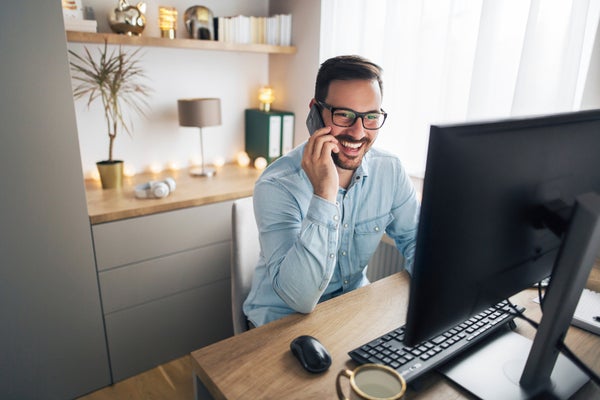 If you don't have a designated office in your home's layout, choosing the right room or space can be challenging. Ideally, an office space should be in a quiet part of the house or have the ability to be closed off when needed for privacy and to buffer noise. If this isn't possible, consider using decorative screens to block off the area. You can also convert a closet into a recessed desk area with shelving above it, which can be closed off when not in use.
Make sure your office has adequate lighting, both for tasks and for video conferencing. Add lamps as needed and put overhead lighting on dimmer switches for greater control. Install window coverings that can be adjusted to eliminate screen glare or let in natural light.
You don't want to waste valuable time looking for the right chargers and cords for every device. Organize spaces or containers for storing electronic accessories and consider getting duplicates for your home office to have them at your fingertips when you need them.
Choose furniture that is ergonomic and proportionate for the space. When putting together a home office, it's easy to repurpose items from other rooms and use what you have on hand. However, over time that chair you brought in from the dining room and the old desk you found in the attic may not be properly sized for you and may take a toll on your back, neck, knees, and even your eyes. Instead, shop for an adjustable chair that you can manipulate to accommodate your work surface, height, and comfort.
Be sure to factor in storage space for office supplies. If you don't have a closet or room for a cabinet, consider using baskets, boxes, or other attractive container options. You want office supplies to be within easy reach and to be able to see what needs replenishing. For supplies that you use regularly and that are important to your business operations, consider an automatic subscription delivery service.
If you conduct both personal and professional business out of your home office, it's a good idea to keep documents, files, and even digital information separated as much as possible. In addition to enabling you to find things more quickly, you'll also minimize the possibility of mix-ups and confidentiality breaches.
Since you'll likely spend significant time in your home office, make it a pleasing place to be. Hang some of your favorite art or decorative pieces, and place photographs around of your family and friends. You might even include some motivational décor, such as pictures of places you'd like to travel or quotes that inspire you.
Join American Home Shield's Partner Program and get comprehensive protection for your own home with special savings. Real estate professionals receive a $50 discount on the same American Home Shield home warranty coverage plans* your clients have, including ShieldEssentialSM, ShieldPlusSM, and ShieldCompleteSM. At the end of your contract term, you'll even have the option of renewing at the first-year price. Simply log in to the Partner Portal and select "This home warranty is for myself" when submitting a new order.
*Service fees, limitations and exclusions apply. See plan for details.
AHS assumes no responsibility, and specifically disclaims all liability, for your use of any and all information contained herein.