Are you thinking about putting your house on the market? Here are some of the major advantages of selling your home on your own.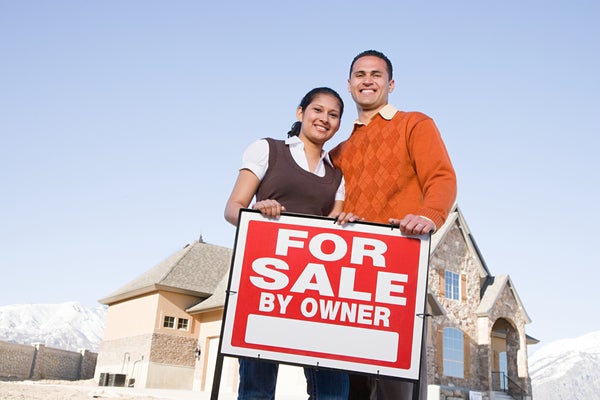 So, you're ready to sell your home. But, for whatever reason, you don't want to use an agent. Sometimes it's hard to find an agent you feel like you can trust. In some areas, it can be hard to find an agent at all. And if you've bought and sold a couple of houses already — or even if you haven't — you might feel like you don't need an agent's help. You might even already have a buyer lined up.
Listing your home for sale by owner, or FSBO (pronounced "fizz-bo"), can be a great option. You'll retain control of the selling process, save money and gain the flexibility to take as long as you need to sell your home, without pressure from someone hoping to earn a paycheck from it. Here are some of the benefits of learning how to sell your house yourself.
You Control the Whole Process
When you list your home with an agent, you have to be open to their advice. They'll want you to stage the home a certain way, and that could include removing certain pieces of furniture, changing the landscaping or repainting with new colors. They'll have control over who sees the house and a large measure of control over when they see it.
When you sell your house yourself, you'll have control over all of that. You can decide how the house is staged. You can choose paint colors or opt not to repaint at all. You'll choose who comes into your home for showings and when.
You'll Save on an Agent's Commission
Agents typically take about six percent off the top of your home's sale price for their commission, and that can add up. Of course, while it might seem like agents don't do much, you'll learn once you list your home for sale by owner that they actually do a lot of behind-the-scenes work — answering phone calls, advertising, hosting open houses and walk-throughs, taking photographs, negotiating offers and counteroffers, listing the home on the MLS and so on. But if you're up for doing that work yourself, you can save thousands — about $18,000 on a $300,000 home sale, for example.
Of course, that doesn't mean that listing your home for sale by owner is free. How much does it cost to sell a house FSBO? Well, you'll need to buy for sale signs and stuff for staging your home. You'll probably also want to run advertisements in your local newspapers. You'll need the services of a real estate attorney to draw up the paperwork finalizing the deal. You might also want to pay a real estate agent to provide limited services, so you can get answers to burning questions such as, "What is my home value?" without paying a full commission. All of this can easily exceed $1,000.
You're Not Pressured to Sell Below Asking
When you list with an agent, they'll make a commission on your sale. That's as it should be, but they're trying to make a living, so they might be inclined to pressure you to drop the price on your house or accept a lowball offer so they can get their payment. While that might be the right decision sometimes, it may not be one you want to feel pressured to make.
You're Your Home's Best Advocate
You can show buyers your home from an owner's perspective. You already know everything about the house and the neighborhood, so you know which features to accentuate and which to downplay.
You Don't Have to Worry About Finding an Agent
FSBO transactions are particularly common in rural areas, where homeowners might not always have access to agencies. In these areas, listing your home yourself might be your best option. Similarly, in areas where inventory is low, buyers are more attracted to FSBO listings, because those might be the only listings available.
You Might Sell Faster
According to the National Association of Realtors, homes listed FSBO sell faster than homes listed by agents — usually, in an average of about two weeks. Of course, the association recognizes that many FSBO homes sell quickly because sellers and buyers tend to know each other beforehand. If you already have a buyer lined up, a FSBO deal is the clear way forward, and even more so if the two of you are able to agree on a price.
There Are Plenty of Resources Available to Help You Sell Your Home
These days, if you want to sell your house yourself, there are plenty of digital tools available to help. You can list your home on social media, Craigslist and on websites like ForSaleByOwner.com. You can even have your FSBO home listed on the MLS yourself. This will attract the attention of buyers' agents and could help get your home sold faster.
Selling your house yourself can save you a lot of money and enable you to maintain control over the whole transaction. American Home Shield® is here to help with sellers' and buyers' home warranty plans and plenty of advice to help you stage your home. Read our Home Matters blog for the tips that will help you sell your home faster, and keep your next home in top shape.
AHS assumes no responsibility, and specifically disclaims all liability, for your use of any and all information contained herein.