As veteran real estate professionals know, a signed contract between the seller and prospective buyer is far from the end of the deal. A lot can happen between the time a contract is inked and the closing date. Buyers and sellers alike have a lot riding on real estate contracts and can lose significant money and time when deals fall through. Here are five ways you can help transactions go smoothly and successfully: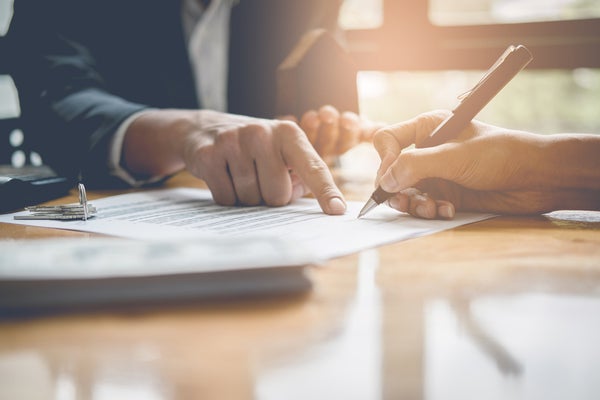 1. Mortgage pre-approvals
Encourage buyers to seek mortgage pre-approval before beginning their home search. In addition to helping buyers define their purchase price parameters, obtaining loan pre-approval can help save closing paperwork and may be attractive to sellers in multiple offer situations. Mortgage pre-approval can also help boost buyer confidence and provide important reassurance as they move forward with a transaction.
2. Price listings comparably
While it's understandable that sellers want to get top dollar for their homes, pricing a property too high can be problematic for contracts. An independent appraisal is usually required as part of a buyers' mortgage application process, and if the selling price is significantly higher than the appraisal price, financing can fall through, and the deal may fall apart. Wise agents research and share comparable real estate statistics with their sellers when setting a listing price and discuss how to avoid the pitfalls of appraisal contingencies. A home's condition can also affect the appraisal price, so be sure to advise your clients of this factor and take steps to make necessary modifications or to lower the asking price accordingly.
3. Stay on top of closing document deadlines
Technically, it's the responsibility of buyers and sellers to complete and submit all the required paperwork for real estate closings. Diligent agents, however, will assist clients by sending timelines and reminders of important dates in the closing process. In some cases, clients may also need assistance with completing the documents or with resource and contact references. Sitting down with buyers and sellers at the beginning of contract execution and outlining exactly what they can expect can help things move more smoothly.
4. Communicate and negotiate
Keep in close touch with other real estate professionals involved in the deal as well as with your clients. It's important to communicate through every step of the transaction so you can be aware of any glitches that may be developing and take steps to mitigate potential problems. Have a plan for dealing with contingency hurdles or with surprises that may pop up during the deal. Keeping communication lines open can help if it becomes necessary to negotiate or amend the contract terms.
5. Add American Home Shield® home warranty coverage to every deal
Home inspection results are a leading reason why some real estate deals fall through. That's why it's important to include American Home Shield home warranty coverage with every transaction. If the condition or age of a covered home system or appliance comes into question during the inspection, American Home Shield protection can reassure buyers they won't have to worry about unexpected expenses if the covered component breaks down due to normal wear and tear during the home warranty contract term. This reassurance can help boost buyer confidence, remove objections, and help mitigate inspection issues.
For more information about how home warranties can help keep transactions on track, contact your American Home Shield Account Manager or visit ahs.com.
AHS assumes no responsibility, and specifically disclaims all liability, for your use of any and all information contained herein.