Whether it's a New Year's resolution or simply an ongoing goal you'd like to achieve, finding ways to be more organized is always a worthy pursuit that can pay big dividends in productivity, efficiency, and extra time. Improving your organization skills can be accomplished by small steps instead of one big leap. To be more organized in the coming year, try out these five suggestions.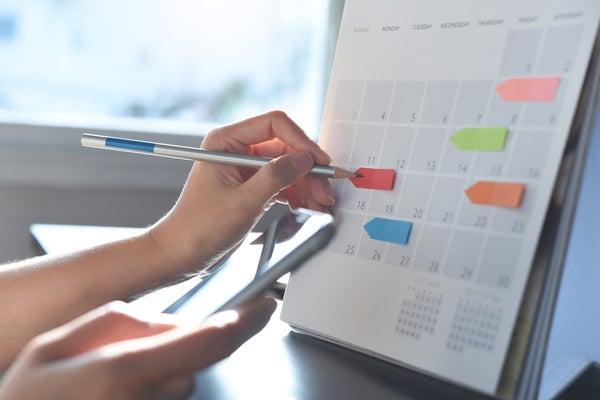 1. Get The Most From Your Devices
If you've been using technology in the same ways for a few years, it may be time to shake things up. First, take time to clean out the messages, mailboxes, and files on your devices, deleting what you no longer need. Then, update programs and research new software and apps that could help you be more efficient and effective.
2. Delegate
Look at the tasks you need to accomplish each day in both your professional and personal lives and earmark ones that someone else could handle to give you more time to focus on important matters. Perhaps it might make sense to have an assistant to help with scheduling showings or organizing closing documents so you can spend more one-on-one time with clients. Or, maybe hiring a house cleaning or laundry service would give you more quality time to spend with family. While it can be hard to relinquish control in the beginning, the extra help and time can be a boon for organization and efficiency.
3. Eliminate Distractions
What are the biggest impediments to your productivity? Identifying those can be essential to making the changes you need to be more organized. If social media is a frequent disruption, designate only certain times of the day to be active on platforms and set a timer to remind you to move on to other tasks. If phone calls often interrupt you, turn off the ringer when interfacing with clients or when you need to focus on something important.
4. Best Practices
Ask real estate colleagues and other successful business people you know to share their daily secrets for staying organized. In addition to picking up useful tips, you may strengthen relationships in the process. Talk to your business contacts in person or circulate an emailed survey for them to fill out.
5. Find Network Partners You Can Count On
In real estate, it can take a village to make deals work. Having a network of specialists to call on can help you be more organized and responsive. With American Home Shield®, you get an experienced real estate partner who knows what it takes to help agents succeed. In addition to valuable coverage for your clients, an American Home Shield Account Manager can help you order new home warranty plans, customize marketing materials to build your business, and create the kind of long-lasting client relationships that lead to referrals and repeat business. For more information about the value that American Home Shield can bring to agents and deals, contact your Account Manager or visit ahs.com today.
AHS assumes no responsibility, and specifically disclaims all liability, for your use of any and all information contained herein.