The events of 2020 prompted more people than ever to find ways to work and study remotely.
According to
Gallup Panel data
from April, sixty-two percent of employed Americans said they worked from home during the Covid-19 crisis, a number that doubled since mid-March of the same year. Whether you're currently working remotely or plan to do so in the future, here are some suggestions for a successful experience.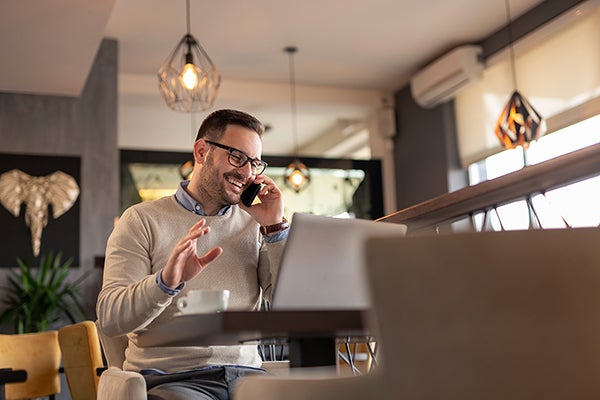 1. Stick to a schedule.
Having an agenda each day can help you manage your time and stay on track with projects and deadlines. A schedule can also help provide structure to your day. It's usually best to design your schedule around the same timeframes that you'd be keeping if you were in an office with your co-workers. Of course, one of the biggest benefits of working remotely is that you won't have to factor in commuting times.
2. Give yourself space.
With laptops and tablets, it can be tempting to work from the couch, or even from your bed. From productivity and ergonomic standpoint, it's usually best to designate a specific work area where you can keep the tools, supplies, and resources you need within easy reach. A dedicated office space can also help you corral all your work materials in one place, preventing them from being spread out all over your home. Make your designated workspace as comfortable as possible, with good lighting, a stable work surface, and a chair that provides good back and leg support.
3. Keep quiet.
When you're on calls and videoconferences, try to minimize any background noise. Even when you're working remotely, it's best to maintain a professional atmosphere. You'll also want to be able to hear and understand your colleagues and customers correctly. Close the door to your workspace to limit noise from pets and other family members, as well as sounds from household appliances, street traffic, and neighbors.
4. Take a break.
If you normally stop mid-morning and take a break at the office, it's a good idea to keep up that habit. Even if you don't leave home for lunch, fight the urge to take your meal back to your work station and eat elsewhere to give yourself a change of scenery. If the weather permits, fit in a walk around the block or sit outside during your breaks to enjoy some fresh air and sunshine. You'll likely be more productive when you step away from work and clear your head periodically during the day.
5. Connect with people.
Working in isolation can be intense and lonely. Make time each day to relate with others outside of zoom conferences and work-related communications. Keeping up social connections, even while socially distanced, can be important for your mental and emotional health as well as for your outlook.
Working remotely can have many advantages, including proximity to your family, pets, and your kitchen. You can often dress in a more relaxed fashion and can save on commuting costs. Whether you plan to work remotely permanently or temporarily, finding ways to stay productive and creative can add to your overall job satisfaction.
AHS assumes no responsibility, and specifically disclaims all liability, for your use of any and all information contained herein.