To safely have people in your home, social distancing measures are essential. These guidelines will promote responsible practices if you host an event.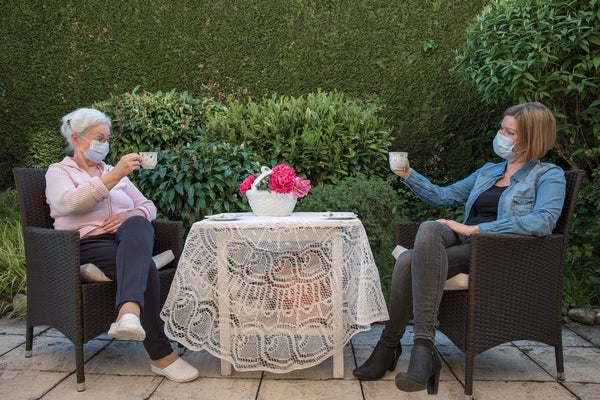 When the COVID-19 pandemic first began, many people held out hope that the whole thing would run its course before the holidays. But the holiday season is upon us, and COVID-19 is still here. After several months of isolating indoors and restricting contact with those not in your household, you're ready to reconnect with loved ones and share holiday joy — safely.
While you're looking for things to do at home during a second round of lockdowns and curfews, remember to keep your holiday gatherings socially distant. These home cleaning and holiday planning tips will help you celebrate with loved ones in relative safety. Remember, though, the safest gatherings are the ones that don't happen at all, so consider going virtual.
Host Outdoors Whenever Possible
If weather permits, the safest thing to do is host your holiday gatherings outside. Gathering outdoors is safer than gathering inside. Because outdoor air is constantly refreshed, it's more diluted, and there's less chance of spreading the virus.
That doesn't mean you and your guests shouldn't maintain at least six feet of distance while celebrating outdoors, though. If you're hosting an outdoor gathering under a tent or in another structure, make sure to follow social distancing guidelines. Outdoor fans can also help circulate air.
Ask Guests to Quarantine Before Attending Your Party
Home cleaning tips can help you keep high-touch surfaces disinfected and prevent the spread of the virus in your home. But since it's now believed that COVID-19 is primarily an airborne spreader, the safest way to protect yourself and your guests is to ask everyone to quarantine for 14 days before attending your holiday party.
Of course, you have to be able to trust everyone to adhere to strict self-isolation, so it may be worthwhile to save this one for the most important celebrations, like getting together to open presents on Christmas day.
Keep Gatherings Small
Most areas are still restricting gathering sizes, but whether yours is or not, it's safest to stick to small groups of no more than 10 people. Small gatherings allow you to maintain appropriate social distance indoors, and they minimize your potential exposure risk.
Keep Music Turned Low
When people are singing and shouting, they expel more aerosols, the tiny droplets you breathe out when you exhale, and which carry the virus. Keep music turned down low, so guests can hear each other talking, even if they're sitting or standing six feet away from each other or wearing face masks.
Keep Guests Out of Food Prep Areas
You should always wear a mask and gloves while preparing or serving food for others not in your household. People tend to congregate in food prep and serving areas, so make those areas off-limits to guests. Assign one person to plate up food and distribute it.
Alternatively, you can ask guests to bring their own food just for the people in their households, or skip serving food and snacks altogether.
Provide Paper Bags for Masks
You should require guests in your home to wear masks, but they'll need to remove them while eating and drinking. Have a box of disposable masks on hand to give out to guests whose masks get wet or dirty, or to those who forgot to bring a mask to the party.
Provide paper bags for guests to store their masks while they're eating and drinking -- paper is breathable and will help keep masks dry and clean. Write each person's name on their paper bag so they don't accidentally pick up the wrong mask.
Offer Plenty of Hygiene Supplies
Place bottles of hand sanitizer by the doors so guests can sanitize their hands immediately upon entering your home. Keep your bathrooms well-stocked with clean towels and hand soap. Have plenty of disinfectant wipes handy and use them to wipe off sinks, tables, chairs, doorknobs and other high-touch surfaces throughout the night.
Place boxes of tissues around the party for guests who need to sneeze or cough while they're not wearing a mask. Encourage guests to use hand sanitizer or wash their hands regularly throughout the evening, especially before and after eating. Offer touchless garbage cans for disposing of tissues and other refuse.
Skip the Booze
Alcohol lowers inhibitions, and it's long been a staple at most holiday parties. But this year, make it a dry one. Alcohol could cause guests to forget safety precautions, leading them to riskier behavior like removing masks, getting too close to one another, sharing food with others not in their households or forgetting to keep hands clean. Serve non-alcoholic drinks instead — they can be just as festive.
With the holidays upon us, many people are looking for ways to celebrate safely with friends and loved ones. Make sure your home is socially distanced this season, and read our Home Matters blog for more tips on how to make this holiday memorable for all the right reasons.
And for the latest COVID safety updates, turn to the CDC.